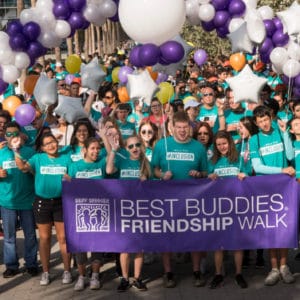 Thank you for your dedication to the cause as a Best Buddies Friendship Walk committee member.
The Best Buddies Friendship Walk is the leading walk in the country supporting inclusion for people with intellectual and developmental disabilities (IDD). Since 2009, more than 150,000 participants in 60 cities have walked to raise awareness for one-to-one friendships, integrated employment, leadership development, and inclusive living for people with intellectual and developmental disabilities (IDD).
Our success is due to the commitment and dedication of you and thousands of other volunteers across our nation who share our vision towards making the world a more inclusive, accepting place.
As you help lead the way this Walk season, we hope you can feel the difference you're making in the lives and families of those with IDD. We hope you realize how valuable your efforts are. Thank you for your generosity and commitment.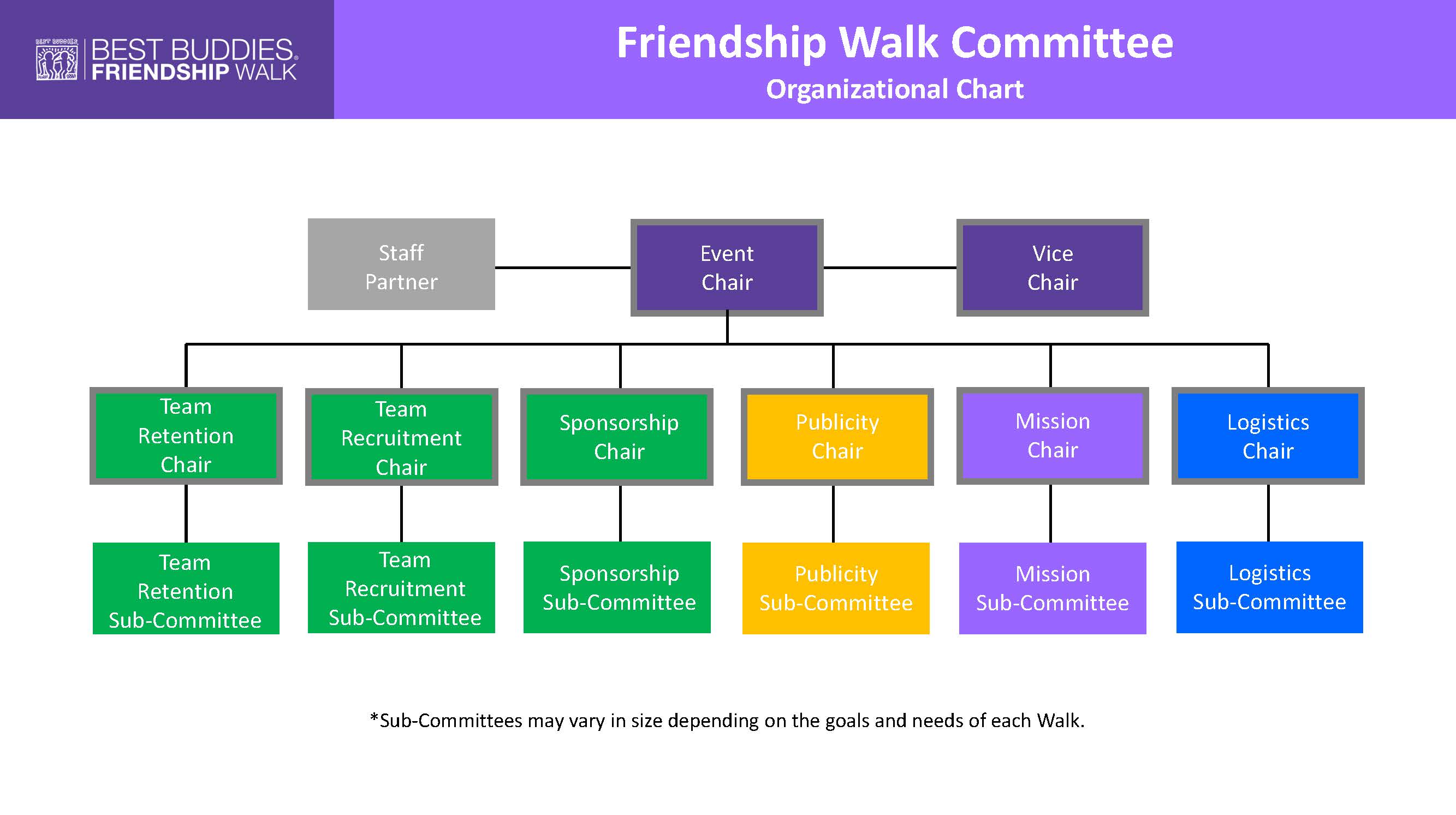 Event Chair & Event Vice Chair
The Event Chair directs the efforts of the Friendship Walk Committee by planning and executing the Walk, and following up post-event with Committee members, sponsors, staff, Team Captains and other key attendees.  As the Event Chair, you recruit, train, manage and retain an effective volunteer committee.  You provide leadership to the Walk Committee through delegation and support.
As the Event Vice Chair, you work together with the Event Chair to ensure that the committee is recruited, trained, managed and retained.  Depending on your agreement, you may be working toward a succession plan to eventually become the Event Chair.  Action as the Event Co-Chair now can foster a nice transition into the Event Chair in following years.
The Event Chair holds a lot of responsibility; do not attempt to manage this entire event by yourself.  Friendship Walk is truly a community event and is most successful when the community is involved.  In addition, recruiting, training, managing and retaining the right volunteers and delegating tasks appropriately allows you to focus on the bigger picture and strategy, and helps make your experience more enjoyable.
Dedicated volunteers are the driving force behind a successful Walk, as their passion for our cause, talents and community connections are vital to the growth of the event.  Your Volunteer Committee should take ownership over the event and enlist and empower as many volunteers as possible to help extend your reach into the community.
Team Recruitment
Team recruitment is a big job. Depending on the size of your Walk and your needs, a trained Team Recruitment Committee can help engage businesses and individuals in starting or joining Walk teams.
In addition to team recruitment, it's the job of the Team Recruitment Committee to provide guidance to Team Captains. For many, the Team Captain role is a new experience. This may be the first time he or she has participated in Friendship Walk or a similar event. Or it may be the first time he or she has fundraised. The committee can help ensure that Team Captains enjoy this leadership role, while sharing information about the organization and Friendship Walk.
Why is team recruitment important?
Teams and participants generate the majority of total revenue raised through Friendship Walks
More teams mean more participants, which results in more funds raised
Teams engage the community in our inclusion efforts
New Team Captains may eventually become leaders for your Friendship Walk Committee
We need new teams to counteract the natural drop-off from year to year and increase our overall number
Team Retention
Team Retention plays a very important role in the success of Friendship Walk.  This committee will be in charge of retaining past teams through various touch points.  These team touches are important as they help keep Friendship Walk fresh on the minds of Team Captains year-round.
As the Team Retention Committee your team will develop a year-round team retention plan.  You and your committee will educate teams through communications, team touches or activities, a Past Team Registration Party and team recognition. Your committee is also responsible for regularly communicating to committed teams and providing support and resources. Most important, you'll need to make sure your Team Captains feel recognized, valued and appreciated for their efforts.
Sponsorship Committee
Friendship Walk is a great opportunity for local businesses to get involved with our cause and establish a mutually beneficial relationship with the organization.  Through Walk sponsor recognition benefits, the sponsor is seen by the community as a charitable organization. In addition, depending on sponsorship level, the organization is promoted on Walk collateral and T-shirts, and during Supporting events and on Walk day. By engaging sponsors, Best Buddies benefits from increased community involvement, which results in more awareness and funds.
The Sponsorship Committee had the responsibility of being the primary lead for recruiting local sponsors to the event and strengthening existing relationships. It's your job to secure sponsorship dollars, as well as products and services from businesses to increase revenue and reduce expenses. You'll also identify opportunities to engage the business community in our mission through Friendship Walk. The Sponsorship Committee is responsible for engaging sponsors in Walk activities, ensuring benefit fulfillment, thanking and recognizing sponsors and continuously cultivating relationships.
Publicity Committee
The main goals of Friendship Walk's publicity committee is create awareness, fuel participation and increase revenue. Through Walk, we help to educate the community, connect them to resources and offer them an opportunity to join in our mission.
Watch our Publicity Webinar here: https://recordings.join.me/VhsdxG9buEKvWmjiiBLZcQ
Mission Committee
Mission delivery is one of the most important aspects of Walk.  As a Mission Committee member, you are responsible for ensuring that the Best Buddies mission is present in all activities before, during and on the day of Walk.  Your primary goal on the Mission Committee is to educate, demonstrate and implement our mission with teams, participants, volunteers and the community.
Watch our Mission Committee Webinar here: https://recordings.join.me/_vrAYhtUuEuU-tOv4fcAFA
Logistics Committee
The Friendship Walk Logistic Committee  is a detail-oriented team that requires proper planning skills to ensure the participants have a great Walk day experience from beginning to end.
Watch the Logistics Committee Webinar here: https://recordings.join.me/YUHhAfu-SUuZHe9BJw1CEA