Host an Ambassadors Training
Guidelines and training resources for Ambassadors.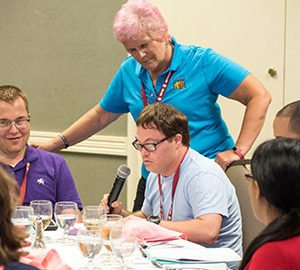 Best Buddies state offices regularly host trainings that provide quality, comprehensive education on advocacy, public speaking, and networking.
If you are a volunteer and interested in hosting an ambassador training, please refer to the Train the Trainer documents below to get started.
To be a volunteer facilitator for an ambassador training is simple and fun! Just follow the simple steps below:
Decide on the date, time and location of the training
Recruit ambassadors and speech coaches
Choose your training from the resources below
Reach out to your local Best Buddies staff for assistance
Have Fun!