BB360
Overview of Best Buddies' chapter management portal for chapter leaders.

BB360 is the new chapter management portal for Best Buddies chapter officers and advisors.  Replacing our legacy system, Best Buddies Online, BB360 streamlines administrative processes, improves user experience, includes easier access to data, and increases data security.
Built specifically for chapter leaders, BB360 is your one-stop shop for managing your members, matches, events and more.  General members will not have access to BB360, but will still be able to submit any forms necessary.
To get access to BB360, your first step is filling out this year's membership application at bestbuddies.org/join.  For chapter presidents and advisors, your Best Buddies staff contact will then be able to give you access to BB360.
Once you get access to BB360, you'll receive a Welcome to BB360 e-mail with a link to join.  That link will take you to the BB360 login page at bestbuddies.my.site.com.
You can either create your own password or use your Facebook or Google account logins.  For that to work, the e-mail on your Best Buddies membership application needs to match the one on your social media account that you choose.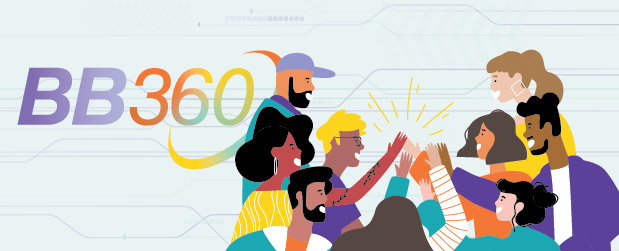 Home Page
If you are a new chapter or a school chapter at the beginning of the year, there will not be much information on the homepage of BB360 the first time you log in.  Once your members start signing up and you start planning for the year, your home page will display all the most recent information regarding your chapter.  Highlights include current goals, upcoming events, pending membership applications and a dashboard of your chapter data.
Switching Chapters
If you manage more than one Best Buddies chapter, the homepage of BB360 has a Switch Chapter drop down where you can select each chapter individually.  Switching chapters will update all the information on the homepage and other BB360 pages to that chapter.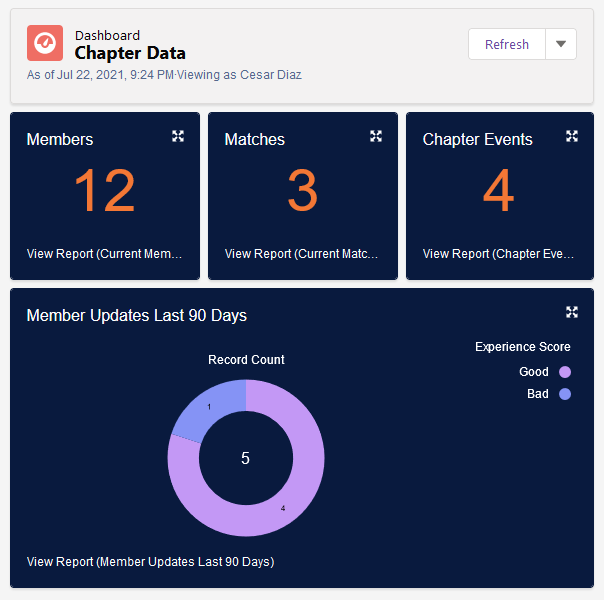 Dashboard
The dashboard on your homepage has numbers and charts of your chapter's progress.  Clicking the Refresh button at the top will update the numbers to the most current.  Each component of the dashboard as a link to the report that has more details about the charts shown.
Managing Members
With BB360, you can send your chapter members a direct link to your chapter's membership application.   To find this link, click on you chapter name at the top of the homepage.  This will take your to a details page with a field called "Membership Link." Copy that link and e-mail or text your members.  The application works great on mobile devices!
You can access all current memberships for your chapter on the memberships tab.  Click on a membership name in the list to view record details.
Member Updates
A new addition to BB360 is the Member Update form.  Member Updates are for all members of your chapter, matched and unmatched, to gauge how they are feeling about their participation.  The Member Update is only two questions and is easy to complete.  You can find the direct links to send your members on the memberships tab or on each membership record.
You and your officer corps can decide as a chapter how often to ask for Member Updates.  Best Buddies recommends sending out 4 times a year for school chapters:
After your first couple of chapter meetings
Around mid-October after matches are just being formed
Before the winter break
Beginning of spring semester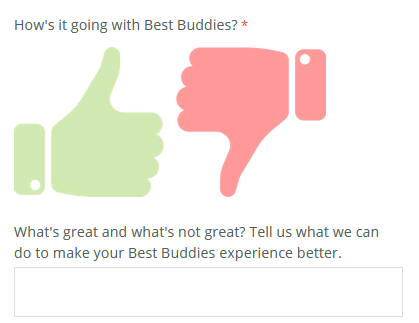 Once your members start submitting Member Updates, you'll be able to track their satisfaction on the homepage of BB360.  On the dashboard is a chart for Member Updates.  Click View Report and see a list of your members' responses.  Here you can see who is not satisfied with their participation and why.  Then you can reach out to that member to help solve the problem.