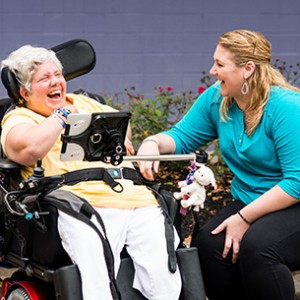 Best Buddies Citizens creates one-to-one friendships between adults with and without intellectual or developmental disabilities (IDD) in workplaces and the community. These opportunities for friendship and inclusion are especially important to adults with IDD, who have limited opportunities to stay involved as they age. By matching volunteers with and without IDD in friendships, hosting engaging community events, and creating matches at workplaces, the Best Buddies Citizens program strives to create an inclusive and diverse community for all.
Best Buddies Citizens chapters provide companies or community groups the opportunity to get involved in the Best Buddies mission by forming friendships with their peers with IDD. Citizen's chapters work with an organization in their area that serves those with IDD, known as Host Sites, to help foster these relationships. Friendships formed in the Best Buddies Citizens model help to strengthen their ties to creating more inclusive communities and workplaces.
In addition to our network of volunteers, please see resources below that will guide your work as a leader in the Best Buddies mission.