Finding Your People
Guest blog post by Lexi Franks. Lexi is a long time volunteer with Best Buddies, serving as a chapter president in her high school program and also middle school before joining the University of Delaware, where she serves as the Chapter President. She is an advocate, leader, and passionate agent of change!
The fall semester is officially upon us! You've prepped all summer and planned tons of fun events to engage buddy pairs and chapter members as summer comes to an end. You created a super fun way to introduce buddy pairs at your match party, and now all you need is a few more new members to get the ball rolling! If this sounds like your chapter, keep on reading to learn some tips and tricks for member engagement!  
You've probably had someone ask you about Best Buddies- and maybe even how to join, too. But what about the others who may not even have any idea it exists? How could you possibly make Best Buddies stand out amongst dozens of other student organizations on your campus?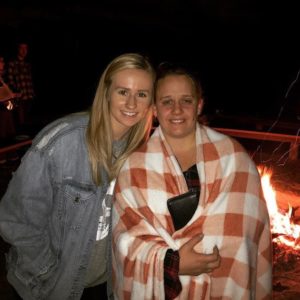 Here at the University of Delaware, this is something we put a lot of thought into given that there are over 100 other registered student organizations on campus.  On the day of new student move in, we lure new students and their families to come learn more about the club by handing out delicious chocolate chip cookies on our Main Street during lunchtime. (Who doesn't like chocolate chip cookies, right?!) We have a tri-fold with pictures and talk about our members and our activities. We also have a donation jar; this comes in handy as we typically have a lot of parents that want to donate after reading about the mission on our tri-fold. Not only are new students able to collect a free cookie but they are also able to learn about a great new way they can get involved on campus and make some friends! 
To make sure we reach everyone, we are flexible in planning our first meetings. We know in college that class schedules vary for everyone and things get pretty busy especially once classes get rolling. So, we plan out two interest meetings on two separate days of the week, at different times. The interest meetings typically take place during the first week of school and members are able to sign up for peer buddy interviews right on the spot. This always seems to work well for us as we get members committed to joining before classes become hectic.
Another great, easy, and simple way to get the word out about the club is to utilize social media platforms to inform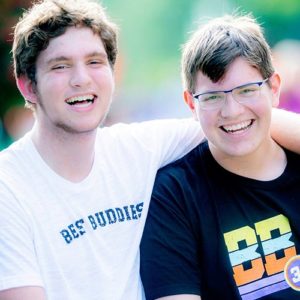 new students of the dates of interest meetings. You also can check with campus directors to see if you are allowed to post flyers in common areas of dorm buildings to get the word out about Interviews and interest meeting dates too. Sometimes different coffee shops on campus even allow you to make postings on their bulletin boards as well! 
While recruiting members, it is most important to show them how excited YOU are to be in this club and spread the Best Buddies mission! The more excited you are about it, the more likely they are to be interested in joining! 
For Best Buddies programs in high schools, utilizing that all members are on one campus can be extremely helpful in the recruitment process. There are many ways that you can spread the mission of Best Buddies around campus- whether it be posting flyers around the school building with the date and time of your interest meeting with a quick little blurb about the Best Buddies mission or a snippet on the morning announcements, you'll be sure to catch the attention of potential members! 
A chapter president from a local high school shared a tip that she thinks is key in her chapter's recruitment: "We reach out to our principal ahead of time with some video clips of Best Buddies on YouTube and ask her to approve them so they can be aired on the announcements each morning leading up to the interest meeting". Focusing on videos about Best Buddies that show a passionate drive to spread the mission are this chapter's favorite and have proven successful in the past. This same chapter stated that they often use social media platforms to spread the word about chapter events and happenings. 
How might you get families involved, you may wonder? Luckily, many parents have an interest in Best Buddies and its mission and want to be a part of what their child is involved in. You might try and have a "Back to Best Buddies Potluck." You can do this by having each family bring their own dish to contribute and socializing with everyone while doing so. It is free of cost, so if you're a new chapter and have limited financial resources, then it is a great way to get started. All you have to do is find a space to hold the potluck and spread the word! Try asking your principal if you could hold it in the school cafeteria one evening- or if it is nice out, maybe outside the school! 
Another way in which you might promote joining the club is through current members you have. Try having each officer talk to a teacher or two about the club and its' mission, and see if they would be interested in letting that officer give a quick little blurb about Best Buddies and how to join at the start of a class period. When other members of the student body see their passion and drive for the Best Buddies mission, they might be inclined to join too!
If you're having trouble with the recruitment process or need some more ideas to get your chapter started this fall, check out https://www.bestbuddies.org/bbu/recruitment/ for already made and free, downloadable recruitment flyers, webinars, and program videos to show your new members! 
Now that I've shared some ways we Blue Hens do recruitment here at UD, in what ways are you recruiting members on your campus?