Creating Leaders to Support Tomorrow's Future of Inclusion
Guest blog post by Dr. Jessica Hall-Wirth, longtime Best Buddies volunteer, advocate, and chapter advisor.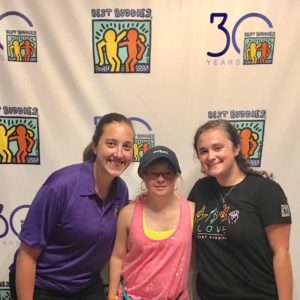 Tomorrow is my first meeting as President. I am going to go in and tell them how it is. After all, this is my show, right? They selected me into this position. But how am I going to get everything done for the meeting? I have soccer practice, an interview, and an 8-page paper to complete all in the next two days. This job is going to be tougher than I anticipated…
Many executive board members believe that in order to be a leader, you need to be in a position that allows you to exercise your power and that leadership is for the selected few. Many believe that the rest of the members in the chapter were there to be followers- doing what they were told by those who made it to a position of leadership. But the truth is, this is far from reality and is important for their paradigms to shift.
In order to support student success and help them to shift into a leader, it takes a community of "courageous adults who are willing to dig deep and work from the inside out" (Holland, 2015). If advisors shift their thinking to become more open-minded and believe that all students can become leaders, we can then create opportunities that allow students to be empowered to find their leadership potential. Your goal is for students to live life with the paradigm: "I am a leader."
But how do we shift a student's mindset and support them to become successful student leaders? Peter Magolda (2005) presents the Six Conditions that Matter to Student Success. Each condition can be helped to support advisors in setting the framework and allowing students to become leaders of their chapters, schools and communities. Outlined below are the four most important conditions that relate most to creating successful leaders within the Best Buddies organization.
Students should understand and embrace their organization's mission, history and culture.
Students that understand "the big picture" have greater success. Think small and start from the bottom up. Shouting from the roof tops about what Best Buddies stands for will bring students who are interested and engaged in what you're promoting.
Collaboration is essential.
Student leaders at high performing institutions recognized that they favored advisors who formed genuine partnerships with them rather than simply having an advisor who was nonexistent or did all of the work. Advisors who listen, offer advice and share responsibility and power create leaders who do the same. Student leaders begin to see their role as doing things with members to benefit the organization rather than taking the lead and not taking into account their views.
Focus on creating meaningful social and intellectual experiences that benefit the organization and the community at large.
Effective student organizations have leaders who recognize that their best work effects both their members and the larger campus community. Members will benefit much greater if the experiences they have within the chapter are intentional. Be mindful of the age- appropriate events that are being planned- they matter more than you think!
Start with strengthening your members.
The organization will only be as strong as its individual members. While the beginning of the school year often brings the mindset of "hit the ground running" and to get things done, it is important to sponsor events for all members. Members who see their value and have a shared sense of responsibility for the organization's performance are, in turn, going to allow for the chapter to grow. Be mindful of the population you are working with and be sensitive to expectations placed on members.
Although these conditions are not revolutionary, they provide groundwork for those students whose paradigms are swayed from the reality of a great leader. Student leaders have the opportunity to make a very powerful positive contribution to their schools and communities. How will you continue to support them? After all, they have the ability to change the world.
References
Holland, T. (2015). Developing a leadership mindset-A key to student empowerment. Retrieved from https://www.leaderinme.org/blog/developing-a-leadership-mindset-a-key-to-student-empowerment/
Magolda, P. (2005). Promoting student success: What student leaders can do. National Survey of Student Engagement, 8, 1-9.
Rodriguez, R. (2003). Promoting student leadership on campus-creating a culture of engagement. Retrieved from https://www.idra.org/resource-center/promoting-student-leadership-on-campus/