2nd Annual Buddy Classic by Loan Pronto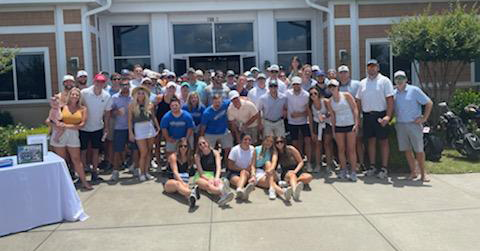 Loan Pronto hosted the 2nd Annual Buddy Classic benefiting Best Buddies in North Carolina on June 26, 2021, at Carolina Lakes Golf Club. The charity golf tournament included games, raffles, prizes, food, and fun! The event had 120 golfers, roughly 200 attendees, and 18 hole sponsors. With the community's help, Loan Pronto was able to raise $10,000 for Best Buddies in North Carolina!
Thank you again to the sponsors of the 2nd Annual Buddy Classic: American Home Title, Advantage Title, AmeriSave, Beacon Partners, Blanq Real Estate, Cornerstone, Fidelity Investments, Loan Depot, Mode, NewRez, Pepsi, QC Kinetix, The Cap Team, United Lemon Sales, UWM, and Vaco.
How did this partnership develop?
Giving back to the community is particularly important to Loan Pronto. Roger Moore, President and Founder of Loan Pronto, always had a vision of giving back to the community when he started the company. It was important for Loan Pronto "to donate somewhere local," said Jason McNally, Operations Manager at Loan Pronto.
Roger had a long-term connection with David Medlock and through David, he met Tammy Medlock, State Director at Best Buddies North Carolina. As a mother to a son with an intellectual and developmental disability (IDD), the organization has always held a special place in her heart. This connection is what inspired Loan Pronto's partnership with Best Buddies.
In 2019, Loan Pronto held the 1st Annual Buddy Classic, a golf tournament to benefit Best Buddies North Carolina. Through this event, Loan Pronto not only raised awareness for Best Buddies but was able to donate over $6,000 to the local nonprofit.