Best Buddies Spirit of Ava Award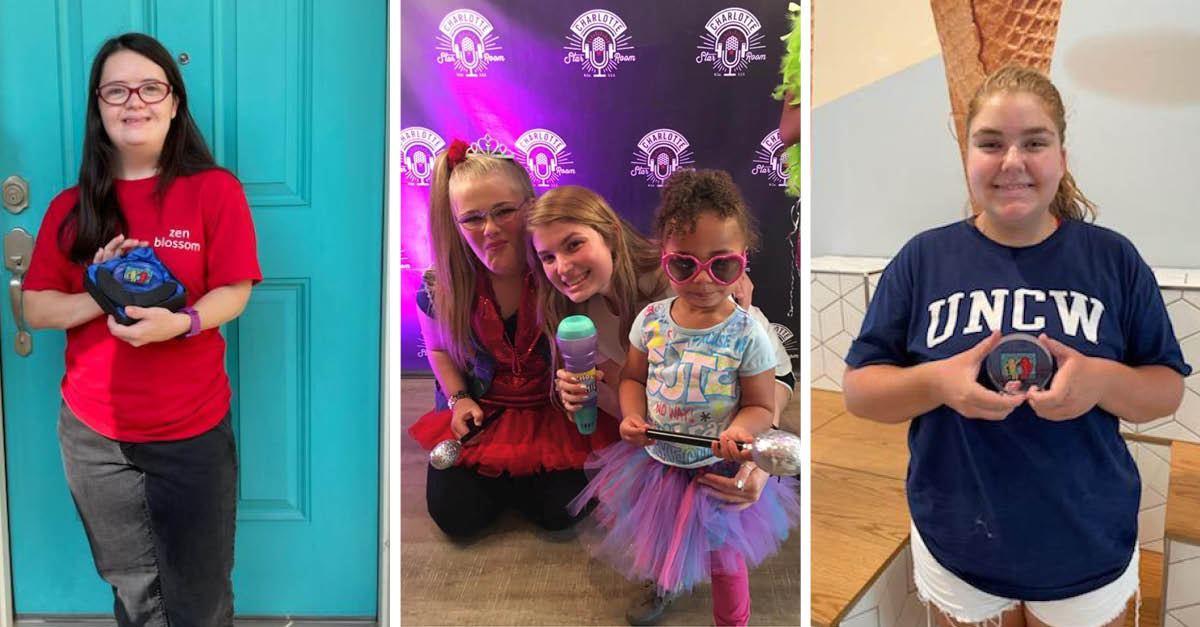 "She did not like leaving anything or anyone out. It hurt her differently. Ava sought out those who were different. Just like her with her rocks, she saw God's shiny beauty in people, however obscured. Wonderment and complete acceptance of God's creations. Pure Ava." – The DeVine Family
Although Ava left us too soon, she left behind a legacy of inclusion and acceptance of people of all abilities. In her honor, Best Buddies North Carolina is recognizing two individuals who display a commitment to our mission of friendship and inclusion that goes above and beyond program expectations! These participants empower people with intellectual and developmental disabilities to live out their fullest potential in their clubs and communities.
Congratulations to the Best Buddies 2021 Spirit of Ava award honorees Mollie Rose Tew of Best Buddies at NC State and Alyssa Westlake of Hough Best Buddies!
"Compassion Has No Limits & Kindness Has No Enemy." Ava DeVine
About Mollie:
Mollie Rose has been the Buddy Director at NC State since Spring 2020 and has participated in all of their activities. As you will see from her activities listed below – Mollie Rose has not let covid slow her down!
Mollie Rose is also a founding member of FAB – Freaking Awesome BookClub and has brought in several new members — they have met weekly on zoom since COVID. Mollie Rose was a founding member of the TDSN which is now NCDSA! She encouraged people all during COVID to participate in activities on zoom and taught several how to zoom. Mollie Rose is also a founding member of the Raleigh GiGi's University. She created the logo on their water bottle.
Mollie Rose has been accepted by Esteamed Coffee in Cary to exhibit her jewelry. Mollie Rose began the special program at the NC State Fair so that individuals with special needs could compete in multiple competitions for the Fair. She has won numerous blue ribbons and several best of show ribbons for her jewelry and cookies!
Mollie Rose has spoken to new residents and nurses are UNC-CH Hospital about the importance that doctors and nurses address the person with special needs instead of automatically assuming they should talk to the mom or dad.
Mollie Rose also created the Christmas Card that was sent out by the Duke Down Syndrome Clinic for the 2020 holiday. Mollie Rose is now in Peer Mentor training through a pilot program through DHHS here in NC. She will be a certified peer mentor when the classes are over.
Mollie Rose is also working at NC State Atrium helping bake cookies for the students. Mollie Rose always helps others as she goes through her daily life – whether showing a roommate how to zoom or helping someone at work with a chore to working with Best Buddies to encourage others to participate.
About Alyssa:
Alyssa has promoted and embodied inclusion since her freshman year. She has participated in our inclusion elective classes and was sometimes the only student without disabilities in the class. She consistently spent class time with students with disabilities and was a leader through her actions.
As president of Unified Club and a member of Best Buddies, she always spent time with students with IDD, helped to plan inclusive dances, and other inclusive activities at school and in the community. She ate with the students with disabilities at lunch and found ways to help increase the visibility of and the acceptance of students with IDD in the school.
Alyssa also used Best Buddies as an opportunity to do fun activities in the community with her friends with disabilities. Alyssa is a true model of acceptance and inclusion. Alyssa is headed to UNC Wilmington this fall!