Thank you to our Advisory Board Chair, Colin Miller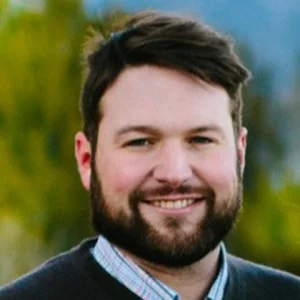 Best Buddies Colorado would like to extend a big thank you to Colin Miller, Advisory Board Chair from 2019 through 2021.
Colin discovered Best Buddies International after college, while working as a professional in Private Equity, when he saw a commercial showcasing an inspiring friendship with a buddy pair. From a young age, Colin had an interest in connecting with individuals with IDD to combat social isolation. Although he had always volunteered for various organizations, very few led him to work with this population. Best Buddies offered an opportunity for him to make a greater impact and he continued to research our mission, anxiously waiting for programs to grow locally in Colorado. His chance finally came in 2018 when Best Buddies launched in Colorado, and he has continued investing his time, talent and treasure to grow the mission since then!
Throughout his tenure as Chair, Colin saw the Advisory Board through numerous changes.
Not only did he lead the group through a global pandemic where Best Buddies shouldered a national decline in programs and had to pivot to a virtual model while readjusting strategies, he also helped manage Board turnover and a change in Best Buddies Staff leadership. Throughout, Colin remained dedicated to the mission and with the support of the Advisory Board, Best Buddies Colorado met their strategic and financial goals. Then in 2021, the team not only achieved, but successfully exceeded their fundraising goals for both Signature Events.
Change became a constant in his personal life as well. Colin first joined the Board in 2018 as Income Development Chair, while he was on sabbatical from his career in Private Equity. Then in 2019, when he took on Board leadership as Chair, he shifted careers and began working as a Management Consultant. In 2021 he grew his family with the birth of his beautiful son, Foster, and took on all the challenges of being a new dad.
Looking back at the last three years, Colin attributes BBCO's success to "working as a team towards a common goal. No one takes all the credit. We are all joining forces to make the organization successful. The mutual understanding of not making something about yourself but about the constituents we serve has always been our shared purpose. I am incredibly proud of what the Board, Best Buddies, and our Participants have accomplished thus far and look forward to expanding our footprint and impact in the future"
Colin also expressed gratitude for the journey of self-discovery that has happened during his time serving on the Advisory Board.
"Often, volunteers feel intimidated by the idea of board accountability, but ultimately you are accountable to yourself. Asking for money or other types of donations can be uncomfortable. But remembering you are serving a greater purpose gives one confidence to take part in something that will impact many. The worst thing that can happen is you are told 'no'. But the good that comes in asking will always outweigh that moment of denial."
While Colin has decided to move into a Strategic Advisory role following his term as Board Chair, he continues to be passionate about the mission and remains an active member of the Mountain Region Best Buddies Advisory Board.
If you are interested in dedicating your time, talent and treasure to the Best Buddies Mountain Region Advisory Board, like Colin, please contact us at Colorado@BestBuddies.org.