Meet Jake and Hannah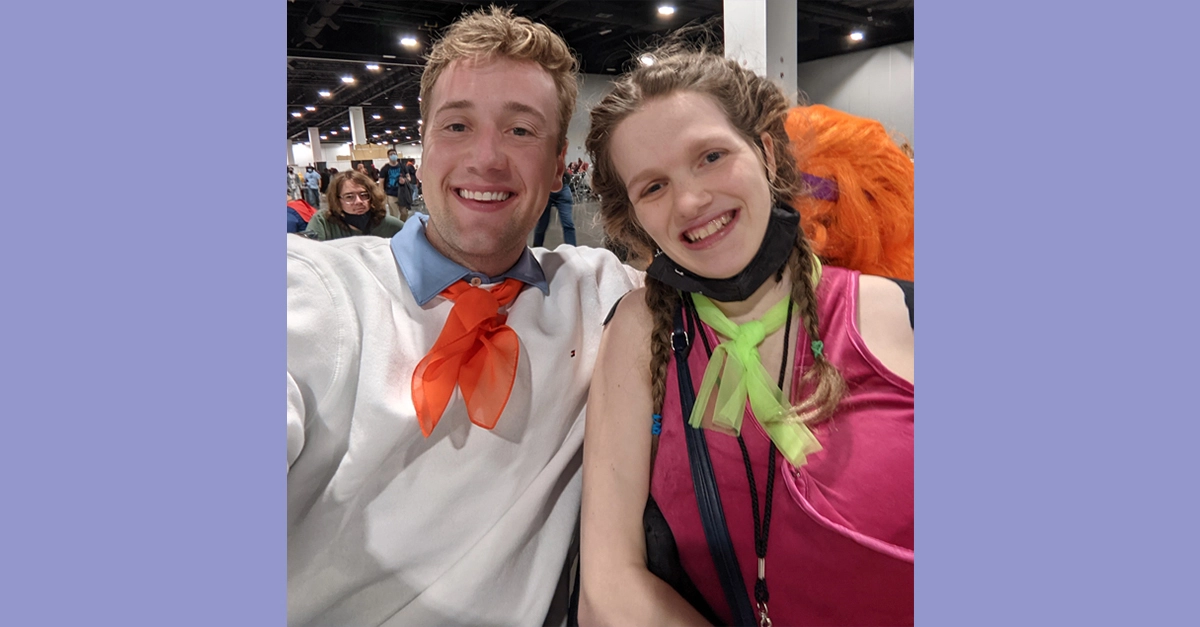 "Everyone needs someone"
Best Buddies Colorado would like to share a special friendship in our Adult Citizens program that has captured our hearts.
Meet Jake and Hannah.
Jake moved here from Chicago recently and found himself in unfamiliar territory. Although he had a few friends locally, he really didn't know many people and was looking to broaden his network.
Being an only child, Jake had explored opportunities to make connections in college by joining the Big Brothers Big Sisters program. Much to his delight, he was paired with a 16-year-old "little brother" who loved playing basketball, listening to music in the car, bowling, flirting with girls at the mall and who also happened to have Down Syndrome. Having grown up with twin cousins who had Muscular Dystrophy, Jake had compassion for anyone on a different path and was eager to show his little brother genuine acceptance and friendship – something everyone deserves!
Fast forward to this past year when he found himself in a new city, alone, and eager to make new friends. Emerging from a global pandemic and working in a new career, he soon realized opportunities to engage with real people in an authentic connection were limited. This is what led Jake to Best Buddies, and he will forever be thankful for what happened next.
Jake and Hannah initially met on a zoom call designed to introduce members in the Citizens program to determine likes/dislikes in hopes that a match could be made. After that call, Hannah felt compelled to have a friend in Jake. She liked that he was authentic and enjoyed sports. A few days later, Jake was contacted by Colorado Citizen's Volunteer Lead, Kristen Lervik, and the two have been friends ever since!
Both enjoy watching Hockey together, albeit supporting different teams – Jake is a Blackhawk fan and Hannah, an avid Avalanche fan. This dynamic often leads to competitive banter between them. Hannah is always quick to let Jake know that the Avs are currently number one in the NHL.
They both also enjoy playing Monopoly – in person and virtually – and both love animals and being creative. Jake bragged about Hannah's amazing gift in making bracelets for her Etsy shop and expressed his sincere admiration for this talent. As a matter of fact, on their first meeting, she made a bracelet for him that he cherishes to this day.
Best Buddies Colorado had an opportunity to chat with Hannah's mom, Wanda, about their budding friendship. She expressed how hard it has been for Hannah to make friends because of her challenges. In the past, Hannah considered her support staff as friends, but Wanda longed for her to have authentic, reciprocal friendships. However, given the vulnerabilities inherent in people with disabilities, it's hard to trust the process. When Wanda heard about Best Buddies, it appealed to her because of the thorough background checks for all participants, including caregivers, and supervised visits until all parties are familiar and comfortable.
After meeting Jake, Wanda believes a true friendship has been made because he "looks at Hannah like any other friend, and they have the best time together."
Jake shared a similar sentiment, saying "Hannah really gives me perspective. She sees good in a lot more than I do and I often think 'how does she do that?' It impresses upon me to be a better person and to see the good in others whenever possible."
Hannah has also taught Jake to get out of his comfort zone to experience new opportunities – like Comic-Con. She recently invited him to attend a Comic-Con event with her where they dressed up as Fred and Daphne. As a person "who hasn't even seen Harry Potter", he's learning that diving into her passions is teaching him to be brave in pursuing his too. In talking with him he said, "watching her come alive at Comic-Con was such a beautiful thing to witness. She has a clear path to her passions, and it is incredibly anchoring to see her joy."
Hannah has also taught Jake how to be an advocate. He admires her introspection and ability to take charge in making plans, an attribute that keeps him motivated.
In looking back at their time together so far, Hannah said her favorite memory was going to Comic-Con with Jake and it's also the thing she's most looking forward to again. She expressed the happiness she feels with her friendship because she can spend time with Jake in organic situations, without her mom or another caregiver present. Truly, Jake is one of her best friends and she looks forward to celebrating her 21st birthday with him soon and possibly even having him attend a family trip with her. She most appreciates that Jake doesn't see her for her limitations and instead values who she is from the inside out.
We asked Jake if there is one thing you could convey to members in our community who are curious about taking the leap with Best Buddies, what would it be? His response: "Do you like making friends? Do you want to get to know other people? This is a free avenue to a friendship that will give you a different perspective on life. Don't let the fear of meeting someone new, outside of your typical circle, keep you from the best decision you will ever make."
Thank you, Jake and Hannah, for giving us a window to peer into your incredible connection. May we all be so lucky!
If you're interested in discovering how you can have a buddy through Best Buddies, please email us at Colorado@BestBuddies.org.