Best Buddies Leadership: Alex's Story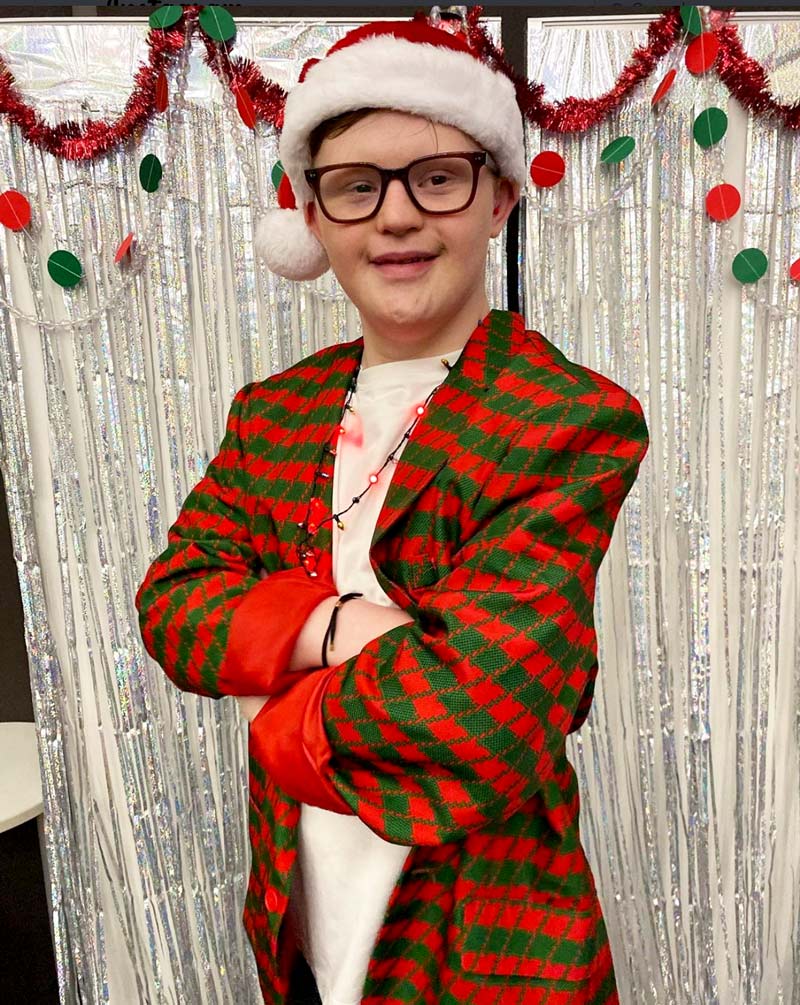 The best memories around the holidays always revolve around our loved ones: family and friends who seem like family. Best Buddies in Texas works to ensure individuals with intellectual & developmental disabilities (IDD) not only have the opportunity to create those friendships that last a lifetime, but also to grow their leadership skills and realize their full potential.
Alex, a student with Down syndrome at JJ Pearce High School, said Best Buddies has not only helped him form meaningful friendships with his peers, it has also helped him grow as a leader. He serves not only as the Co-President of the JJ Pearce Best Buddies chapter, but also as a member of the elite Best Buddies in Texas Student Advisory Board.
Check out Alex's Best Buddies journey in his own words below.
How long have you been a part of Best Buddies?
"Although I officially didn't join Best Buddies until my freshman year at JJ Pearce, since all four of my older siblings were involved in Best Buddies at JJ Pearce and Southern Methodist University, I have been officially and unofficially attending events since I was about six years old! I just turned 17 last month! I used to really like helping my siblings at their events."
How has Best Buddies helped you form friendships at JJ Pearce?
"High school can be scary for anyone when you are just starting. Best Buddies really helped me to make friends and have fun. Being paired with my buddies even helped me during virtual learning. Over the years, we have had ice cream together, gone to Halloween and holiday parties, and to Urban Air where we had a blast. This past month we watched 'Home Alone' outside on a big screen and 'Elf' at the library at Pearce. My buddies also came to the Buddy Walk with me when I had a team for the Down Syndrome Guild of Dallas, as well as the Friendship Walk for Best Buddies."
How did it feel when you were selected as the JJ Pearce Best Buddies Co-President? What's your favorite part about being Co-President?
"I really wanted to help our Best Buddies chapter and to teach people about what we do. It was my sister, Emma, that started our chapter when I was still in junior high school. So, as a Freshman I was the Buddy Director for our chapter, and then as a sophomore and Junior, I became the Co-President. My sister Emma was the President when she was at Pearce, and I wanted to carry on her work and help others like she did."
How has Best Buddies helped you grow as a leader?
"It is hard sometimes to get up in front of a crowd and talk. Best Buddies has helped me to get better at doing this. I have helped to lead several of our meetings and done videos on different topics too. I have also learned how to be part of a team, share ideas, organize events, and educate people about differences."
Anything else to add about your time with Best Buddies?
"I think Best Buddies is a great organization to help people with differences grow while also teaching typical people about the abilities of others. I want to keep learning more since I am now on the 2021-22 Best Buddies North Texas Student Advisory Board. I want to keep making a difference for other people."
You can support individuals with intellectual and developmental disabilities like Alex by joining supporting Best Buddies through our monthly giving campaign, The Bridge. To learn more and support Best Buddies in Texas, visit here.