Inclusion Lives Here – Mission Stories
As we celebrate this holiday season, please meet some of our Best Buddies participants. Be sure to check back weekly as we add stories to this end-of-year collection.
Meet Best Buddies Jobs participant, Corey
Corey has worked for Sodexo, a food services and facilities management company, since July 30, 2012.
She has held a variety of positions and continues to advance in her career with the support of Best Buddies.
In her current role as a full-time Kitchen Assistant, she enjoys making sandwiches (tuna is her favorite!) and connecting with her co-workers and customers who love seeing her smile every day.
In the words of Corey's supervisor:
"She's probably one of the best employees we have here at Sodexo. She's hard-working, she's dedicated…we never really have to worry about the job she's doing when Corey's doing it."
– Catherine Cuticelli, Senior General Manager, Sodexo
In addition to working at Sodexo, Corey has a second full-time job as the mother of a 12-year-old with autism. When she joined the Best Buddies Jobs program, her son Javon was just a toddler, and providing for him was a top priority. Almost a decade later, Corey continues to successfully support her family. She has health benefits, a 401k plan, moved her family into a townhome, and is saving up to buy Javon an iPad for Christmas this year – shh, don't tell!
Best Buddies has helped Corey navigate her career, and in turn, thrive in her role as a mom. Her time at Sodexo has offered her independence, confidence, connectivity, and the chance to feel included.
Celebrate friendships like Ian and Rohan's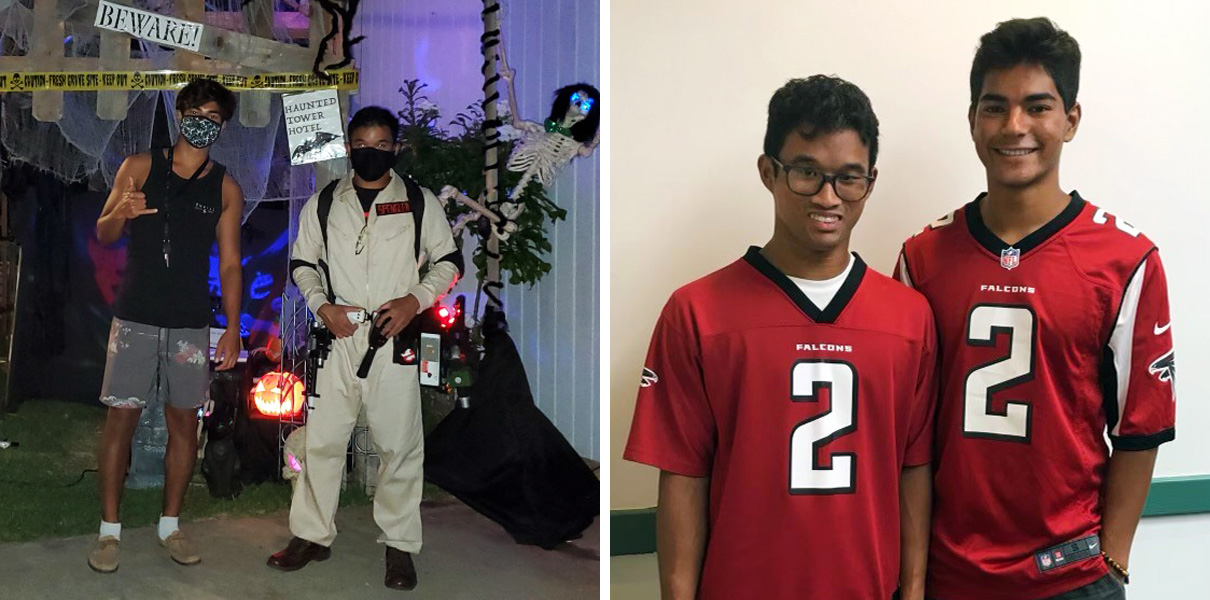 First paired in 2018, Ian and Rohan's connection is rooted in shared interests and grows stronger every year. They love cooking together, going to sporting events, and celebrating Ian's favorite holiday – Halloween!
"When I was young, I told my parents I would never make any friends. Then, along came Rohan. We've been buddies ever since! His friendship has impacted me so much. He's been there for me and supports me and all the people and things I love."
– Ian
Ian's parents are grateful that their son was introduced to Best Buddies.
"Doing things with Rohan and his friends makes Ian feel like 'just one of the guys'. I can tell that Ian loves knowing that he can fit in with people with and without disabilities."
– Sandy, Ian's mother
Home is Where Inclusion Lives
Inclusion really does live here at Best Buddies! Just ask Carolina and Susannah, residents of Best Buddies Living, the organization's newest initiative.
Through this program, residents with and without intellectual and developmental disabilities live together and become active, contributing members of a community where they can learn, grow and thrive.
One More Gift This Holiday Season
Meet Best Buddies Ambassador, Hari Kannan.
At Best Buddies, our commitment to inclusion is unwavering. Through our programs, we impacted nearly 700,000 individuals with and without intellectual and developmental disabilities (IDD) this year.  I'm beyond proud of our accomplishments, but there is still so much more work to be done.
Looking ahead to 2022, we pledge to build more pathways to meaningful friendships, jobs, leadership training, and living opportunities for people with IDD.
Give the Gift of Inclusion This Holiday Season
With your support, Best Buddies helps people with intellectual and developmental disabilities (IDD) form meaningful connections in the community that allow them to shine. Best of all, donations made through the end of the year will be matched dollar-for-dollar, up to $100,000, thanks to longtime supporter, John Drew.