Meet Daniel Mirtes – Best Buddies Jobs
Integrated Employment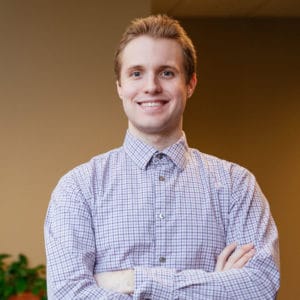 Daniel is 25 years old and has autism, but he is very quick to tell you that he is not defined by his disability. Before working with Best Buddies Jobs, Daniel found the job seeking process to be very difficult and unsupported.
He did his own resumes and went on interviews with the support of his family and friends. He secured a position as a store clerk at Publix and worked there for two years. He realized that his talents and skills were not being utilized and decided to seek employment that matched both his skills and passion.
For Daniel, full-time work was a goal that would hopefully lead to independent living. In 2015, Daniel decided to apply for assistance from the Best Buddies Jobs program, which was just getting started. Daniel was one of the first participants in the Best Buddies Tennessee Jobs program in 2015, and listed his dream job in an office setting, with a focus on tech work.
After several interviews, he found a full-time position at Verus Healthcare as a medical equipment technician. His responsibilities included cleaning the CPAP machines. After mastering this position, Verus quickly learned that Daniel had more to offer and he was promoted to Service Technician.
"I get to work every day with awesome people and help people all day with computer issues and problem-solving in the IT department," stated Daniel when asked what he loves most about his job. His team loves his effort and drive him to be the best he can be!
This promotion allowed Daniel to achieve another life goal –  owning his own home. Daniel recently put a down payment on a condo in Franklin. Construction should be completed this fall and he is excited to move in and start a new chapter of independent living.
He is excited about living on his own and learning to budget, cook for himself, and all of the other homeowner responsibilities.  As he states, this is a dream come true and could not have been possible without Best Buddies and the team at Verus who saw his talent and gave him a chance.
Daniel is a shining star in the Jobs program and was awarded Best Buddies Jobs Employee of the Year at the Best Buddies Leadership Conference in July of 2017. He wears this award proudly and we all share his excitement. Not only has Daniel accomplished so many goals over the last two years, but he also believes in giving back.
He is quick to say yes for any opportunity to speak at events about his life and Best Buddies. The message he wants to get across to every person with IDD is to set goals, dream big, and to never forget that anything is possible!