Meet Carolyn & Haley – Best Buddies Citizens Program
One-to-One Friendship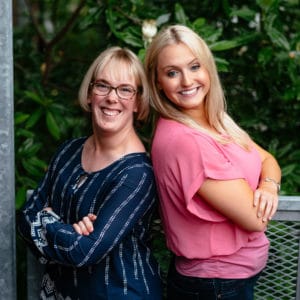 It has been two years since Haley noticed Carolyn working the check-in desk at her job at the YMCA. Haley hadn't seen Carolyn at church in quite some time and went over to say hello. Carolyn shared that the reason she hadn't been to church in a while was because she didn't have a ride to get there.
"Do you think you could take me?" Carolyn quickly asked.
"Yeah I think I can do that!" Haley replied.
Little did either of them know that such a simple exchange would lead to such an incredible friendship.
Haley began spending time with Carolyn and learned about Best Buddies and the impact it had made on her life. After attending several events together, Haley applied to the Citizens program, eager to become Carolyn's official buddy. On Valentine's Day, they were matched!
Carolyn and Haley's friendship is unique in more ways than just its beginnings as a natural friendship. The two have a bond that is absolutely beautiful to watch, attending concerts and sporting events together, and having girl's nights and sleepovers regularly. Carolyn even credits her "style" to Haley's influence, and both ladies love getting dressed up and going out on the town together.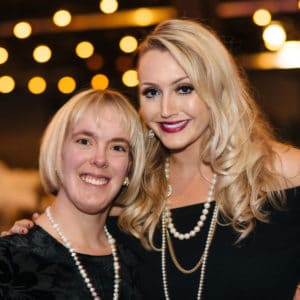 Becoming an official buddy pair has opened some amazing doors for them. The pair are extremely passionate about promoting the mission of Best Buddies and talk about our organization with anyone who will listen.
They have shared their touching story at numerous speaking engagements, including the 2017 Hyannis Port Challenge, leaving listeners in tears.
Haley competed in last year's Nashville Champion of the Year campaign with Carolyn right by her side as her official campaign manager. The two took full advantage of Haley's Champion of the Year platform and put on several events, determined to raise as much money and awareness for Best Buddies as they possibly could.
Their hard work paid off and Haley was the runner-up, raising $12,000! The campaign ended at Party with a Purpose where Haley and Carolyn danced the night away in their coordinated 1920's attire.
Haley has experienced such inspiration from her friendship with Carolyn, growing increasingly passionate about serving people with intellectual and developmental disabilities. Haley felt led to make a career jump and pursued a new path with Best Buddies.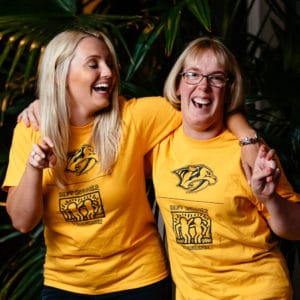 She was recently hired as the Citizens Program Manager at Best Buddies Tennessee. When asked what made her decide to pursue a different career path, her answer is simple: Carolyn.