Best Buddies Global NDEAM Event to Highlight Celebration of Inclusive Employment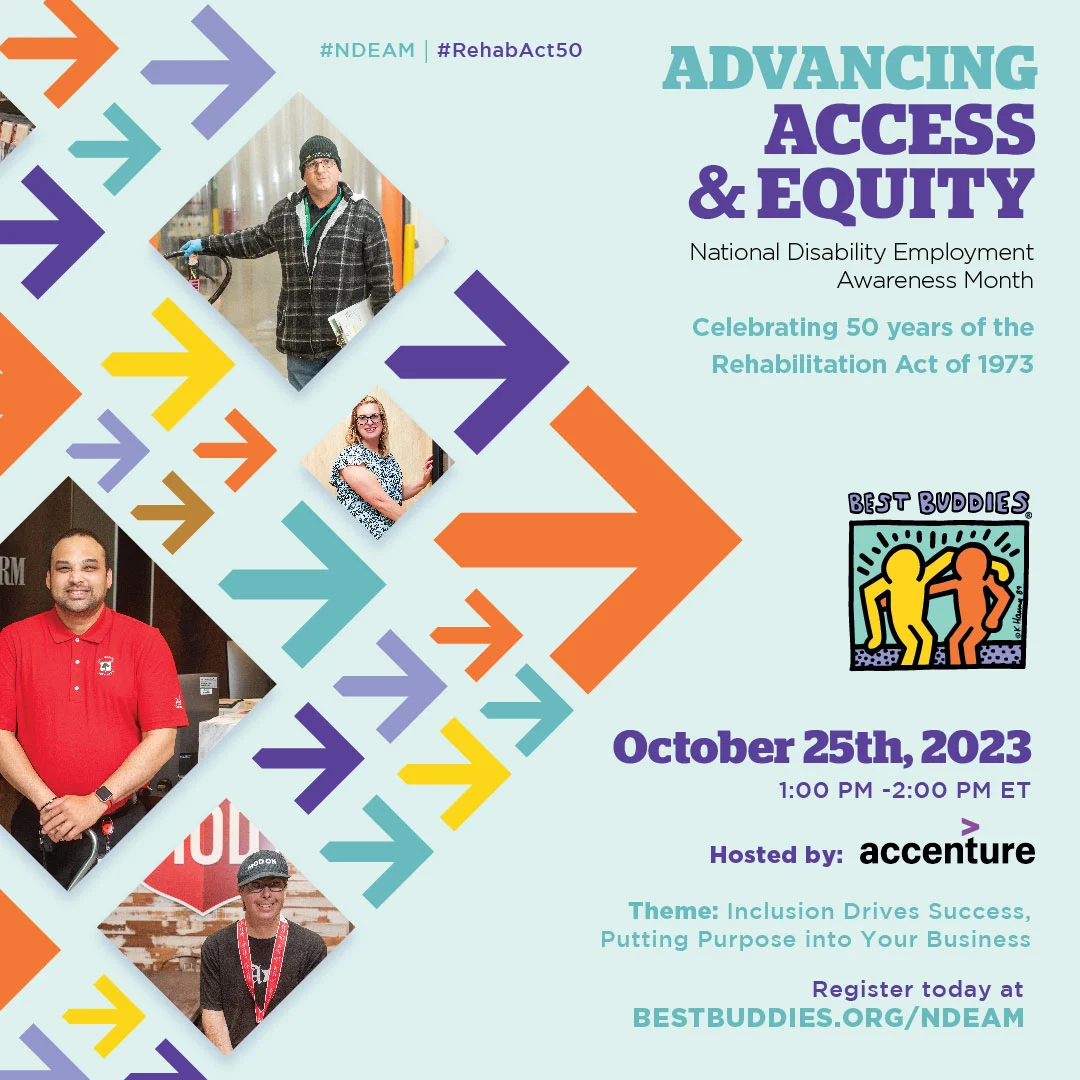 MIAMI, October 2, 2023 — To celebrate National Disability Employment Awareness Month (NDEAM), Best Buddies International, the groundbreaking international nonprofit founded in 1989 by Anthony K. Shriver to establish a global volunteer movement that creates opportunities for one-to-one friendships, integrated employment and leadership development for people with intellectual and developmental disabilities (IDD), is virtually hosting the Best Buddies NDEAM Event on October 25, 2023, from 1 p.m.-2 p.m. ET.
The 78th annual NDEAM will celebrate the Rehabilitation Act's 50th anniversary and its success in prohibiting discrimination based on disability in employment by federal agencies and in the delivery of federally funded programs and activities through the theme "Advancing Access and Equity."
The theme of the Best Buddies NDEAM Event is "Inclusion Drives Success: Putting the Purpose Into Your Business," and the event will feature three segments. The first segment – the Chairman Chat – will feature a conversation between Anthony K. Shriver, Best Buddies International's founder, chairman and CEO, and Bob Friedman, a partner at Holland & Knight and Best Buddies' first employer partner, about how hiring people with IDD impacts corporate culture and profitability. Next, event attendees will hear from Best Buddies Jobs participants who work at Accenture and JLL to discuss workplace equity and how inclusive work environments drive success. Following this, Best Buddies employment partners will share data surrounding disability hiring trends during the Data Discussion segment. These sessions will be capped off with a live Q&A.
"We are thrilled to highlight real-time data, stories, and lived experiences around advancing access in the workplace," Amber Coffman, the senior director of Best Buddies Jobs, said. "We aim to provide an engaging peek inside top performing companies who have committed to disability inclusion, driving purpose in the workplace and beyond."
The event will be broadcasted from Accenture and will be hosted by Best Buddies International's Senior Vice President of Global Mission and State Development and Operations, David Quilleon. Click here to sign up for the Best Buddies NDEAM Event.
NDEAM Goes Local
Best Buddies state offices will also be hosting local NDEAM events. For example, Best Buddies in Massachusetts is partnering with Fundación MAPFRE to host the Corporate Mentoring Workshop series at the MAPFRE USA Headquarters in Webster, MA, starting on October 12. This workshop series will connect students ages 14-21 with current Best Buddies Jobs program participants and corporate volunteers from MAPFRE to engage in teambuilding activities, discuss role expectations of a peer mentor relationship and identify short-term goals to support student preparation for their pending transition from school to integrated employment. Additional workshop sessions are scheduled for 2024 in March and June.
"Peer mentoring allows students to engage in conversations about the school-to-work transition with young adults with IDD, often from their local communities, who have recently gone through the process," Heidi Kalinowski, Best Buddies International's director of Transitions programs, said. "Students will learn directly from their peers and from our employment partners who are committed to offering an inclusive work environment."
"Fundación MAPFRE is proud to partner with Best Buddies International program and to host the mentoring workshop for students with our volunteers," said Linda Johnson, Fundación MAPFRE's assistant vice president of corporate social responsibility and employee experience. "MAPFRE cares about the community and volunteer engagement and we are thrilled about our thriving partnership."
ABOUT BEST BUDDIES INTERNATIONAL:
Best Buddies® is a nonprofit 501(c)(3) organization dedicated to establishing a global volunteer movement that creates opportunities for one-to-one friendships, integrated employment, leadership development and inclusive living for people with intellectual and developmental disabilities. Founded in 1989 by Anthony K. Shriver, Best Buddies is a vibrant organization that has grown from one original chapter to nearly 3,000 middle school, high school, and college chapters worldwide. Today, Best Buddies' 11 formal programs — Elementary Schools, Middle Schools, High Schools, Colleges, Citizens, e-Buddies®, Jobs, Ambassadors, Promoters, Transitions and Inclusive Living— engage participants in each of the 50 states and in 47 countries, positively impacting the lives of over 1.3 million people with and without disabilities around the world. In many cases, as a result of their involvement with Best Buddies, people with intellectual and developmental disabilities secure rewarding jobs, live on their own, become inspirational leaders, and make lifelong friendships. For more information, please visit www.bestbuddies.org or connect with us via Facebook, Instagram or Twitter.
Media Inquiries:
Jacob Pasternack, Manager of Marketing and Communications
(305) 374-2233 ext 209