Max's Garage & Best Buddies PA Partnership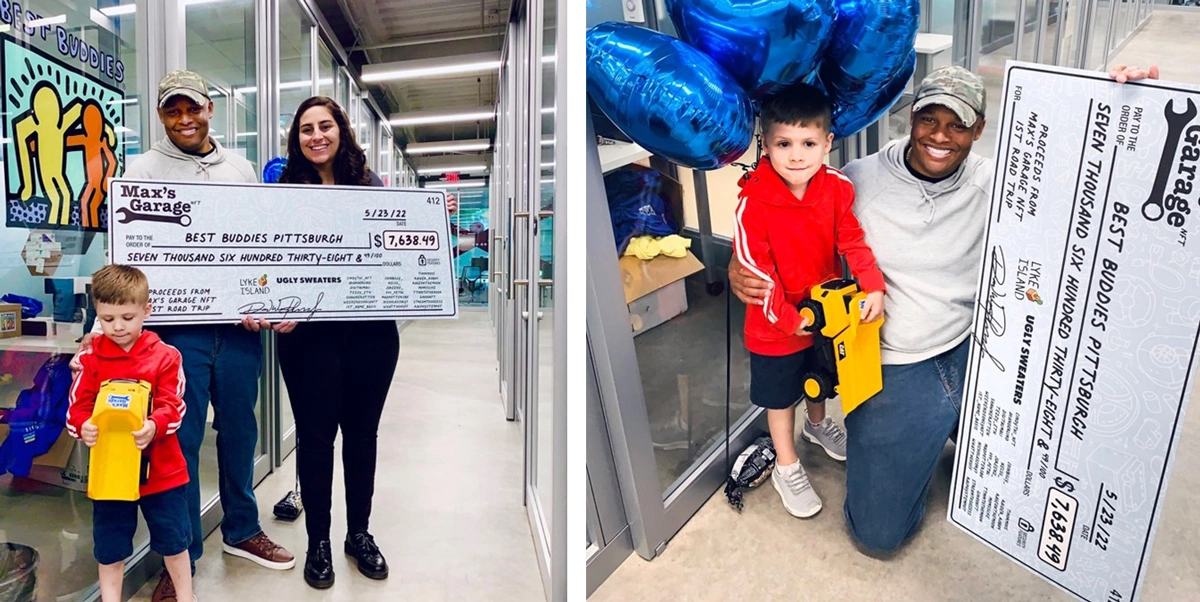 Best Buddies in Pennsylvania thanks Max's Garage NFT
We are so excited to share our partnership with Max's Garage. An NFT project was created by Dave Plowden in an effort to bridge charitable causes within the NFT space. The quick rise of NFTs (or non-fungible tokens) over the last few years reminded Max's Garage that there is value in working with digital currency. In the same light, owner Dave Plowden's personal connection to the disability community is also guiding him to partner with Best Buddies. We wish them success with this exciting endeavor and are grateful that they are interested in partnering with BBPA!
With Max's Garage, Plowden's vision is to uproot negative stereotypes about NFT projects while leveraging quick fundraising capabilities to impact the IRL (in real life) community with his art. Building trust with the NFT community by being transparent and showing where the funds go is something Plowden believes is very important. Furthermore, making a positive impact and engaging with individuals who share the vision of building a trustworthy space. This article will outline everything you need to know about the project, its story, and how to get involved.
The Collection and Its Story
Max's Garage started with a genesis collection called "1st Road Trip". The first collection has 20 tokens, each representing a GIF that features a hand playing with a toy vehicle. From red pickup trucks to taxis, green tractors, or colorful ice cream trucks, each NFT in the collection is unique, creative, and endearing, as they incorporate playful and fun images of the vehicles that make up our communities.
Behind the art is a unique story that gave way to this playful and relatable collection. The images were inspired by a boy named Max, the son of Plowden's close friend. During the COVID-19 pandemic, Plowden saw how vital Autism programs and organizations were for children like Max, and he, therefore, sought to use his creative capabilities to contribute to organizations that help kids. Max's favorite toys are cars and firetrucks, as he loves the sensation of rolling the object and getting it to move in real-time. As a result, Plowden decided to create Max's Garage and feature the hand of Max or one of his friends playing with a toy vehicle. 
How it's made
It has become common for large NFT projects to release hundreds or thousands of tokens at a time because of their algorithmically generated visuals. Projects will produce variations of portraits or figures with accessories, expressions, colors, and clothes in endless combinations that allow them to wind up with immense, technologically created assets.
With Max's Garage, it's different. Each NFT in the collection is an animated GIF conceptualized, hand-drawn, and animated by Dave Plowden. His personalized touch and individual flair shine through each illustration. By keeping the collection smaller and hand-made, holders can genuinely feel that they own a piece of singular artwork crafted by a person rather than an algorithm. Using Max's cars, toys, and friends as inspiration, the figures featured in each NFT reflect various personalities for every type of consumer, including messages like 'girl power' or showing off fast race cars.
Changing the Tone of the NFT World
Max's Garage holds goals and values that depart from the typical beat in the NFT space. Dave Plowden created this collection with no intention of getting rich. Instead, 100% of the money made through each NFT purchase goes to organizations that support kids.
In April 2022, Plowden pledged to donate 100% of the proceeds from Max's Garage 1st Road Trip collection to the Pittsburgh chapter of Best Buddies International. The 1st Road Trip collection went on sale on April 22, 2022, and was sold out within 15 hours. Following that, a vehicle auction for Max's Fire Truck took place and sold $2,969 USD (1 ETH at the time) to Cindy, who goes by @Cindyth1_nft on Twitter. Plowden also partnered with another NFT project, Ugly Sweaters by Ira Magnusson, releasing an additional honorary NFT on April 24th featuring two bears from Magnusson's collection driving in a VW-style van on a road trip. Altogether, the sales of Max's Garage 1st Road Trip collection raised over $7,600 for Best Buddies in Pennsylvania.
"Creating Max's Garage showed me that there are some great people in this world that wanted to support what I started." Said Plowden. Mike Cannings and Ashley Bestos of Lyke Island, a thriving NFT collection, contacted Plowden to offer support for the launch of Max's Garage and also to donate $1,000 to Best Buddies in Pennsylvania. Lyke Island lent the intellectual property from one of their NFTs, "Pippin's Farm," where Plowden used the green tractor as a utility vehicle in the 1st Road Trip collection.
On May 23, 2023, Dave Plowden and Max delivered the donation check to Best Buddies at its Pittsburgh office. They were welcomed by Samantha Civitate, Director of Development, who helped coordinate Plowden's pledge to donate in the weeks leading up to the 1st Road Trip release.
Raising money for this charity is helping Plowden bring services and support to children like Max, who rely on community-oriented infrastructure to thrive. Buyers or holders of any of the Max's Garage NFTs can be confident that their money is going to a good cause. The $7,638.49 raised for Best Buddies Pittsburgh will go towards a cooking competition that pairs top Pittsburgh chefs with people living with intellectual disabilities for an event of learning new cooking skills and fun. Stay tuned for more about our Pittsburgh Tastebuds event soon!
The Artist Behind the Collection
David Plowden is an artist living in New York who works as a VP of Marketing for a protein bar company. With over 15 years of experience in the marketing industry and a lifelong commitment to and passion for painting and artmaking, his outreach, engagement, and creative skillset have intersected in this project to create a truly impactful collection. As an artist, he has always been dedicated to helping others through his work and has experienced a tumultuous childhood himself. His focus is on bringing support and services to children who need it.
 What's Next? Continuing the Charitable Impact
The funds for the 1st Road Trip have been transferred to Best Buddies and Plowden has published the transfer of funds on social media to highlight the level of transparency at the heart of the project. From here, he plans to launch the 2nd Road Trip collection in September 2022, donating 100% of the funds from that release to No Kid Hungry. Following that, look out for a back-to-school supplies drive in the late Summer, followed by a holiday toy drive at the end of the year. With endless capacity for generosity and a prolific artistic spirit, the project promises to continue developing and impacting as many lives as possible.
View the complete collection, learn more about the project, or connect with Dave Plowden on Twitter to stay up-to-date on future Max's Garage initiatives.