Best Buddies Friendship Chapter Awarded Organization of the Year at Miami University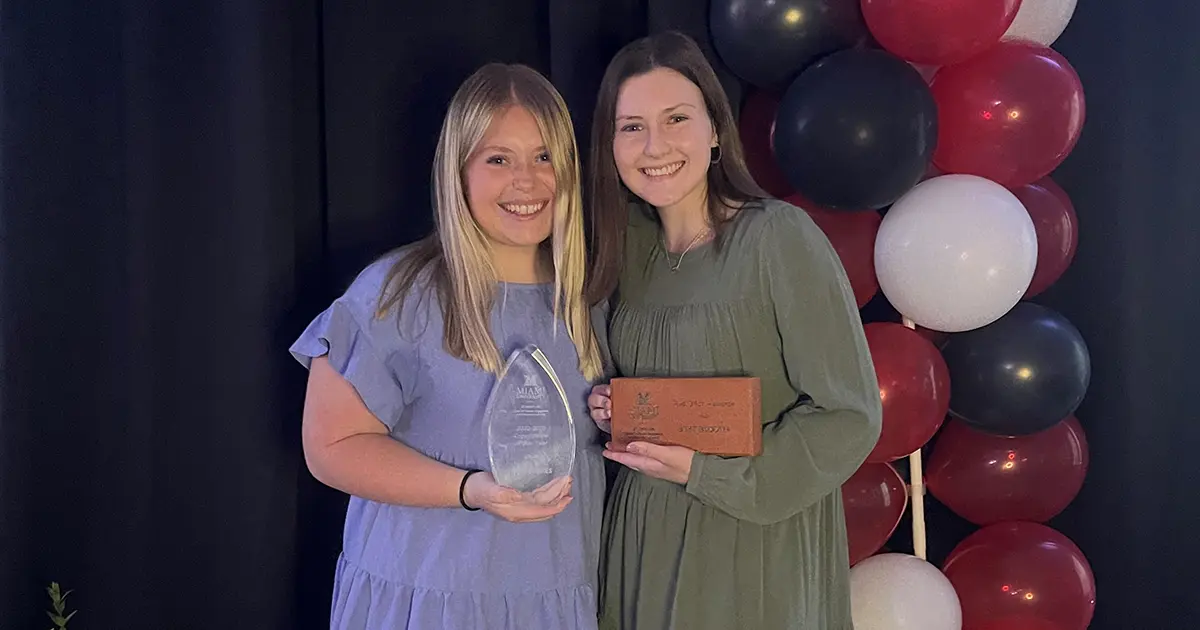 "Wait, no, really!?" Chapter President Meredith Bell exclaimed in excitement and disbelief as The Best Buddies Friendship Chapter at Miami University was announced as the Student Engagement and Leadership (SEAL) Department's Organization of the Year.
With more than 700 clubs on campus, Meredith felt like it was a long shot when she submitted her nomination essay. Earlier in the evening, Meredith and her Vice President Kate Robinson accepted an award for remaining in the "Best Quality Standing" for five years. They figured that was it until the final award of the evening was presented. Part of Meredith's essay reads:
"In today's society, Best Buddies' friendships are considered unique or different. Through greater exposure to our Best Buddies mission, friendship between individuals with varying abilities can become the norm in society. Our chapter members are given tools to immerse themselves in true inclusion as well as expose the greater Miami community to social inclusion and a more equitable society."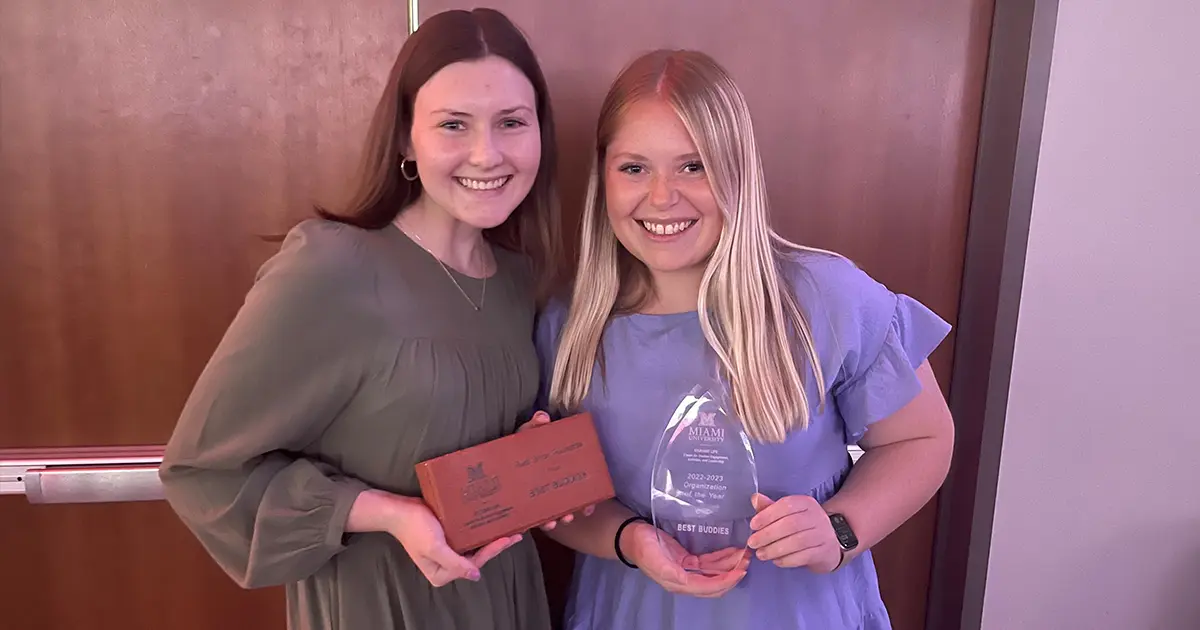 It's no coincidence that Miami's Best Buddies Chapter won Organization of the Year. Their leadership team made a concerted effort to strive for excellence. Meredith and Kate sat down last summer to plan out the year, committing to improve member communication and devising a new initiative to engage local community members outside of their normal reach. More than 200 members and 70 friendship matches later, their Best Buddies chapter has earned its distinction on campus.
Beyond the accomplishment, Meredith and Kate are grateful to be a part of Best Buddies and spread the mission of inclusion for people with intellectual and developmental disabilities. Spreading inclusions has become a driving purpose for both women. Meredith says,
"Best Buddies has been a huge part of my life, rebuilding a friendship after my buddy passed away sophomore year become a passion. Best Buddies has been a guiding light for me as I've studied to become an elementary school teacher. It has been an honor to work with our team. It's hard to explain, but it's difficult to be in a room with this group without bursting with laughter and joy. I will cherish so many memories from our events and watching wonderful friendships grow."
Kate shares the same spirit. She is the incoming Chapter President for the 2023-2024 school year and looks forward to growing upon their success and build the contagious energy of inclusion. From Kate, "It is great to know others see the hard work we are doing and care about inclusion because unfortunately, our world needs it. With Best Buddies, change is continuous, and no matter one's ability, every person deserves a friend to care about them the way our buddy matches care for one another."
We are proud to have such outstanding leaders creating inclusive communities across Ohio. Our deepest congratulations to the Best Buddies Chapter at Miami University for this honor.
If would like to start a Best Buddies Chapter at your school, or are interested in volunteer opportunities, please contact Sarah Blakely at SarahBlakely@bestbuddies.org.