Youth Today article highlights NJ Friendship program pair!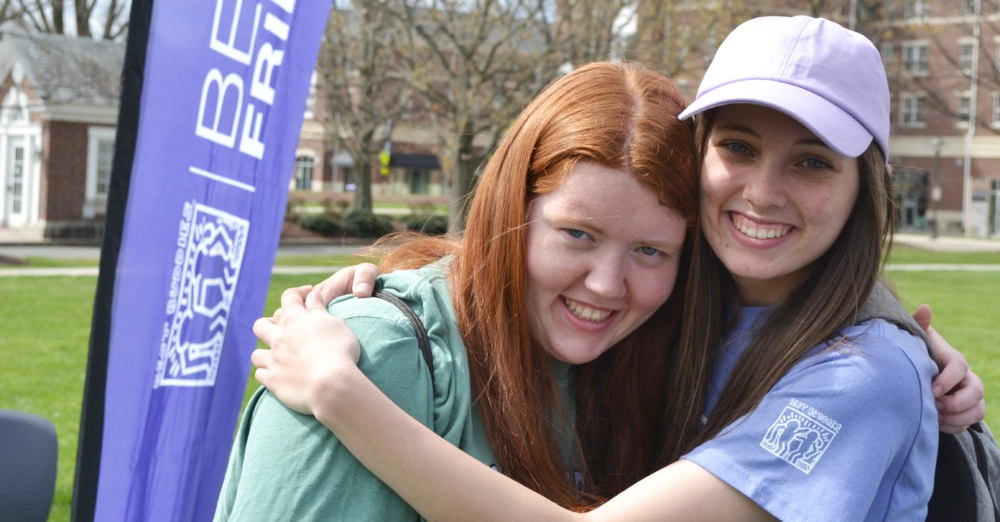 Project pairing students with and without disabilities seeks to bolster friendships, end isolation
By Michele C. Hollow
Originally posted on May 27, 2022, on Youth Today
After a year of remote learning and seeing each other online only, Elizabeth Mancini and Kelsey Heaney were glad to set foot on campus at The College of New Jersey last fall.
"I spotted Kelsey and started running towards her," Mancini said. "She saw me and ran towards me. We gave each other the biggest hug."
The college sophomores still hang out together as they nurture a friendship begun through Best Buddies, an international nonprofit that pairs students without learning disabilities with students with intellectual and/or developmental disabilities. Those pairings are in keeping with the organization goal of stemming social isolation often felt by disabled students and to integrate them more fully into society.
"We weren't close when we first met. I blame it on Zoom," Heaney said, noting the constraints imposed by a year of online-only Best Buddies meetings.
With COVID-19 restrictions eased, Mancini said, "We spend more time together when we meet in person … We can focus on one another when we're together, not on the computer."
Heaney, whose traumatic brain injury results from a childhood operation that went awry, is in the career and community studies program at the college. That four-year certificate program for 18- through 25-year-old students with learning disabilities aims to prepare them for careers after college; live independently; and socialize more easily with their peers and others.
Mancini, a special education major seeking to become a classroom teacher, heard about Best Buddies from a former high school teacher. "It sounded like a good way to make friends," she said, "and increase my awareness of people who I may not have had the opportunity to connect with. Best Buddies is about inclusion. And without this program, I would have missed out on connecting with people I care deeply about."
At The College of New Jersey, Best Buddies meets every other Wednesday. Events include karaoke, ice cream socials, movie nights and a recent tie-dye shirt party. "That was my favorite so far," Heaney said.
Ice cream socials, dances, charity-fundraiser walks and other activities take place at Best Buddies' chapters around the globe. Founded in 1989 at Georgetown University by Georgetown student Anthony Kennedy Shriver, the nonprofit's current CEO and chairman, Best Buddies has more than 1.3 million participants in its 3,000 chapters; chapters are in each of the 50 United States. In the nation's Capitol and Miami, Best Buddies operates residences for people with and without disabilities.
"The unprecedented challenges we faced together in 2020 has highlighted just how important our mission of inclusion is for individuals with intellectual and developmental disabilities," Kennedy Shriver said. "They need us now, more than ever."
Mancini was the first college classmate Heaney met who wasn't in her four-certificate program for learning disabled students. "I had 'friends,' in high school," Heaney said, punctuating her point with air quotes. "I just couldn't count on them. It's not like the friends I have now. Elizabeth listens to me and is there for me."
And Heaney was Mancini's first friend on campus. They talk about sports, movies, their family and friends and school. They both play on the school's soccer and basketball teams. "We're part of a large community," Mancini said. "It's nice to have a buddy I'm close with."
Disabled friendship program: Two hand-drawn outline cgharacters in yellow and orange with arms across each others shoulders with pale teal background students involved in the Best Buddies' program stay together from freshman through senior year. "Many of the students remain friends long after college," said Daphne Stanfield, president of The College of New Jersey chapter of Best Buddies, noting that there are chapters in 522 middle schools, 1,389 high schools and 512 colleges across the United States.
Mancini and Heaney said they're headed for a long-range friendship. Residents of New Jersey, they live about 90 minutes from one another by car. Mancini drives so the duo can go to the mall, to local restaurants and to one another's home. "I've learned that, despite our different abilities," Mancini said, "we share so much."
"Yes," said Heaney. "This relationship had taught me not everyone is that different from each other. The world should be Best Buddies on a bigger scale."
New Jerseyites Jess Lazar and Colleen Bryan, juniors on the same campus, also are interested in careers in special education. Laughter, among other shared gifts, are among what they most treasure about their friendship.
"She gives me sass and I give it right back to her," Lazar added.
They can be found dining together at the school cafeteria. "And now that Jess has a car," Bryan said, "we can do things off campus together, like catch a movie or go to an off-campus restaurant."