Chi-Town Half Marathon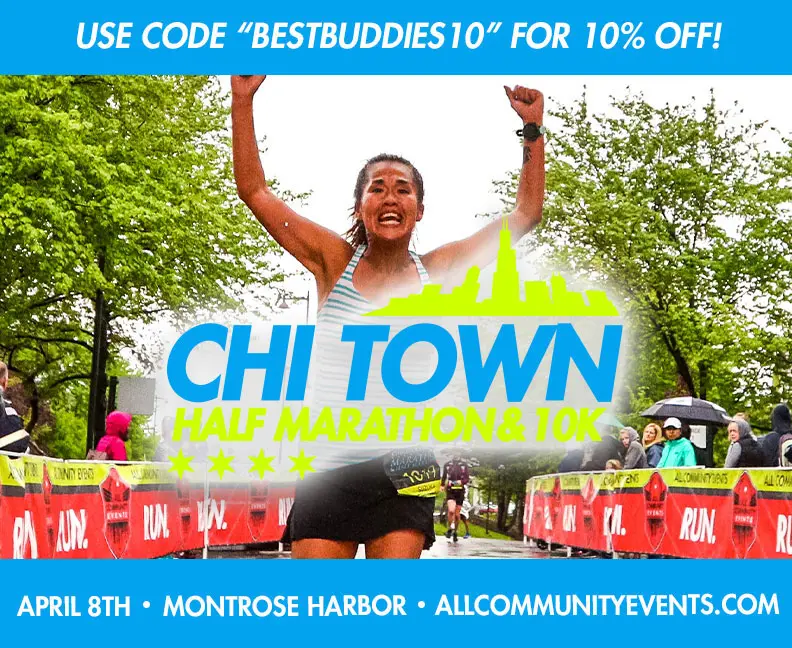 Saturday, April 8, 2023
6 AM – 11:30 AM
Location
Montrose Harbor
601 W. Montrose
Chicago, Illinois
Cost
Free
Register Here
Come volunteer with Best Buddies in Illinois at the Chi-Town Half Marathon anytime from 6 am-11:30 am on April 8 at Montrose Harbor!
If you would like to run the half marathon, you can use the code: BESTBUDDIES10 for 10% off of your registration.
Chi Town Half Marathon and 10K – Volunteer
When: April 8th, 2023, from 6:00 am – 11:30 am
Where: Montrose Harbor – 601 W. Montrose Chicago, Illinois
Who: Upon arrival, volunteers are to meet an All Community Events staff underneath the red registration tents and sign in on the volunteer sign-in sheet.
Job Descriptions
Registration Assistant: Volunteers will help with the process of participants checking in. They will check if the participant is registered by last name and if so then give them their race materials. Some volunteers will also assist with the process of new participants signing up on the day of the race.
Post-race registration/food: Once registration is closed the tents will be used for food primarily.
Volunteers will help organize the food and monitor it while participants are finishing. Hoodie exchanging will also be going on. Participants will be asking to exchange their hoodies for a different size and at this time it is okay as long as they didn't run in it.
Course Marshal: Course marshals will be placed on the course (in pairs of two minimum) and help direct the participants so they run the correct way. Here we ask the volunteers to be as enthusiastic as possible encouraging the runners to have a good time.
Water Station: Volunteers assigned to the water station will fill up cups of water and help distribute them to passing participants.
Medals: Every participant receives a finisher medal. Volunteers will be assigned to hand out the medals to the participants and they come across the finish line.
*Volunteers will more than likely work more than one job throughout the event. Also, there will be more jobs than listed above, those are the most typical.
Notes:
Volunteers should sign-in upon arrival to keep track of volunteers in attendance.
Please dress appropriately for the weather. Check the forecast prior to arrival of the event.
Volunteers are there not only to help but to have fun! Be sure to grab some Portillo's when the race is over.
We greatly appreciate and depend on volunteers so thank you all in advance!