Meet Bob and Billy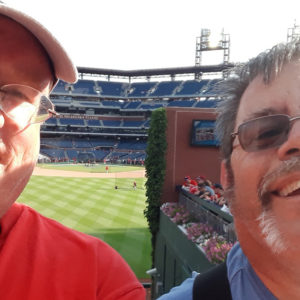 Bob Schlosberg has been best buddies with Billy Cole for over 5 years.  Shortly after they were matched, Bob found out that Billy grew up a mile from his wife's house and the two of them graduated from the same high school, two years apart.
When Bob met Billy, he was very involved in the Barbershop singing and Bob has seen him and his chapter sing numerous times in competitions, at senior centers and once at the Blue Rocks where they sang the National Anthem.
Billy and Bob regularly hit the flea market circuit where every day starts with a big breakfast!  They have been to the New Castle and Booths Corner farmers market many times. They have also ventured to Dover, King of Prussia and Reading on other occasions where Billy has accumulated quite a collection of Albums, 45's, and some 78's, mainly focused on the 50's and 60's with a heavy weighting towards The Beatles.
Their favorite part of the year is CHRISTMAS, and they have an annual tradition to go see either Mannheim Steamroller or the Trans Siberian Orchestra.  They have fun wherever they go and Billy has taught Bob quite a lot on Beatles trivia!