After much anticipation, we are proud to announce that the Best Buddies x Rosetta Bakery in the Brickell area of South Florida is officially open for business! In addition to offering authentic, high-quality food and coffee, this unique partnership between a non-profit and for-profit entity will provide employment opportunities for individuals with intellectual and developmental disabilities (IDD) and also help fund the expansion of Best Buddies' mission.
The Brickell store, located at ‪1451 Brickell Avenue in Miami, FL, is the first location; however, the vision is to expand this model globally.
Through this dynamic partnership, patrons who enjoy delicious Italian treats from Best Buddies x Rosetta Bakery are supporting Best Buddies with their purchase. They can also browse installations that showcase the work Best Buddies does across the globe, the organization's history, and the friendship, jobs, leadership development and inclusive living programs. Best of all, customers of the bakery will have the opportunity to interact with staff members like Darrell, who are participants in the Best Buddies Jobs program. A recent graduate, Darrell has just joined the Best Buddies x Rosetta Bakery team as a full-time employee and he is in charge of cleaning and maintaining the beautiful new bakery space.
"The Best Buddies x Rosetta Bakery partnership is a giant step forward for our organization. I'm super excited, thrilled and energized, not only for the one store that we are currently operating but also for the 299 that we will operate in the future," says Anthony K. Shriver, Founder & CEO of Best Buddies International. "This partnership will create unparalleled employment opportunities for our Best Buddies Jobs participants and allow them to showcase their talents and skills to the public at large."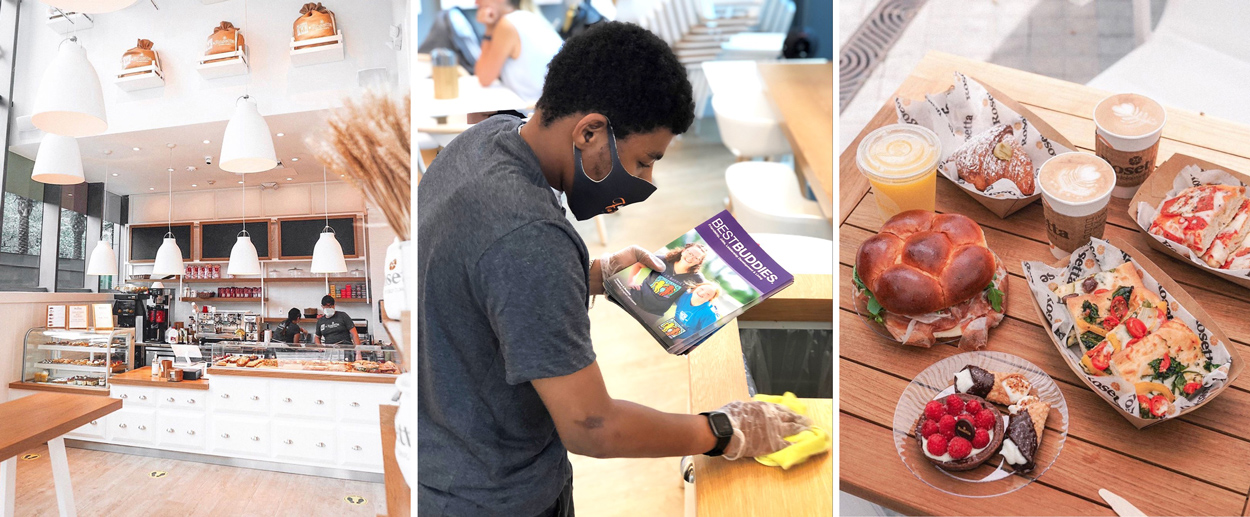 "Additionally, this new venture is going to be a great vehicle to promote our mission of inclusion to the general public and serve as a great way to generate revenue that will allow us to continue to build our organization, both nationally and internationally. Best Buddies x Rosetta Bakery is one of the most important and exciting projects this organization has worked on in a long time…There's no one in the world developing a partnership of this magnitude that will create this level of opportunity for our program participants. I'm fired up!"
Visit Best Buddies x Rosetta Bakery today to enjoy the best treats in Miami and say hello to Darrell and the team! When stopping by, please remember to wear your Best Buddies mask (or any other face covering) and maintain a safe social distance from other people in the store. Safety practices are in place to protect you, other patrons and the bakery's staff from the spread of COVID-19.
If you are interested in opening your own Best Buddies x Rosetta Bakery franchise, please contact Director, Best Buddies Ventures, Catherine Anne Hennessy Markert at CatherineAnne@bestbuddies.org.