Best Buddies Celebrity Supporters Courtney Sixx and Charlotte McKinney Host Event Celebrating Friendship and Inclusion at Chrome Hearts in Miami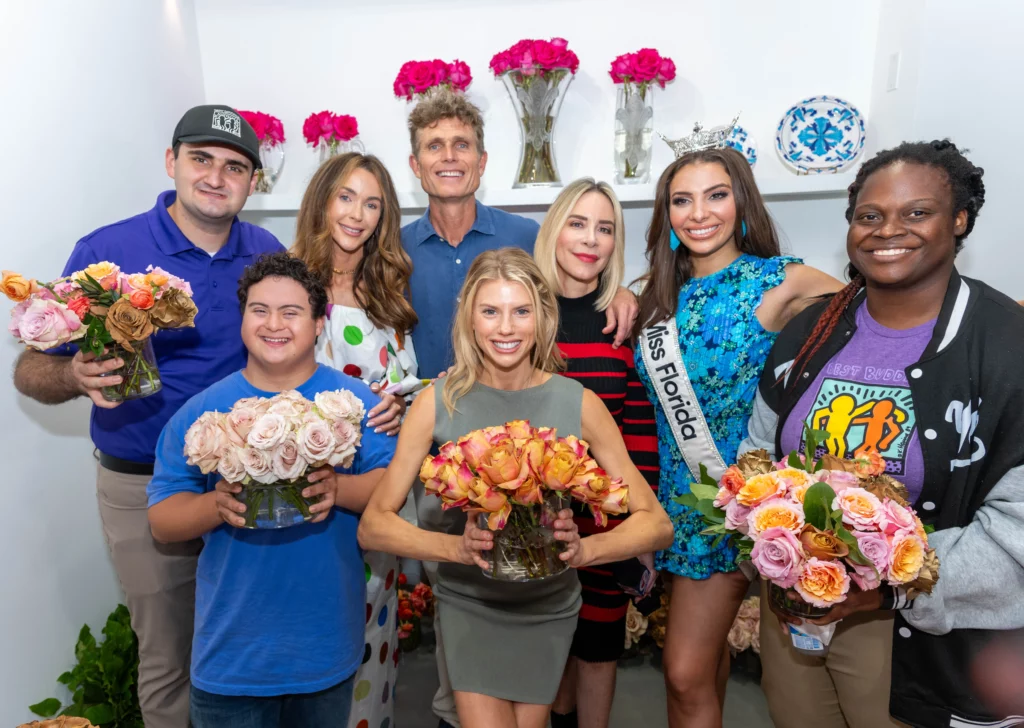 Miami, FL, November 16, 2023 – Best Buddies International, a nonprofit dedicated to creating opportunities for friendship, employment, leadership development and inclusive living for people with intellectual and developmental disabilities, partnered with Courtney Sixx, owner of Bouquet Box, and actress Charlotte McKinney to host a kickoff event at Chrome Hearts in Miami's Design District ahead of the organization's 25th Annual Best Buddies Miami Gala.
Best Buddies participants teamed up with Sixx and McKinney to craft floral arrangements as tokens of appreciation for top donors and supporters who have demonstrated remarkable generosity and unwavering commitment to the organization's mission.
"Best Buddies has held a special place in my heart since my high school days," McKinney said. "The connections I've forged with buddies over the years transcend the mission of the organization and have left an indelible impact on my life, creating memories that I will always cherish."
"Flowers bring such beauty and joy, just like the friendships that blossom through Best Buddies mission of inclusion," Sixx said. "When you make a flower arrangement, you often include different flowers that complement each other, just like Best Buddies does by bringing together people of different abilities who all complement and amplify each other."
About Best Buddies
Best Buddies® is a nonprofit 501(c)(3) organization dedicated to establishing a global volunteer movement that creates opportunities for one-to-one friendships, integrated employment, leadership development and inclusive living for people with intellectual and developmental disabilities (IDD). Founded in 1989 by Anthony K. Shriver, Best Buddies is a vibrant organization that has grown from one original chapter to nearly 3,000 middle school, high school, and college chapters worldwide. Today, Best Buddies' 11 formal programs — Elementary Schools, Middle Schools, High Schools, Colleges, Citizens, e-Buddies®, Jobs, Ambassadors, Promoters, Transitions and Inclusive Living— engage participants in each of the 50 states and in 49 countries, positively impacting the lives of nearly one million people with and without disabilities around the world. In many cases, as a result of their involvement with Best Buddies, people with intellectual and developmental disabilities secure rewarding jobs, live on their own, become inspirational leaders, and make lifelong friendships. For more information, please visit www.bestbuddies.org or connect with us via Facebook, Instagram or Twitter.
About Bouquet Box
Bouquet Box, the first ever DIY floral arranging kit, was founded by lifestyle and DIY expert Courtney Sixx with collections co-designed by celebrity florist, Mark's Garden. Bouquet Box Flower Bar (BBFB) is the occasion spinoff of Bouquet Box, offering guests a luxury floral pop-up experience with not only a master class in arranging highest quality flowers but also a spectacular display to take home as a memorable favor. In addition to BBFB and its petite, classic and deluxe size kits, the brand continues to add floral design products to its line with the development of wedding, baby shower/reveal and roses-only lines coming soon.
Media Inquiries
Jacob Pasternack
Manager of Marketing and Communications
JacobPasternack@BestBuddies.org