Centennial High School Earns "Honor Row" at Baltimore Ravens Game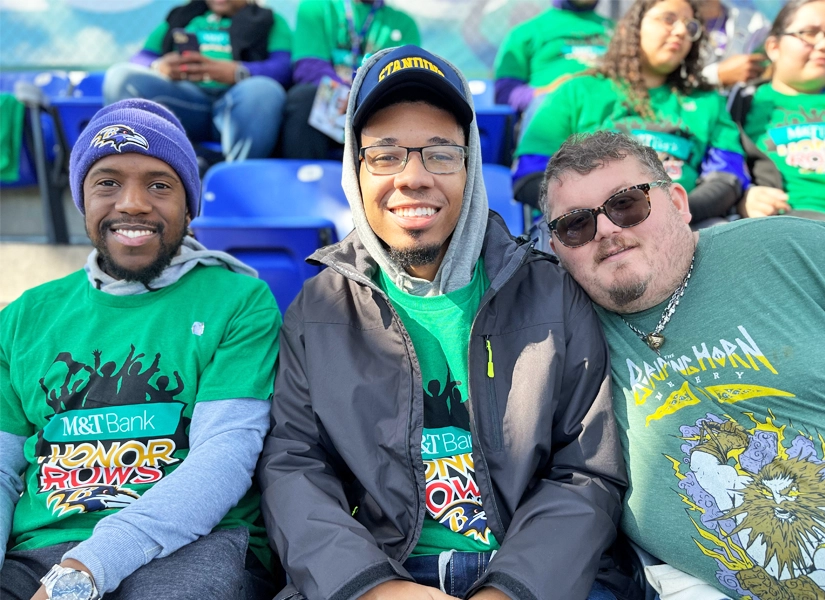 Baltimore, MD, Oct. 26, 2023 — For the Best Buddies Friendship chapter at Centennial High School in Ellicott City, Maryland, this was not an average weekend.
The chapter of Best Buddies International, a nonprofit dedicated to creating opportunities for friendship, employment, leadership development and inclusive living for people with intellectual and developmental disabilities (IDD), was invited to sit in the Baltimore Ravens' "Honor Rows" for being a youth group that provides "outstanding support" to the local Maryland community. Best Buddies in Maryland has repeatedly been recognized by the Ravens' "Honor Rows" program, with the state program receiving this honor five times.
"We are committed to bettering the experience of people with and without disabilities," Ava Camp, the chapter co-president, said. "This recognition shows we are following through on that commitment."
The Centennial High School chapter was awarded 100 tickets to the Ravens' game against the Detroit Lions, exclusive access to the Ravens' pregame warmups and in-game recognition on the jumbotron. Fifty members from Centennial High School attended alongside an additional 50 Best Buddies members from Reservoir High School, River Hill High School, Howard High School, Chesapeake High School and Don Bosco Cristo Rey High School.
"Everyone was so happy, and the energy was amazing," Allison Norton, the other chapter co-president, recalled. "We were cheering the entire time. Even if the other team scored, we were still cheering."
The prior week, the chapter received local news coverage detailing the chapter's successes. It was also recognized at the game by Wes Moore, the governor of Maryland.
"The governor gave us a 'Governor's Citation,' which recognized the chapter's commitment to the community," Elizabeth Engle, the chapter's adviser since 2013, said. "So, of course, it is now hanging in the school's front office."
The Centennial High School Best Buddies chapter was founded in 2003 and received the Chapter of the Year award from Best Buddies in Maryland in 2023. This recent success has stemmed from the outstanding leadership from Norton and Camp.
"[Norton and Camp] really brought fresh new perspectives to get our students into the community," Engle said. "They really put in the effort to get everybody involved: this is truly a student-led club."
Norton and Camp hope this opportunity shows other Best Buddies Friendship chapter leaders that their work can lead to amazing opportunities for their chapters.
"We might be a smaller group," Norton said. "But this showed that as high schoolers, we really can make a big impact on the community."
About Best Buddies
Best Buddies® is a nonprofit 501(c)(3) organization dedicated to establishing a global volunteer movement that creates opportunities for one-to-one friendships, integrated employment, leadership development and inclusive living for people with intellectual and developmental disabilities (IDD). Founded in 1989 by Anthony K. Shriver, Best Buddies is a vibrant organization that has grown from one original chapter to nearly 3,000 middle school, high school, and college chapters worldwide. Today, Best Buddies' 11 formal programs — Elementary Schools, Middle Schools, High Schools, Colleges, Citizens, e-Buddies®, Jobs, Ambassadors, Promoters, Transitions and Inclusive Living— engage participants in each of the 50 states and in 49 countries, positively impacting the lives of nearly one million people with and without disabilities around the world. In many cases, as a result of their involvement with Best Buddies, people with intellectual and developmental disabilities secure rewarding jobs, live on their own, become inspirational leaders, and make lifelong friendships. For more information, please visit www.bestbuddies.org or connect with us via Facebook, Instagram or Twitter.
Media Inquiries
Jacob Pasternack
Manager of Marketing and Communications
JacobPasternack@BestBuddies.org