Supreme Committee for Delivery & Legacy and Qatar Museums partner with Best Buddies to promote diversity and inclusion in the workplace, society at large
Doha, QATAR, April 7th, 2018 — On Sunday, April 15th, Best Buddies Global Ambassador Tom Brady will join the Supreme Committee for Delivery & Legacy (SC), Qatar Museums (QM), and Best Buddies participants in Qatar at the renowned Khalifa International Stadium to officially launch the new partnership between the two organizations to incorporate individuals with intellectual and developmental disabilities (IDD) in the organization of the 2022 FIFA World Cup Qatar™. The event – run by the SC's flagship CSR program Generation Amazing – will celebrate diversity, inclusion and bring together people with and without disabilities for a day of fun with the 5-time American Football Super Bowl Champion, Tom Brady.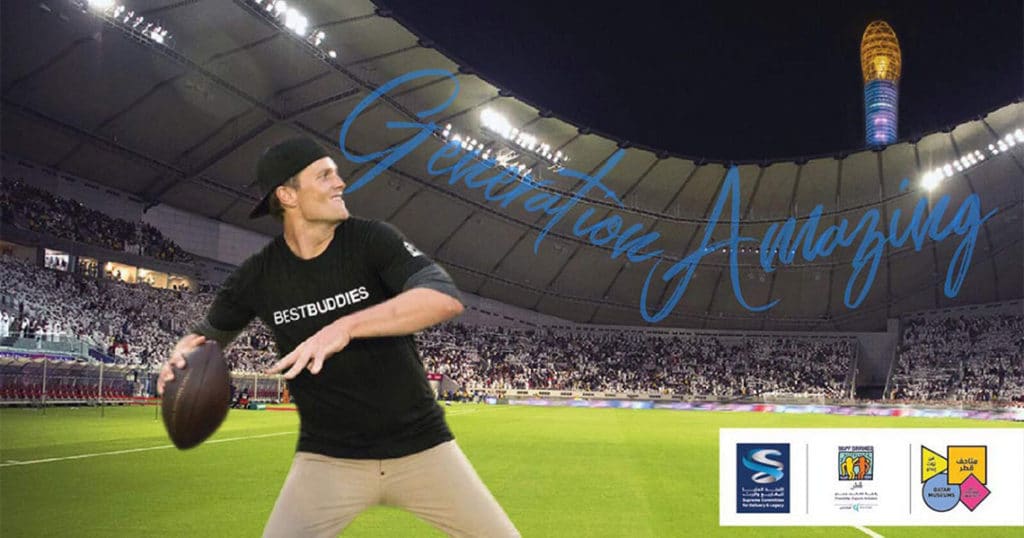 "Tom Brady has served as an exemplary Global Ambassador for Best Buddies since 2003, and has helped bring an even greater awareness to the infinite abilities people with intellectual and developmental disabilities possess," said Anthony Kennedy Shriver, Founder, Chairman & CEO of Best Buddies International. "Tom has proven himself to be a committed advocate for individuals with disabilities, always going above and beyond the call of duty to help promote a world of inclusion and opportunity for this population. Tom's work in Qatar on behalf of Best Buddies will change lives for the better."
As part of the new partnership, the SC has committed to integrating 20 individuals with IDD in Qatar through the Tamkeen initiative, the SC's inclusivity initiative, in Qatar's organization and hosting of the 2022 FIFA World Cup™, helping participants grow their independence and work alongside others in their community.
The partnership with QM included the commitment of integrating 20 individuals into QM's operations and programs.
During his visit to Qatar, Tom Brady will be hosted by Her Excellency Sheikha Al Mayassa bint Hamad Al Thani to some of the country's most prestigious national gems and historic landmarks which includes the Museum of Islamic Art; a visit to Al Shaqab, an ultramodern equestrian facility; Khalifa International Stadium and a trip to enjoy the spectacular landscapes in Qatar's sealine desert and will conclude by attending the opening ceremony of Qatar National Library.
Best Buddies International is the world's largest organization dedicated to ending the social, physical and economic isolation of the 200 million people with IDD. The organization's programs help people with disabilities form meaningful friendships, secure successful jobs, and develop indispensable leadership skills to advocate for themselves and their peers. Best Buddies currently operates in 50 countries and impacts the lives of more than 1.2 million individuals globally.
Generation Amazing is the landmark football-focused social development program of the SC. It uses football for development initiatives to address social issues in countries with an identified need, in line with the United Nations Sustainable Development Goals. Through the construction of community football pitches, the delivery of comprehensive football for development training and the involvement of young people, the programme reaches some of the world's most excluded people, especially those experiencing high levels of deprivation. It also promotes sustainable behaviors among young people in Qatar and across the region.
Qatar Museums connects the museums, cultural institutions and heritage sites in Qatar and creates the conditions for them to thrive and flourish. It centralises resources and provides a comprehensive organisation for the development of museums and cultural projects, with a long term ambition of creating a strong and sustainable cultural infrastructure for Qatar. Under the patronage of His Highness the Emir, Sheikh Tamim bin Hamad Al Thani, and led by its Chairperson, Her Excellency Sheikha Al Mayassa bint Hamad bin Khalifa Al Thani, QM is consolidating Qatar's efforts to become a vibrant centre for the arts, culture and education, in the Middle East and beyond.
www.sc.qa
Since its foundation in 2005, QM has overseen the development of the Museum of Islamic Art (MIA), Mathaf: Arab Museum of Modern Art, and the Al Zubarah World Heritage Site Visitor Centre. The QM also manages the QM Gallery at Katara Cultural Village, the ALRIWAQ DOHA Exhibition Space and the Fire Station: Artists in Residence. Future projects include the launch of the highly anticipated National Museum of Qatar and the 3-2-1 Qatar Olympic and Sports Museum.
www.qm.org.qa