Best Buddies Friendship Walk: South Florida – An Unforgettable Experience
By: TaylorAnn Miller
Dear Best Buddies Family,
As a volunteer, I want to share with you the incredible experience I had this past weekend at the Best Buddies Friendship Walk: South Florida. This was the first time I participated in the walk, and all I can say is it was more than I could have ever imagined. If you ever wondered whether giving to Best Buddies is worth it, I hope that my story confirms that it is.
We are all part of an extraordinary journey towards inclusion, and together we can make a significant difference. Together, we can make the world more welcoming for individuals with intellectual and developmental disabilities – one friendship, one job, and one life-changing connection at a time. Below I share my personal experience and strongly encourage you to attend the next walk. Not only did I become more knowledgeable and passionate about Best Buddies, but I met incredible people, built friendships and had a whole lot of fun.
In Friendship,
TaylorAnn Miller, Volunteer
—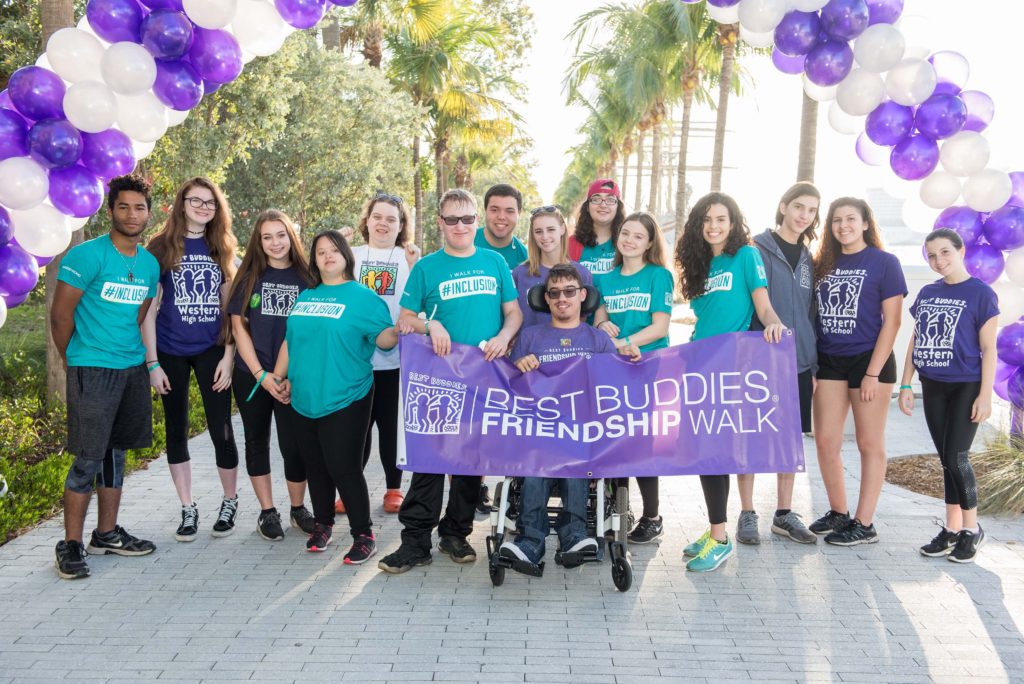 On Saturday, March 17th, Best Buddies International, a groundbreaking nonprofit founded in 1989 by Anthony K. Shriver to establish a global volunteer movement that creates opportunities for one-to-one friendships, integrated employment and leadership development for people with intellectual and developmental disabilities (IDD), hosted its 8th annual Best Buddies Friendship Walk: South Florida at Museum Park in Downtown Miami. More than 2,600 participants laced up their shoes and joined as one, with a common goal in mind – inclusion. Best Buddies brought together a community of strangers that had one thing in common – a dedication to ending the social, physical and economic isolation of the 200 million people with IDD.
On Saturday, Miami's weather kept its promise, and it was a picture-perfect day along Biscayne Bay. An array of purple and white balloons lined the park signaling it was time to celebrate. Shirts with eye-grabbing colors depicting #Inclusion were given out to all attendees helping to reinforce the fundamental goal of the organization, while spreading love, laughter, and friendship. The day kicked off with energetic music as the event MC, WSVN news anchor and Best Buddies supporter Craig Stevens, welcomed everyone to the Friendship Walk. The event had it all; from round the clock dancing to family-friendly activities – including giant Jenga, a petting zoo, face-painting and photo booths – to zip-lines, bungee trampolines, bounce houses and more.
Around 9 a.m., Buddy pairs, teams and supporters cheered on a one mile competitive run for the first time in Best Buddies history. The sound of rattling cowbells amplified as the runners crossed the finish line. Shortly after, the walk began with a commemorative moment featuring students from Marjory Stoneman Douglas High School in Parkland, Florida. The school's student chapter of Best Buddies came together and held white balloons containing the names of those 17 lives lost from the Parkland tragedy. Remembering those lost brought an extra sense of unity and passion among the community while raising awareness for a special cause.
The Walk concluded back at Museum Park where participants were treated to lunch, generously provided by Subway. They were then invited to dance and celebrate their achievements with live performances by Alexa Aronson, a two-time Billboard Top 30 charting artist, and celebrity Best Buddies supporter Hip-Hop artist Fat Joe. Being a fan of Fat Joe, it was extra special to see him perform his hit song "All The Way Up" as it got everyone, including myself, to sing along.
The celebration continued with a special speech presented by Best Buddies Ambassador, Jamie Torres. Jamie's message not only warmed hearts but also reminded us all why we are part of Best Buddies.
"Together we can change the world. We need to build more friendships with people with disabilities. We need to find more jobs for people with disabilities. We need you; we definitely need you. Joining Best Buddies gave me the opportunity to let my voice be heard and speak up for what I believe is important. Stand with me today and make a difference in someone's life. We can do anything through friendships, leadership, and jobs. If I can do it, you can do it. Today's walk was great. #Inclusion for all! Go best buddies." – Jaime Torres
Jamie's speech was so inspirational that it created an uproar of cheers. It was incredible to see so much enthusiasm for the Best Buddies mission in South Florida. This year, South Florida raised a total of $550,000 in donations, a record for the organization!
Proceeds from the Friendship Walk are fundamental in supporting state programs that provide one-to-one friendships, integrated employment, and leadership development. These programs can be found in all 50 states and will create promising opportunities for more than 350,000 people this year. Best Buddies has made it their mission to eliminate the casual discrimination and exclusion that many were once subjected too. Opportunities have expanded for all, but that does not mean we should stop there. Every day, Best Buddies is transforming hundreds of thousands of lives by breaking down the barriers and advocating for inclusion.
When you join Best Buddies, be prepared for a life-changing experience like the one I had on Saturday. I hope to see you all next year, and I cannot wait to participate in what Best Buddies has planned in the future.
Walk for inclusion. Walk for friendship. Walk for a better South Florida.
To sign up for a Friendship Walk near you, click here.