Daymark Living Partnership for Jobs Program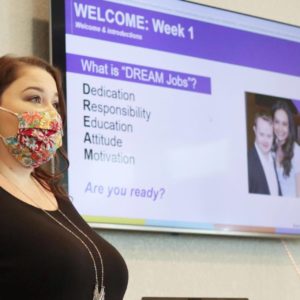 Best Buddies in Texas is thrilled to announce its partnership with Daymark Living to bring the Best Buddies Jobs program to Waxahachie, Texas. Located in Waxahachie, Daymark is a residential community dedicated to helping adults with intellectual and developmental disabilities (IDD) live a happy, healthy, and independent life.
Thanks to the vision and guidance from Daymark Living founder, John Poston, Best Buddies was able to hire Employment Consultant, Cheyenne Jock, to work exclusively out of Daymark to help residents secure meaningful, competitive employment. Because Jock is solely dedicated to Daymark residents, she is excited to get to know each resident closely and help them secure jobs that they are truly interested in.
"Not only does Best Buddies search for a good match in inclusive employment, but we're also there on the job, so that when the employee starts work, they are able to transition into that job the best way possible and with the most support," Jock said. "As they learn their job and gain independence, we adjust our support, but are always there for the employee."
While COVID-19 has presented several unforeseen obstacles, Jock has worked with residents on exploring career dreams and goals, building their soft skills, and conducting mock interviews.
"If you or a loved one have paused the employment process because of COVID-19, my biggest advice to you would be to stay motivated, continue practicing mock interviews, and keep working on your professional skills," Jock said. "That way, when you are able to return to work, you're already prepared to nail your interview."
The Best Buddies Jobs program is currently also available in the Houston and North Texas markets in Texas. Learn more about Best Buddies Jobs.