Mission Moment – Meet Mary Anne Caporaletti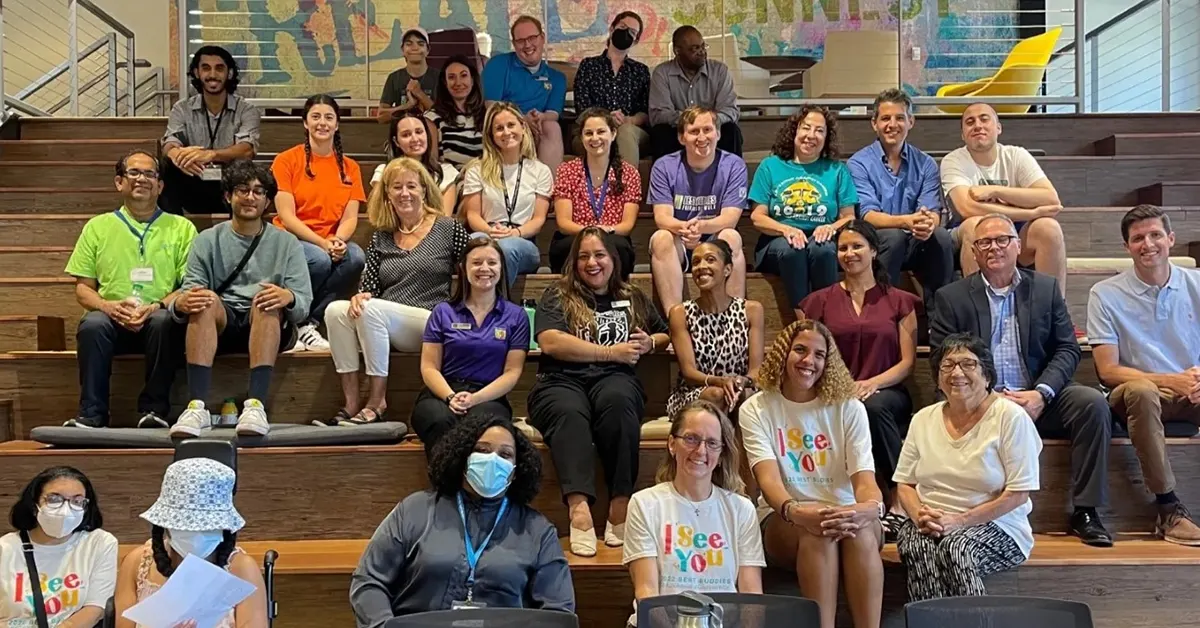 "Everyone has something to contribute. A role to play." – Mary Anne
Mary Anne has seen the disability rights movement through a series of lenses. As a mother, educator, and citizen, she has been at the forefront of disability inclusion and sat down with Best Buddies staff to share her perspective.
Each quarter, we will strive to highlight untold stories of involvement. Starting with Mary Anne Caporaletti, focusing on her role as mother and educator, she has witnessed the importance of Best Buddies' programs. As an organization, we value the perspective of parents.
Mary Anne is the proud mother of Marielena – a Best Buddies Ambassador & Citizens buddy. Marielena (Mare) has participated with Best Buddies in a variety of ways. Starting off in high school, Mare was a part of the Lower Merion High School chapter, inspired by advisor Heather Van Horn. After graduating, Mare continued her education at East Stroudsburg University (ESU), joining the chapter there and serving on their leadership team. Following graduation from the ESU CILLS program, Mare grew her involvement with Best Buddies and signed up for our adult friendship program, Citizens, where she is currently matched with her peer buddy, Marcella Gambino.
Mary Anne played an active role in working with Mare to advocate for her continued involvement. Concerned about how to continue Mare's involvement with Best Buddies post-high school, Best Buddies PA's program growth across the state ensured opportunities for Mare to stay involved throughout her entire academic journey & now into her post-graduate life.
When asked about seeing the trajectory of Mare's involvement with Best Buddies, Mary Anne noted several benefits of having her family involved:
Both sides (both the individual with IDD & neurotypical peer) benefit greatly from being in a Best Buddies program.
It provides everyone an opportunity to contribute to this movement.
Creating that lifecycle of opportunities is so important and benefited Mare.
Mary Anne's passion for inclusion has been shaped in a variety of ways. Two of the largest influences have come from her travels to different parts of the world. Starting in Romania, this important place was where the Caporaletti family adopted their daughter. And continuing in Egypt, at an international school, Mary Anne quickly discovered the dire need for inclusion at an international level & how limited educational opportunities are for individuals with disabilities.
Mare continues to thrive as a Best Buddies Ambassador, most recently participating in our 2022 Ambassador Expo. Mary Anne supported Mare at the event and candidly shared with the group her story of involvement, inspiring this story you read today.

Photographed above is Mare Caporaletti & her speech coach Molly Rose from the 2022 Ambassador Expo
Thank you, Mary Anne, for all you do as a mother, educator, and Best Buddies community member. We are honored that you are a part of this movement and hope your family will be involved for many years to come. Do you have a story of involvement to share? Email Pennsylvania@bestbuddies.org to link up with our team! We want to hear from you!