Meet Chloe
We just held our Leadership Training Day for student chapter leaders and faculty advisors. The goal was to provide updates on how Best Buddies can and will support chapters in this social distancing/virtual era and highlight resources that could be helpful while engaging students.
University of Oregon Chapter President: Chloe Mowbray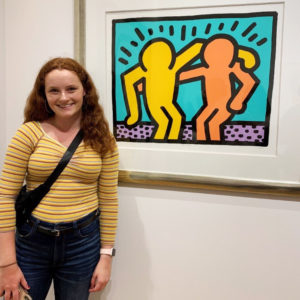 Although this is not my first year with Best Buddies UO, it is my first time as Chapter President, so I want to be as supportive to my chapter members as possible, a large reason I came to the training. I know the power of one-to-one friendships with members of the disability community, and I would not be the person I am today without them. As an aspiring special education teacher, I want to promote these kinds of relationships because I have learned so much from those I have befriended. Small acts can make big impacts on peoples' lives!
Photo Caption: August 2019 when I finished my study abroad program in Berlin, some friends and I went to Amsterdam where I happened to stumble upon THE original Best Buddies art by Keith Haring!
We are so honored to have student leaders, like Chloe! Thank you for your dedication to the Best Buddies mission!