Best Buddies Friendship: Brooklynn and Tiffany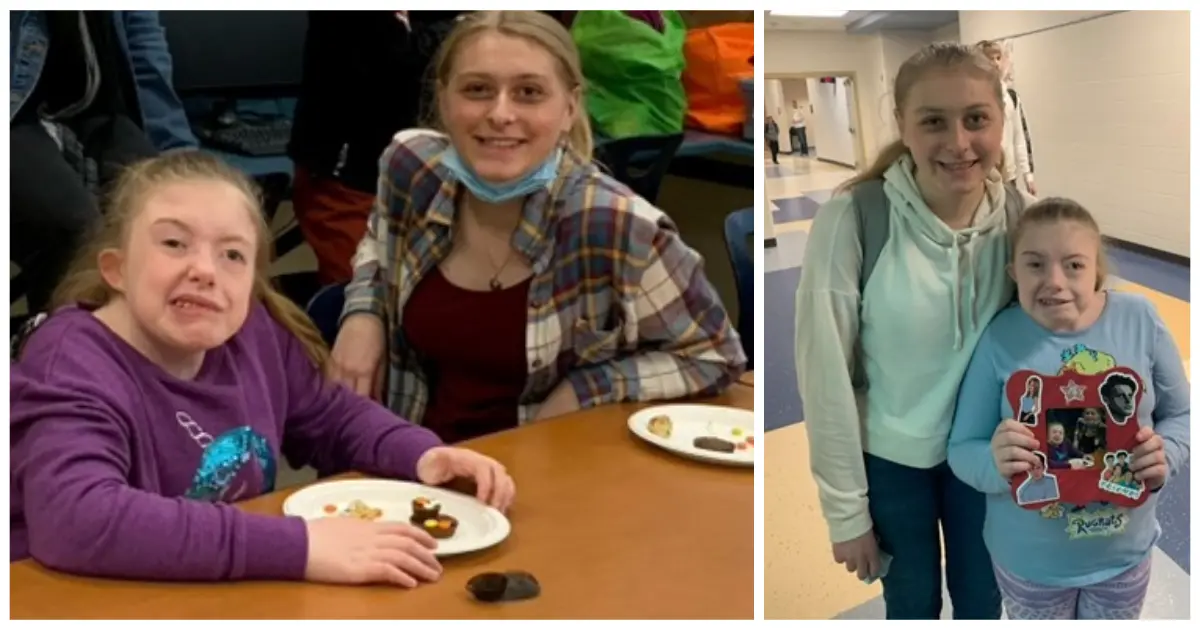 When Best Buddies came to Edgewood High School last fall, there was no question Tiffany was going to participate. She was excited to spend more time with her friends with intellectual and developmental disabilities (IDD), whom she had been sitting with at lunch since her freshman year. She became a Chapter Leader and looked forward to inspiring more of her classmates to include students with disabilities. For her buddy Brooklynn, inclusion looks like learning American Sign Language (ASL).
Brooklynn, who is deaf, communicates with her classmates mostly through an ASL interpreter, making it more challenging to form 1-1 friendships with her peers. Brooklynn and Tiffany were a natural match! Tiffany started learning ASL as a sophomore and becoming friends with Brooklynn helped her improve her skills and form a meaningful friendship. Tiffany shares,
"High school is a tough time, but it has made it easier with my buddy's support. Having friends at school who care about you makes all the difference in the world. I can go into the school and be down, or just having an off day, but seeing her always brightens up my day. The other day she saw me in the hallway and hugged me. I didn't realize until that moment that I needed a Brooklynn hug. She is a total sweetheart, and my life is better because she is in it."
Brooklynn and Tiffany enjoy playing thumb war, talking in the hallway, drawing pictures, and making Christmas cards together. They even attended the Edgewood High School Day Prom and Best Buddies Friendship Walk together with their Best Buddies Friendship Chapter. Brooklynn shares,
"Tiffany is a great friend because she is fun, funny and she knows sign language."
Brooklynn has started a movement at Edgewood. Tiffany credits her with inspiring other students in Best Buddies to learn sign language and has even influenced her teachers to use more ASL in their daily instruction. Brooklynn and Tiffany's friendship flourished and inspired others through their participation in Best Buddies and Tiffany wants other students to know what they're missing out on. She shares,
"Not only can you make new friends, but you can also learn more about yourself and who you want to be. There's a lot we can learn from others, and these friendships can help inspire growth and an everlasting bond that is irreplaceable."
If you are interested in being a Best Buddies Friendship Chapter member, visit: bestbuddies.org/join or contact Ohio@bestbuddies.org for more information.