Celebrating Inclusion Figures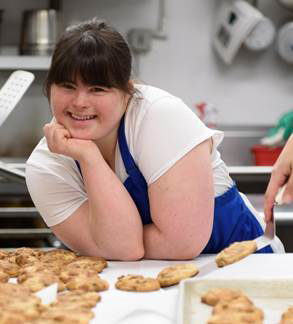 Collette Divitto was born in 1990 with Down syndrome. She grew up in Ridgefield, Connecticut, where she developed a passion for baking after taking classes in high school. After testing out several cookie recipes, she came up with an original cinnamon chocolate chip cookie that people really enjoyed. Because all of her friends and family raved, "This cookie is amazing," Collette decided to call her recipe "The Amazing Cookie."
After high school, Collette attended Clemson University, and finished a three-year LIFE program in just two years. With characteristic sass and a strong drive to work hard and succeed, she moved to Boston, where she was sure she would find a paying job. Although she went on many job interviews that seemed to go very well, she always got an email saying something like, "it was great to meet you, Collette, but at this time we feel you are not a good fit for our company." Because she was determined not to let rejection stop her from earning a living and doing meaningful work, Collette decided to turn her passion for baking into a business, and founded Collettey's Cookies.
She started by approaching a local grocery store and asking if they would sell "The Amazing Cookie." The store became her first of many clients. Knowing firsthand the struggles that people with Down syndrome endure while looking for employment, Collette decided that her company would be not just a means of earning a living, but it would have a greater mission – to create jobs for other people with disabilities. In late 2016, the Boston CBS TV affiliate featured Collette and her company on their nightly news program. Soon, she was flooded with orders. The national news picked up her story, and Collettey's Cookies went viral. She has been featured on CNN, Good Morning America, MSNBC, Inside Edition, BBC, CBS Evening News, ABC World News, People Magazine and many other print and television media outlets around the world. She has sold over 400,000 cookies to date and Collettey's Cookies now employs 15 people, several with disabilities. Collette travels around the country to share her inspiring story, and constantly encourages people to focus on their abilities rather than what they can't do. Her ultimate goal is to work with lawmakers in Washington, D.C. to create policies that would increase employment opportunities for people with disabilities. Collette is one "smart" cookie.

HQ Announcements
2022 Best Buddies Leadership Conference Registration
The 2022 Best Buddies Leadership Conference registration page is now open!
To register for this year's leadership conference, visit the link that best applies to you:
English
Wednesday, July 13th, 2022
8:00 a.m. – 2:00 p.m. EST
Register here!
Español
Jueves, 14 de Julio 2022
10:00 a.m. – 4:00 p.m. EST
Regístrate aquí!
Please note registration is first-come, first-serve as space is limited. If you have any questions, please let us know. We look forward to seeing you at the 2022 Best Buddies Leadership Conference!
2022 Global Staff Forum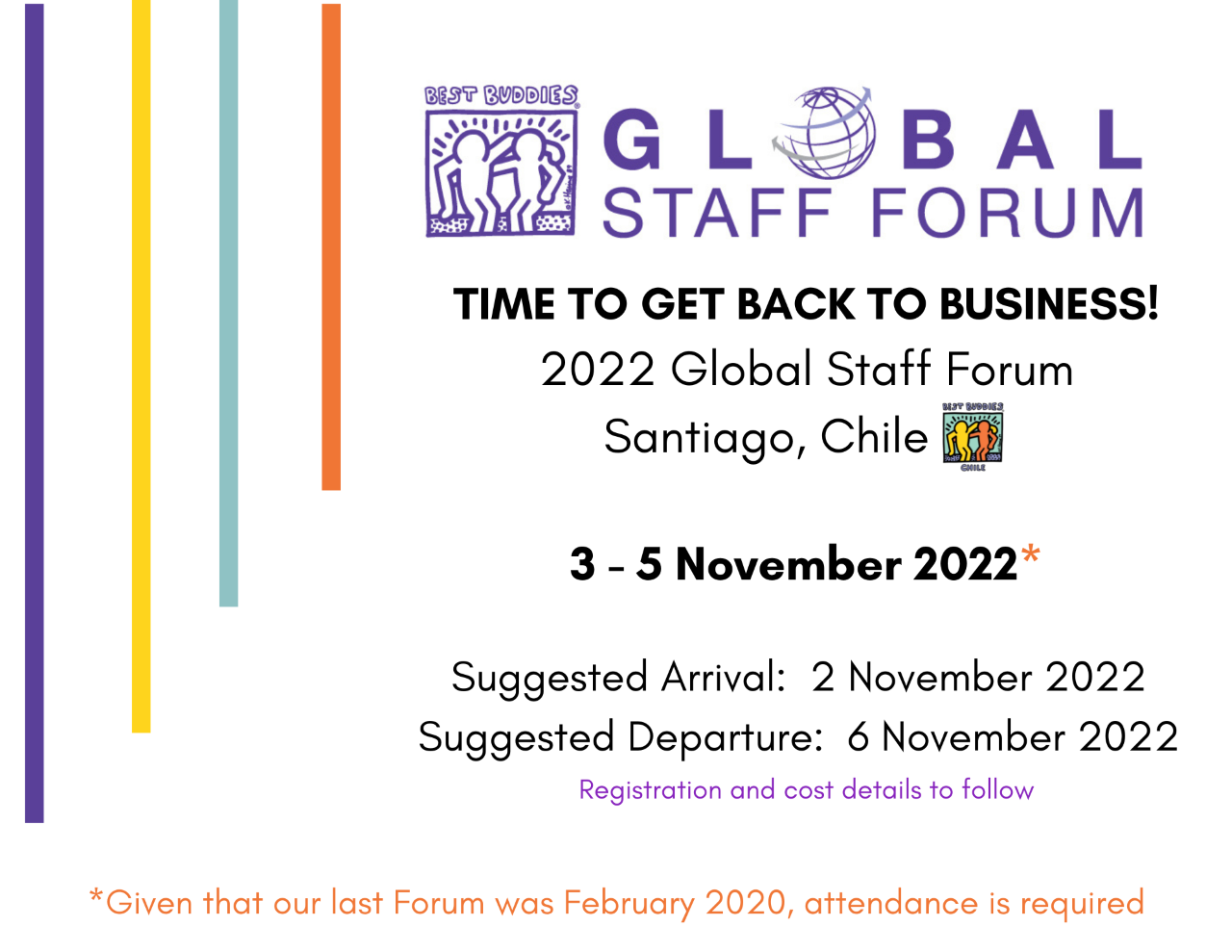 Monthly Events
Your Nonprofit's Online Presence: Legal Risks and Protections for Websites and Social Media
Learn best practices for how to protect your online intellectual property, such as educational and training materials, fundraising campaigns, blog posts, newsletters, and photos, and how to reduce risk when using others' content. We'll discuss copyright, fair use, trademarks, defamation, invasion of privacy, and rights of publicity.
Thursday, July 7, 2022
11:00 a.m. EST: Register Here
Media and Volunteer Engagement
Volunteer engagement is changing. What do you need to know about social media as a volunteer manager? How can you use social media to promote your volunteer opportunities and recruit volunteers? This webinar will offer an introduction to including social media in your volunteer recruitment and relationship building plans.
Tuesday, July 19, 2022
2:00 p.m. EST: Register Here
Global Staff Webinar: Jobs Program
Join us for the next Global Staff webinar highlighting our Jobs programs.
Tuesday, July 26, 2022
9:00 a.m. CET / 3:00 a.m. EST: Register here
3:00 p.m. CET / 9:00 a.m. EST: Register here

Program Spotlight, Best Buddies Serbia
To celebrate International Down Syndrome Day, Best Buddies Serbia organized their first ever Friendship Walk. Country Director, Marija Marjanovic, pulled off the event with only four weeks of planning. The walk took place in the center of Belgrade on a pedestrian street. Over 200 people attended the walk, sporting Best Buddies hats and carrying Best Buddies signs. The US Embassy in Serbia attended the event as well. The Friendship Walk was featured on the local and regional news. Media coverage from the event has led to more participants joining the movement. Congratulations Best Buddies Serbia!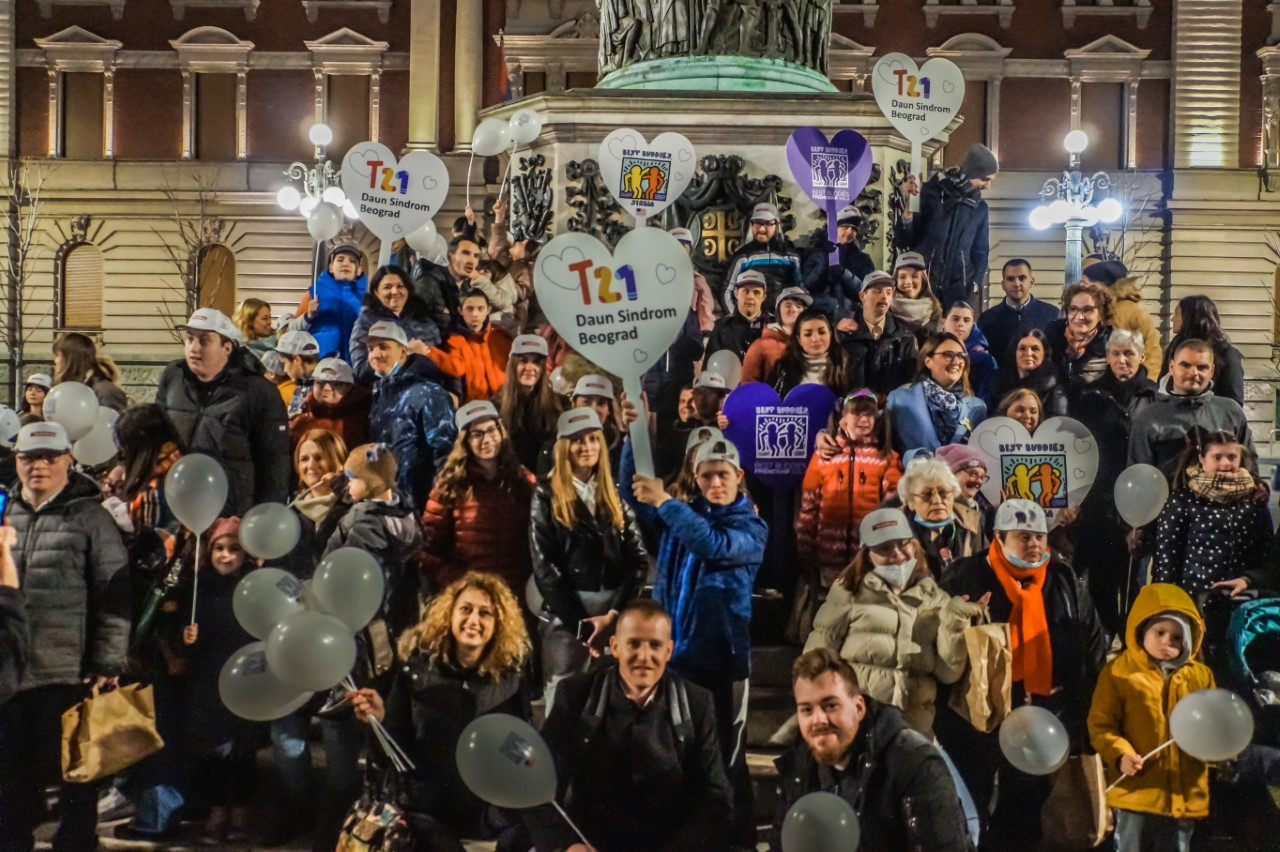 Best Buddies in Social Media
On Saturday, June 25th, Best Buddies in Greece had the pleasure to visit Gaidourochora – the Greek Center for the Donkey – in Koropi. There they saw donkeys and other animals up close, pet and took care of them with the guidance of the staff who guided them through the beautiful farm. They learned the names and the history of the donkeys and were filled with many beautiful moments!

Best Buddies in Mexico visited the Cretacean Museum to learn more about dinosaurs and earth's history!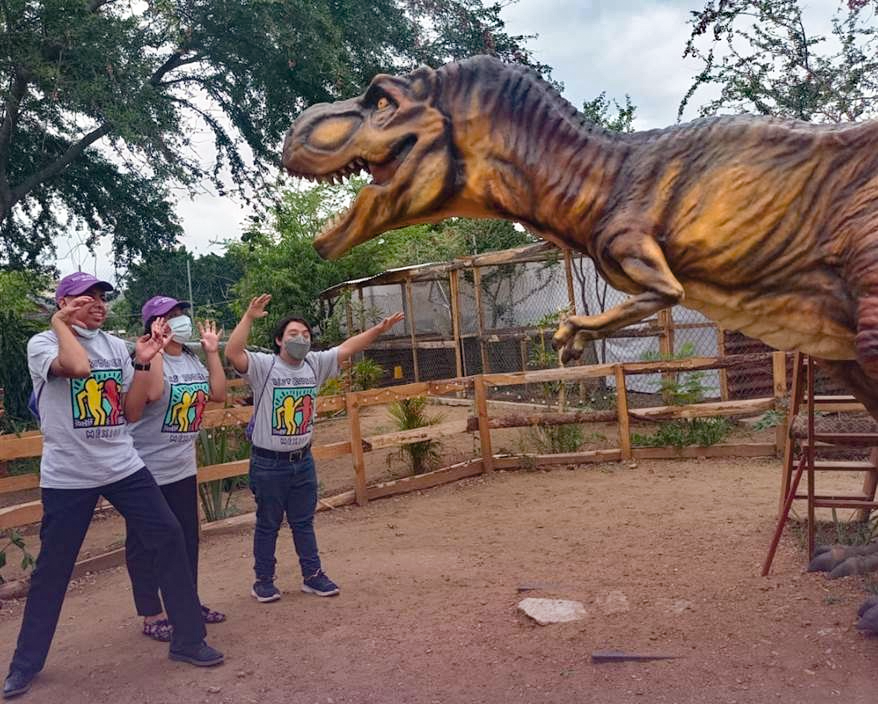 Best Buddies in Macau enjoyed a fun 3D drawing class in partnership with the Department of Education and Youth Development.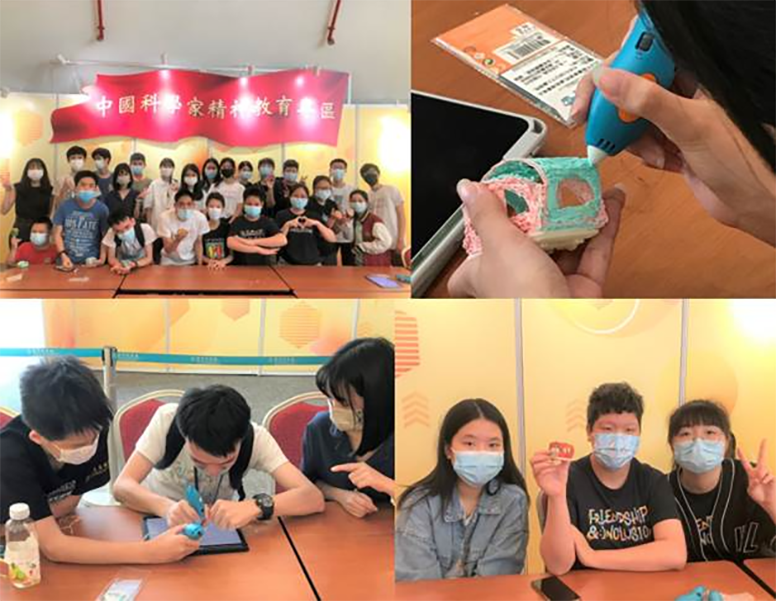 And the Bestie of the month goes to…
Dr. Asma Batool, Country Director for Best Buddies Kingdom of Saudi Arabia!
This month's Bestie Award goes to Dr. Asma Batool, Country Director for Best Buddies Saudi Arabia. Dr. Batool is a true leader and change maker. She helped launch the program during the pandemic and has done a fantastic job with adapting the Best Buddies program for the local country context. She continues to grow the friendship program in Dhahran. We look forward to visiting the program in 2022. Thanks for all of your hard work Dr. Batool!

Tip of the month
Virtual and hybrid events continue to grow in popularity! They're great for boosting attendance. Consider adding virtual streaming and online attendance options for your 2022 fundraising or volunteer event.
Fun Fact of the month!
Did you know the Eiffel Tower can be 15 cm taller during the summer? This is due to thermal expansion, meaning the iron heats up, the particles gain kinetic energy and take up more space.

Recorded Trainings on Google Drive