Global Ambassadors
Best Buddies Ambassadors is a program that provides training for participants with and without intellectual and developmental disabilities (IDD) in areas of speech writing, public speaking, and self-advocacy. Ambassadors develop the skills to professionally share their life stories, promote Best Buddies programs, network, and most importantly, advocate.  The Ambassadors program prepares people to become active agents of change and informed, engaging advocates. A small group of ambassadors prove themselves to be effective, eloquent speakers for the Best Buddies mission and role models within the disability rights movement are asked to serve as Global Ambassadors for the organization.
Best Buddies proudly highlights some of the participants who have achieved this prestigious level.
Hunter Huff
Florida
In 2016, Hunter Huff became a member of the Best Buddies chapter at Jupiter High School. In 2019, he was chosen to be the Palm Beach Champion of the Year participant.
He enjoyed the event so much that he decided to increase his involvement in the organization. Following his keynote speech at the 2020 Best Buddies Friendship Walk in Palm Beach, Hunter joined the 2022 and 2023 walk committees to deepen his dedication to Best Buddies. He also joined the Citizens program and the Ambassador program after finishing high school. Since becoming an ambassador, Hunter has spoken at many local events and a national event in Palm Beach. He was even interviewed by the local news station, CBS12. One of Hunter's favorite events was hosting the Dwyer High School talent show. In addition to his speaking engagements and Best Buddies involvement, he works as a restaurant host at Hilton Garden Inn, which comes with many responsibilities. Hunter has only just begun his journey as a self-advocate.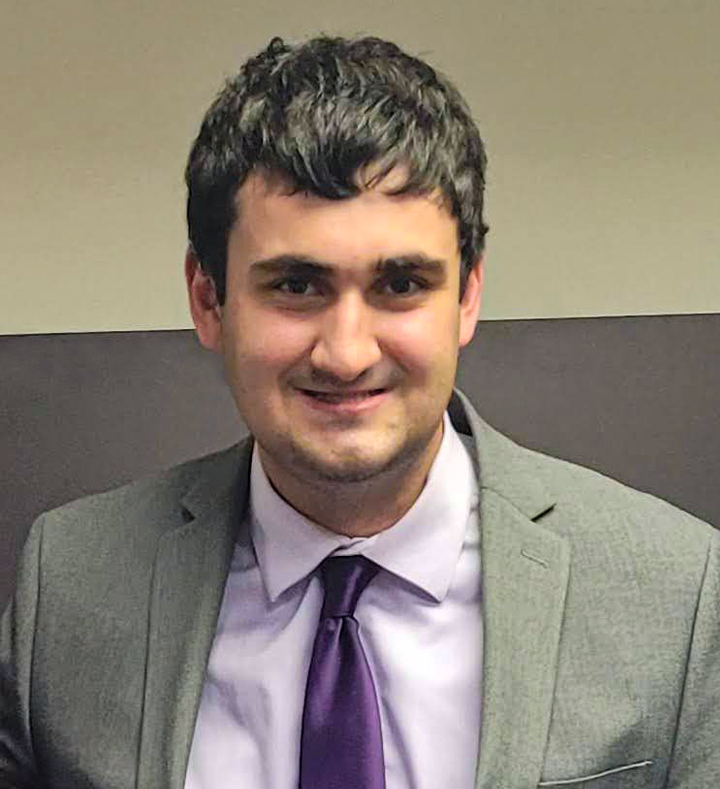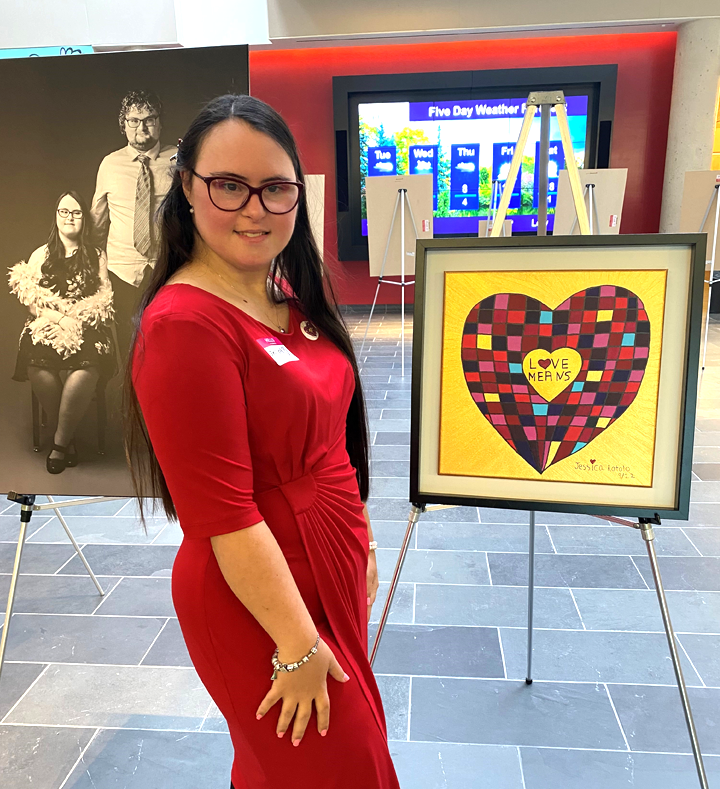 Jessica Rotolo
Canada
Jessica is a talented and fearless 24-year-old actor, dancer, model, and artist with a passion for performing on film and stage. She has performed in several musical drama productions throughout her career at DramaWay, a Toronto drama company serving the All Abilities community. She has been a guest on CTV's E-Talk Canada, CBC's The Goods, CBC's Our Toronto, CITY TV's Breakfast Television, CP24 News, and CBC Radio. Jessica was born with Down syndrome and is a role model, self-advocate for the Down syndrome community, and an Ambassador for DramaWay and Best Buddies Canada. She has appeared in several campaigns for the Canadian Down Syndrome Society, a Noah Reid music video, and an episode of "Employable Me Canada." But what she is most proud of is her "Heart" painting chosen by Down Syndrome International to be the design on the socks for the #LotsofSocks campaign for World Down Syndrome Day March 21, 2023.
Jessica joined Best Buddies in 2012 at Heydon Park Secondary School. She loved meeting new people so much that she wanted to get involved further by attending several Best Buddies Leadership Conferences (BBLC) for her school.
The skills Jessica learned at BBLC helped her co-found and also become the first person with an IDD to chair a chapter at Humber College in Toronto. She enjoys leading a chapter so much she is currently co-president of the Toronto Metropolitan University chapter with her best friend and buddy, Lauren. The pair became fast friends at Humber College and continued their friendship and love of Best Buddies.
Jessica says: "It may take me a little longer to do things, but I am a strong independent woman who is ROCKIN LIFE."
Lauren Abela
Canada
Lauren is a 4th-year psychology student at the University of Guelph-Humber. She was first introduced to Best Buddies in high school at St. Jean de Brebeuf in Vaughan, Canada. Lauren fell in love with the atmosphere and purpose of the organization, and soon took on a leadership role helping to organize events and eventually run the chapter.
Her passion continued into post-secondary when she co-founded her campus' chapter with her now best friend, Jessica. Together they hosted many in-person and virtual events that their entire community could enjoy. Last semester, they were awarded $7,000 by the University of Guelph and successfully hosted an art exhibit in partnership with their university's student life organization. The day was filled with stories of love between people with and without Down syndrome, leaving a lasting impact of inclusion within the community.
Because of Jessica, Lauren chose her thesis research topic to be called, "Down Syndrome Acceptance: Changing Attitudes Through Interventions." Through her research, she hopes to find a positive relationship between disability education and inclusionary attitudes.
Lauren is grateful to be vice-chair of her school's student union known as IGNITE, where she advocates for the student body. For example, she noticed a need for a space where people with IDD can socialize and hang out safely and is currently advocating for such a space.
After graduating, Lauren plans to continue her involvement in research and advocacy for people with disabilities. Best Buddies taught her that friendships are not something to be taken for granted and that the power of kindness in the life of someone who needs it most holds immeasurable impact.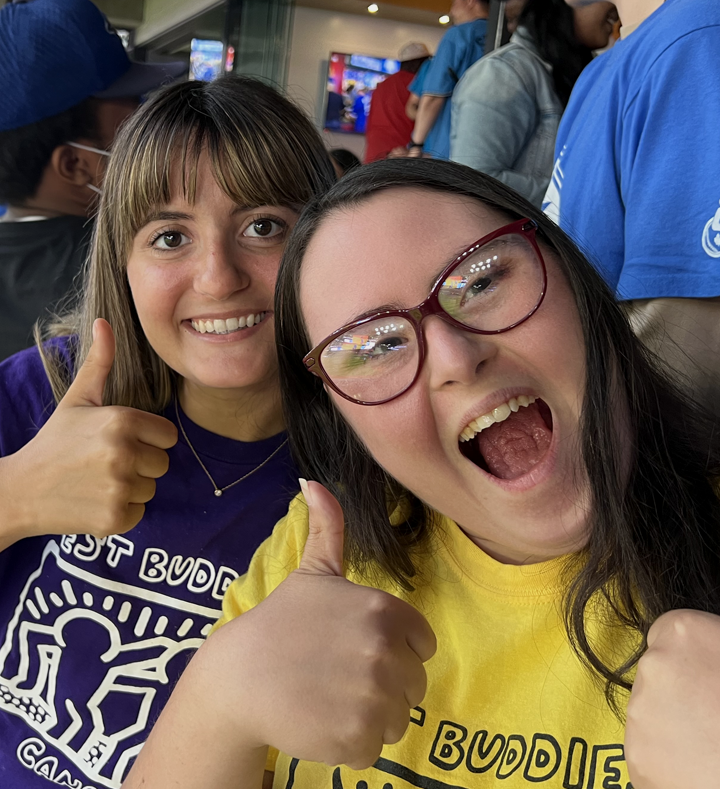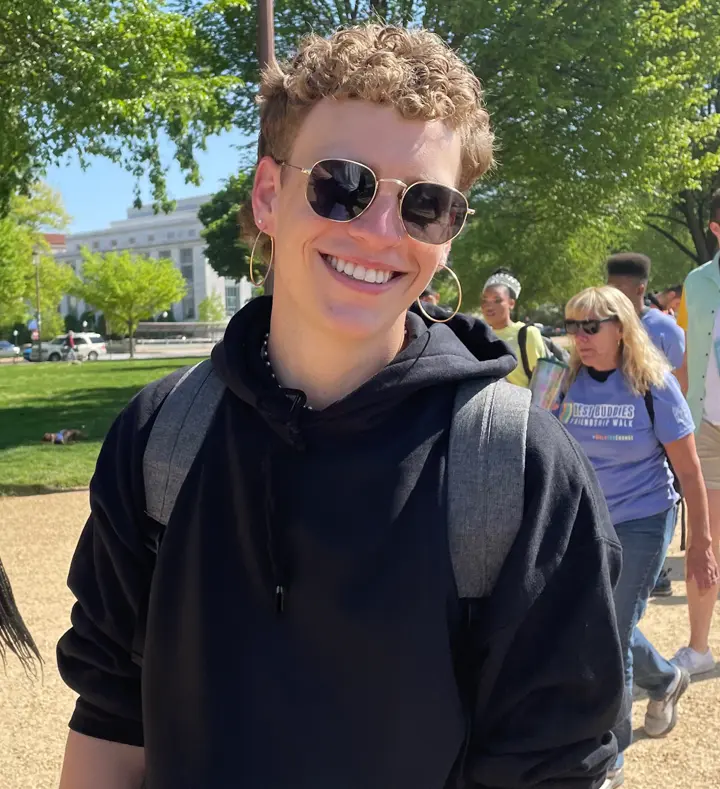 Atticus Gore
Virginia
Since middle school, Atticus (they/them) has been a member and leader of Best Buddies in McLean, Virginia. Atticus' passion for inclusion began 10 years ago when they met and became friends with John, who attended the same elementary school. John was the first friend Atticus had with intellectual and developmental disabilities (IDD). Still, it did not impact their ability to build a meaningful friendship, growing to create a group of students attending weekly lunch bunches, free period game time, and afterschool hangouts. Atticus experienced firsthand the care, compassion, love, and tremendous value of having a relationship with John- empowering Atticus to begin advocating for those with IDD through Best Buddies. Atticus led the McLean High School chapter of Best Buddies social media before becoming co-president with their friend, Ava. During their time as presidents, Atticus and Ava were recognized state-wide and locally for their chapter engagement, consistency, and fundraising. Atticus remained a top fundraiser for Best Buddies all four years of high school. Atticus cherishes the close connections and long-lasting friendships built at McLean. Atticus currently attends William and Mary and is pursuing a degree in public policy. After graduation, Atticus plans to advocate for marginalized communities through policy and government support. Atticus is involved with the William and Mary chapter of Best Buddies and is delighted to promote the inclusion revolution with the rest of the Global Ambassador team.
Ava Birchfield
Virginia
Ava is from McLean, VA, and has been an avid member and leader of Best Buddies since middle school. Ava first became an advocate for individuals with intellectual and developmental disabilities (IDD) when she met her best friend, Kendall, in third grade (pictured on the right). Ava and Kendall were inseparable throughout elementary school, and Ava spent hours at Kendall's house every day. Kendall inspired Ava through her humor, kindness (and sassiness), courage, and loyalty to spread the message of inclusion, so everyone has the opportunity to meet someone as great as she is. In high school, Ava jumped right in and became vice president during her sophomore year. Then, she became co-president with her friend Atticus during the last two years of high school. Ava was president throughout the pandemic, and strived to have a successful and engaging chapter, so no one felt lonely during a time of isolation. Ava will forever hold McLean's Best Buddies chapter near and dear to her heart and is thankful for all the incredible individuals she met throughout her four years. Now, Ava attends Virginia Tech, where she is studying human development and disability studies. She was eager to get involved with the IDD community in Blacksburg, so within the first week of settling into her college life, she joined Virginia Tech's Best Buddies chapter. Ava also works as an instructional aide with Virginia Tech's Transition Special Education Program, where she assists students throughout their school day. Ava is thrilled to have the opportunity to continue spreading inclusion and cannot wait for the next two years serving as a Global Ambassador!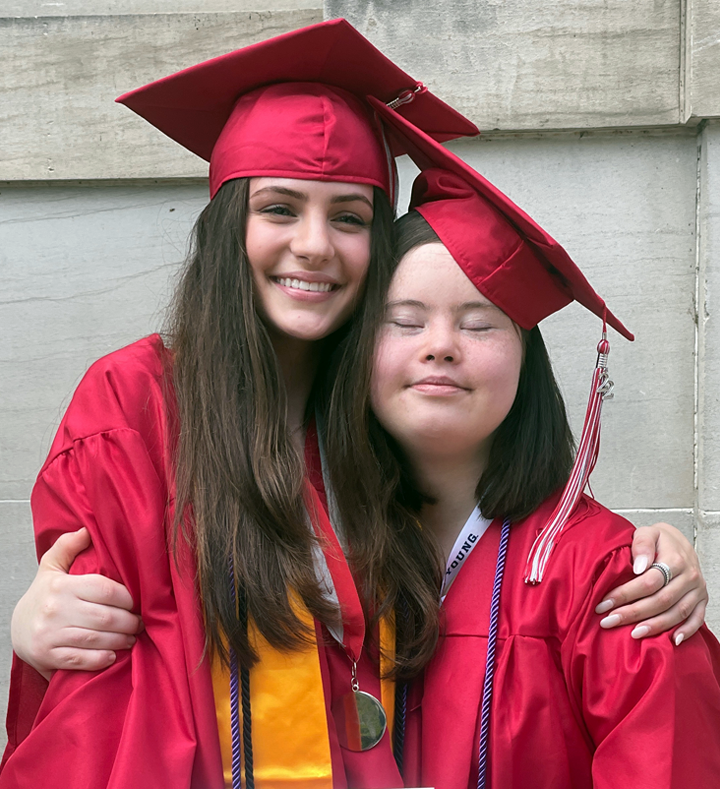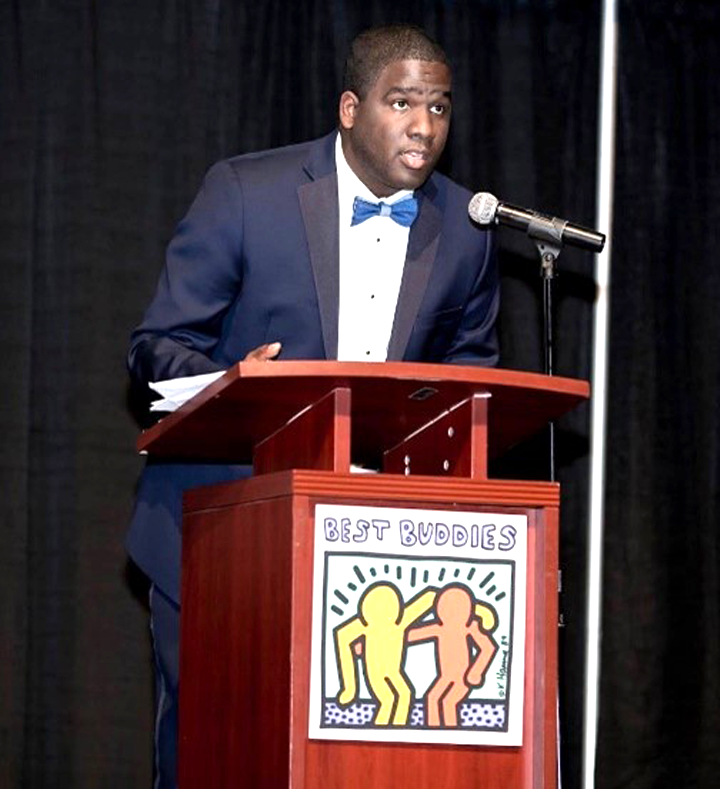 Andrew Dixon
Georgia
Andrew Dixon was born in Youngstown, Ohio, and moved to Stone Mountain, Georgia, when he was two years old. Before Best Buddies, Andrew did not have many close friends or people he could spend time with outside of school.
Andrew's life changed in 2008 when he joined Best Buddies at Emory University. Best Buddies meant that Andrew always had a friend he could do fun things with, and it introduced him to a new group of great friends! Andrew enjoys going to the movies, swimming and going out to eat with his friends in Best Buddies.
In 2018, Andrew was selected to serve as an ambassador. He has spoken at the Georgia World Congress Center and presented speeches virtually to support people during the pandemic. Recently, he was selected to be a Champion in Best Buddies' Champion of the Year event in Georgia.
Andrew loves playing video games, watching YouTube videos, watching University of Georgia football, and going to the movie theater. He is most excited about his new adventure of writing his first book.
Vanessa Berumen
New Mexico
Vanessa's family is originally from Mexico, but she has lived most of her life in New Mexico. She is very proud of being bilingual. She was a Project SEARCH intern in the 2019-2020 cohort, but due to COVID-19 pandemic, job development was placed on hold. In 2021, Vanessa was hired at a major retail store and continues to work there today. She served on the Best Buddies in New Mexico Advisory Board in 2021 and continues to participate in the Ambassadors program and the Albuquerque Citizens chapter. Vanessa was the Champion of the Year for Best Buddies in New Mexico in November 2021. She looks forward to advocating for inclusion in her community, especially at her high school. Vanessa wants everyone to have the opportunity to make friends and secure meaningful employment.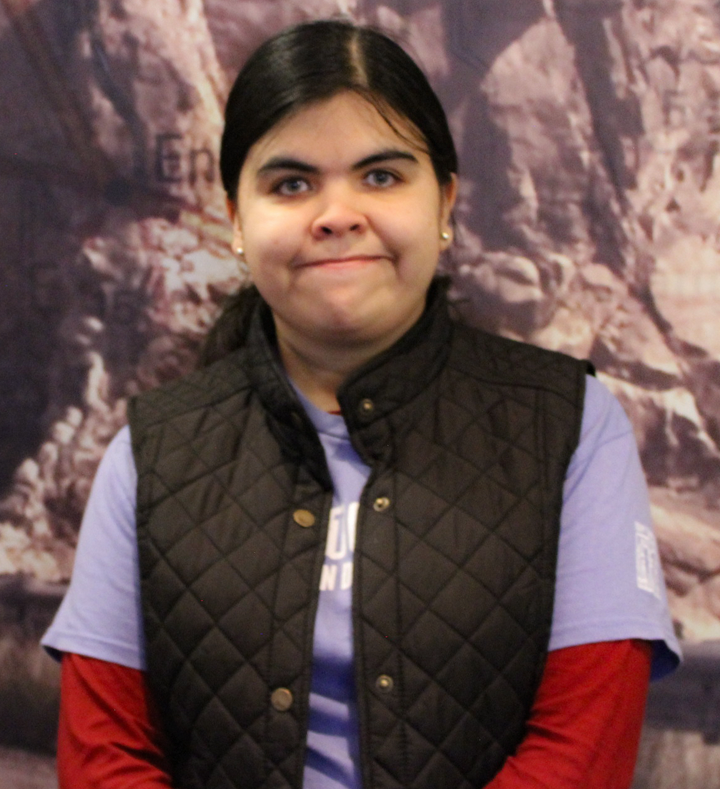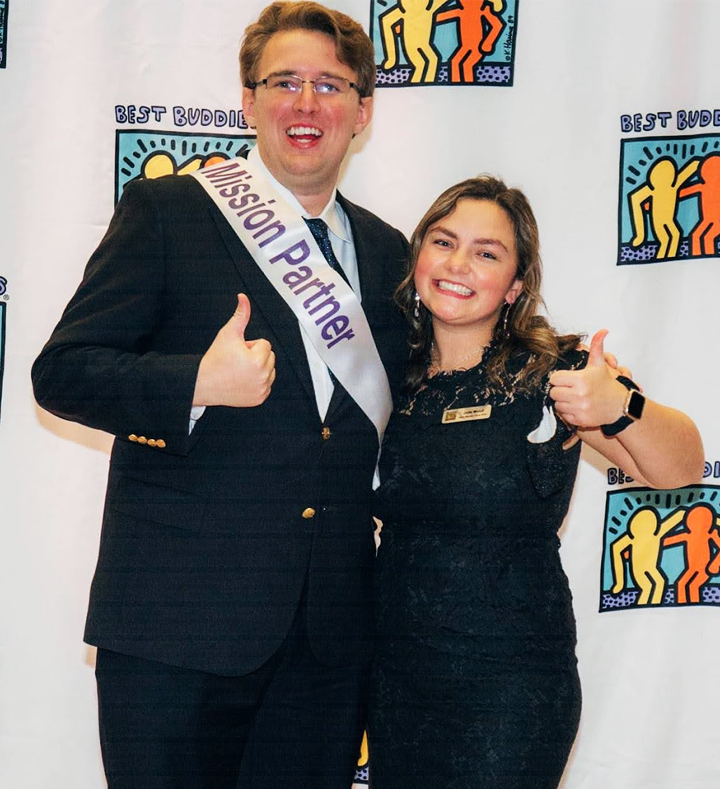 Vince LaMonaca
Washington, D.C.
Vincent has been an active leader in Best Buddies since his freshman year in high school. He has been an ambassador and a member of his high school and state advisory boards. Two of his high school highlights were being a "Buddy Chef," a guest speaker at the "Best Buddies Life is Sweet" fundraiser and attending the Best Buddies Leadership Conference (BBLC) twice. In July 2021, Vince moved to the Best Buddies Living residence in Washington, D.C. Being paired with his two roommates in this nurturing setting has helped Vince become more independent. He is thriving with budgeting, cooking, meal planning, and enjoying the weekly group dinners and social events. He loves his safe, walkable neighborhood with local eateries and cafes, but working next door at Trader Joe's is a highlight.
Vince loves to give back to his community and continues his volunteer job at the Campus Ministry Office at The Catholic University of America. Over the past 10 years, Vince has made many friendships and wanted to continue in the Best Buddies Friendship programs by joining the Citizens program. In 2023, Vince was selected to be a Global Ambassador and looks forward to spreading his personal uplifting message.
He enjoys reading, listening to music, live concerts, traveling, the D.C.-based sports teams, and learning Spanish.
Vince's motto in life is "bring it on!"
Mikayla Holmgren
Minnesota
Mikayla Holmgren is a 27-year-old Minnesota native. She graduated from Bethel University's B.U.I.L.D. Program, a two-year certificate program for individuals with intellectual disabilities, where she participated in many activities, including being on the dance team. Dancing is her passion. She choreographs her own dances, competes at many competitions throughout the year, and has won many awards. She danced at the Celebration Ceremony for the Minnesota Special Olympics State Meet and Best Buddies Leadership Conferences. Besides dance, Mikayla also enjoys gymnastics and golf, both of which as part of Special Olympics.
Mikayla is also an advocate for her peers in the IDD and has spoken at the Minnesota and Pennsylvania Capitols for help with legislation for those with IDD and has spoken at the United Nations. She loves working with children and has been an aide and mentor at her high school, university, dance studio, and the YMCA.
She currently works at Apricot Lane, a clothing boutique, where she gets to meet and help customers.
She was Minnesota Miss Amazing Junior Miss in 2015 and Miss in 2019. Miss Amazing is a pageant for women with disabilities.
Mikayla made history by being the first woman with Down syndrome to compete in any Miss USA pageant and did it in her home state of Minnesota.
Mikayla loves fashion and is currently on the Advisory Council for Fashion Week Minnesota to provide input for the IDD community and has walked the runway for fashion week.
She worked hard to bring Best Buddies to Minnesota and won Champion of the Year in 2021. She continues to support fundraising efforts for her state by holding her own Dreaming Big Without Limits Fashion Show each year.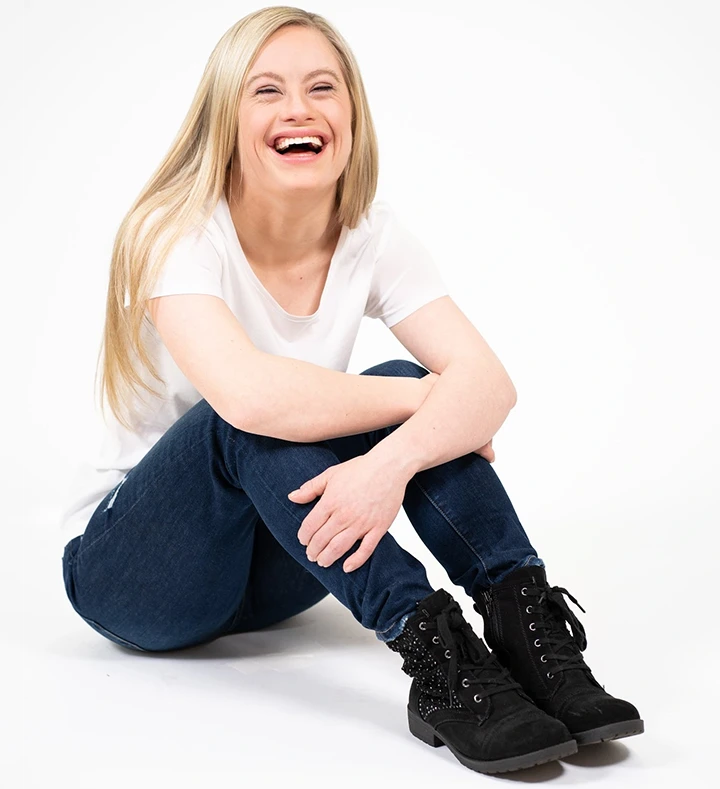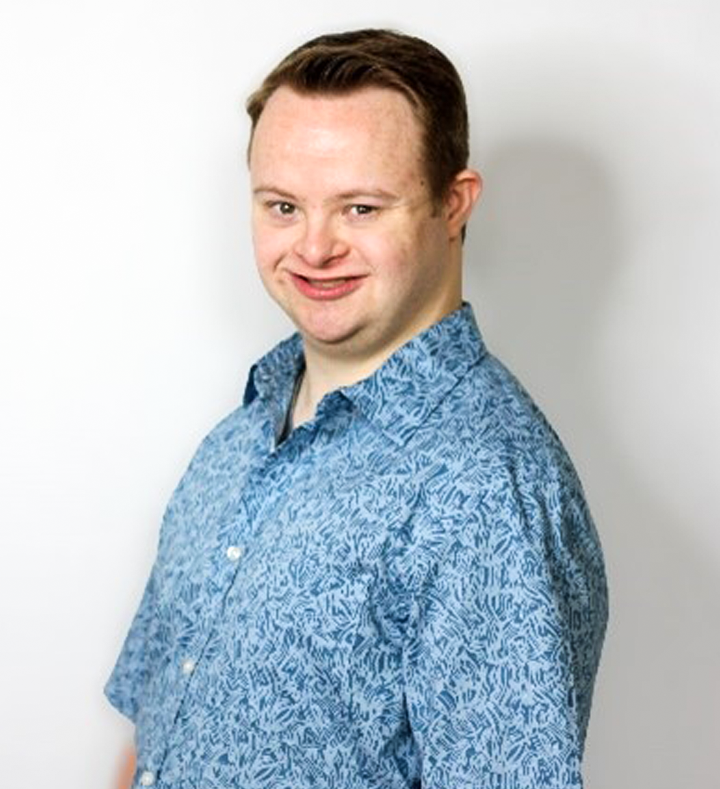 Jack Krueger
Texas
Jack Krueger is a 28-year-old Houston native residing in Sugar Land, TX. He has been a State Ambassador for Best Buddies in Texas since 2017 and is a current Houston Advisory Board Member. His Best Buddies journey began in 2013 when he joined the college chapter at the University of North Florida in Jacksonville where he was involved in an on-campus transition program. Jack's world opened up with all the new friendships he made.
He is a lover of music and performing. Most of all, he is a die-hard country music fan. He has worked with 93Q, a local Houston country radio station, for years by assisting backstage at their monthly Country Nights concerts and meeting his favorite artists. He also works for the Sugar Land Space Cowboys, Houston's minor league baseball team, where he is a greeter and a part of their community engagement team.
Annemarie Carrigan
Texas
Annemarie is a proud graduate of the Thrive Class of 2017. Since then, she has worked at an ice cream parlor, a dog treat retailer, and a film production assistant. During the last two years, she has worked full-time as a receptionist and general office organizer at Dupree, Miller, & Assoc, a major literary agency specializing in motivational books and films. She has been involved in several volunteer organizations, including serving on the board of the local Best Buddies chapter and giving presentations in a new organization called "To Be Like Me" to educate grade-school children in awareness of the needs of their classmates with intellectual and developmental disabilities (IDD). From 2017 to 2019, Annemarie devoted a significant part of her life to planning, filming, and attending presentations for the documentary film, "Normie". Annemarie and her roommate have lived independently for the last three years and have enjoyed UBERing to work daily. In her spare time, she enjoys reading Jane Austen novels, working out with a trainer, and maintaining a blog. She is excited to bring her message of independence and inclusion to her community and beyond.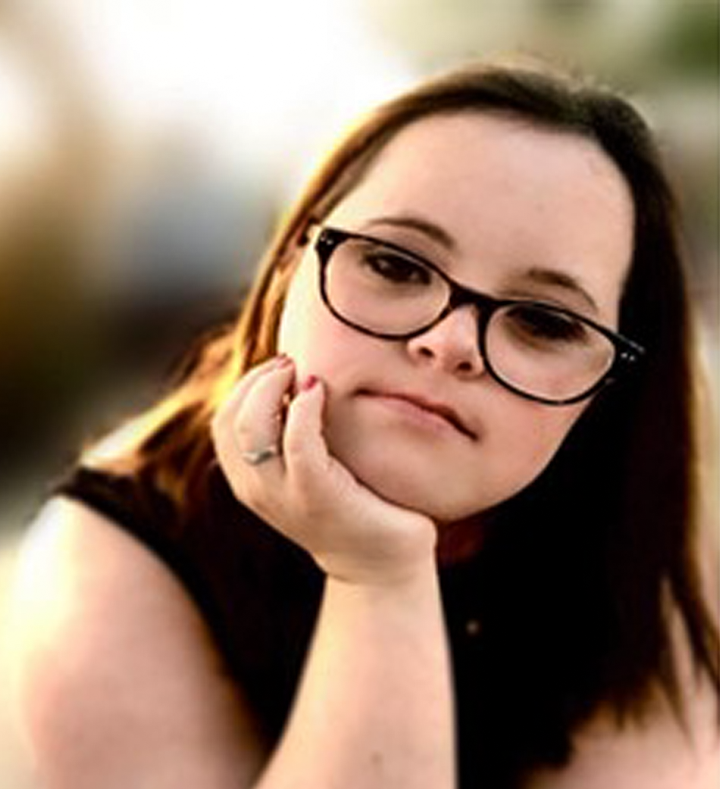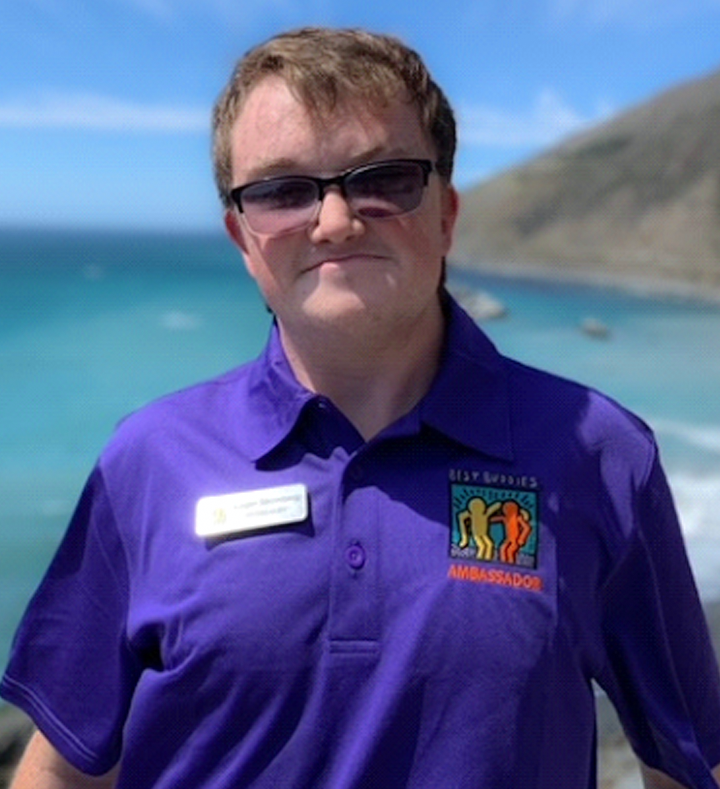 Logan Stromberg
Oregon
In 2018, Logan Stromberg graduated from Evergreen High School. He completed the culinary assistant program through Portland Community College in 2019 and is continuing his education there, where he hopes to focus his studies on business and public speaking. Logan attended the Best Buddies Leadership Conference (BBLC) in 2018 and 2019, where he gained skills in public speaking through the Ambassador program and made the closing speech at the 2019 closing ceremonies.
In 2021, Logan was crowned Champion of the Year for Best Buddies in Oregon and continues to dedicate his fundraising network and efforts to Best Buddies. His passion for restaurants and pasta are all rolled into one in his job at The Olive Garden in Lake Oswego, Oregon where he works as a host.
Kabuki syndrome had many opportunities to hold Logan back; however, Logan never doubted this world was made for him to thrive in.
Elyse Mundelein
Florida
Elyse is from an Air Force family and has lived all over the United States. In 2007, she was the first person with Down syndrome to graduate from Oviedo High School in Florida. She swam on the varsity swim team and participated in their dance program. Elyse has always been included in her classroom setting and community activities. She wants all individuals with intellectual and developmental disabilities (IDD) to have this same experience; therefore, she became an advocate in her community and beyond.
Her dream was to go to college and attend the University of Central Florida (UCF). She made that happen and worked as a teaching assistant in the College of Education, while taking classes.
During her time at UCF, Elyse developed an avatar of her likeness in the College of Education's Teach Live lab. Her avatar assists future teachers to work with individuals with IDD. With the help of SKYE, Elyse educates future teachers at other universities all over the country about the importance of inclusion.
In 2009, Elyse was introduced to Best Buddies through the UCF program. She started attending Ambassador trainings and became Buddy Director of the UCF chapter two years later. She has served as a campaign manager at the Best Buddies Gala and serves on the Best Buddies Central Florida Advisory Board.
In 2015, her lifelong dream came true; she became a full-fledged UCF Knight! While in college, she lived on campus, attended classes, worked at the UCF Recreation and Wellness Center, was part of the Pegasus Paloosa's, and was elected to the UCF student government. On May 3, 2019, she proudly walked across the stage and graduated from the Inclusive Education Services at UCF.
On August 12, 2019, as part of the Best Buddies Jobs Program, Elyse began working at the Elder Law firm of Kirson and Fuller. With all that she does, she was recently appointed to serve on the Board of Directors with the Diocese of Orlando Bishop Grady Villas as she works to promote inclusive housing options. In addition to all her various roles, she volunteers with the Down Syndrome Foundation of Florida. Elyse continues to advocate and spread her message that "with open minds and hearts, together we can do anything!"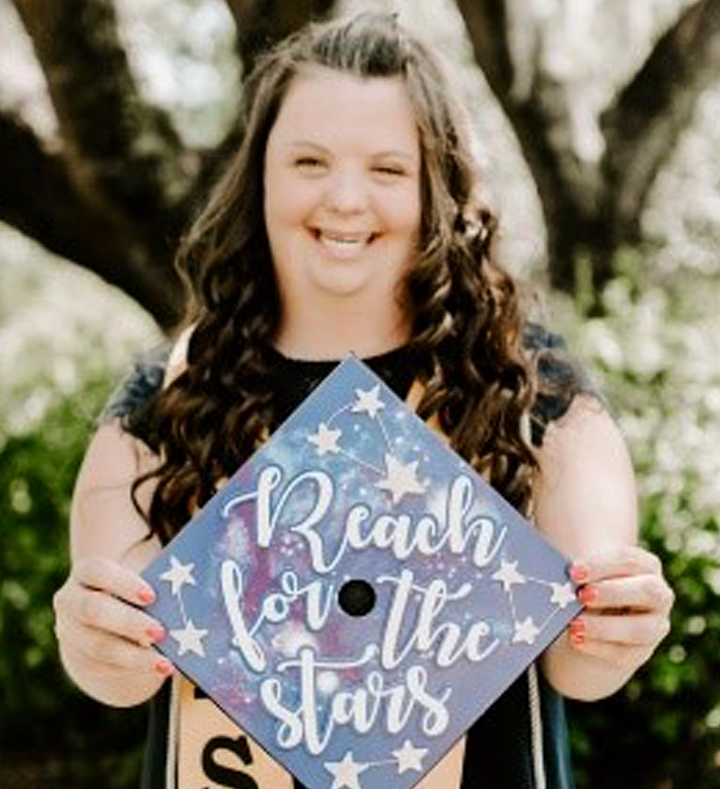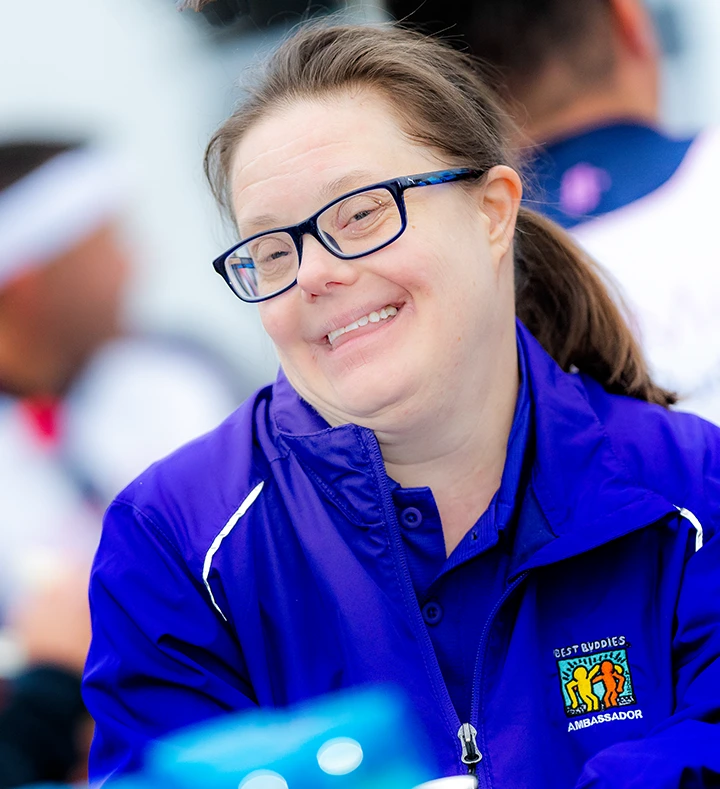 Mollie Noble
Indiana
Mollie Noble is a longtime Best Buddies volunteer and self-advocate from the great state of Indiana. As the buddy director at Marian University, Mollie played an integral role in the chapter's success and served as a leader of the chapter for more than a decade. In 2011, Mollie represented Best Buddies in Indiana at Capitol Hill Day in Washington, D.C. and was recognized as the 2011 Spirit of Courage Award Winner at the annual Best Buddies Leadership Conference (BBLC) for her work as an advocate and ambassador for Best Buddies. Mollie serves on the Best Buddies in Indiana Friendship Walk and Gala committees. She has been a fundamental part of BBLC, assisting the programs team. Mollie spoke at the 2016 Best Buddies Challenge: Hearst Castle event and presented at several Best Buddies events in Indiana.
Recently, she served a three-year term on the Best Buddies International Board. In addition to all of her work for Best Buddies, Mollie is employed with Goodwill in Indianapolis, serves on the Board of Directors of Indiana, and lives in her own condo where she likes to entertain her Best Buddies friends.
Mollie is living her dream and is an incredible leader of the Best Buddies movement.
Ryan Hoffman
Ohio
Ryan has been a part of Best Buddies for more than a decade. Starting as a member of a Florida college friendship chapter and then became a Best Buddies Ambassador through honing his advocacy and public speaking skills. While in Florida, he served on the national Best Buddies Young Leaders Council from 2019 to 2021.
Ryan recently moved to Cleveland, Ohio, where Best Buddies programs were starting. He committed to helping programs get off the ground. He spoke at the inaugural 2021 Champion of the Year: Cleveland Gala, sharing with the community the importance of inclusion through his personal story about growing up in a school without Best Buddies. Since then, programs in the Cleveland area have grown significantly to include more school friendship chapters and a Citizens program, an adult friendship program. Ryan is also gainfully employed.
Ryan has worked diligently to advocate for others in all aspects of his life, finding opportunities to represent the organization at community fairs, parades, and local businesses. He enjoys all Ohio sports, fishing, traveling, golfing, and concerts in his free time. He looks forward to being a Best Buddies Global Ambassador.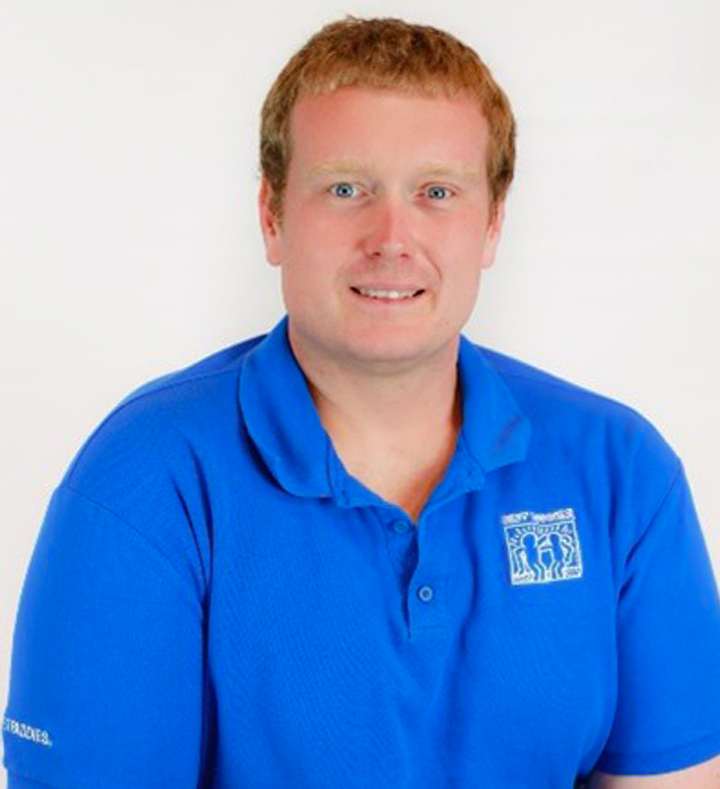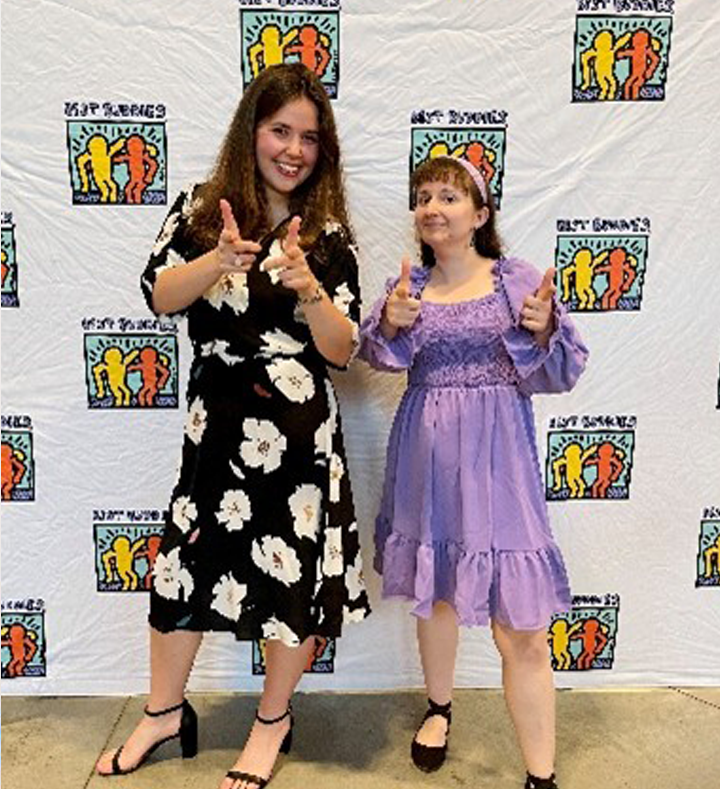 Julia Preston
Maine
Julia Ruth Preston hails from Memphis, Tennessee, and she first got involved with Best Buddies through her college chapter at the University of Virginia (UVA). The Best Buddies' UVA leadership team quickly matched her with Jessica Lewis as peer buddies, and they quickly bonded over their shared love of music and vocal performance. Julia and Jess continued their friendship throughout the pandemic, creating multiple virtual duets of popular songs for local and regional talent shows. The national team at Best Buddies noticed their passion and invited them to perform at the 2022 Best Buddies Challenge: Hyannis Port. Additionally, the pair performed at Best Buddies in Maine's Champion of the Year Gala later that year. Their virtual performances were also featured at several Best Buddies events, including the International Friendship Day Celebration with Shutterfly and the 2021 Virtual Best Buddies Leadership Conference.
Because of her experience with Best Buddies and friendship with Jessica, Julia decided to continue her professional involvement with the organization after she graduated from UVA in 2022. In addition to serving as a Global Ambassador, Julia is a deputy director of communications and stewardship for Best Buddies in Maine. She is thrilled by the rate of programmatic growth in Maine and the enthusiasm of her colleagues and program participants.
Julia looks forward to spreading Best Buddies' mission of inclusion as a Global Ambassador for the 2023-2025 term!
Marlana VanHoose
Kentucky
Marlana VanHoose is an extraordinary young singer and recording artist who has warmed the hearts of many throughout the world. She was born with Cytomegalovirus (CMV) and was only given one year to live. Marlana sees nothing but has a beautiful vision of life. At the age of two, Marlana was diagnosed with mild cerebral palsy. Even though she faces many challenges, Marlana simply sees it as a way of life.
After Marlana turned a year old, her body healed from the virus, and that is when it all began. Marlana was humming, "Jesus loves me" before she talked, and by the time Marlana was two years old, she started playing the piano.
She has sung all over the U.S. at various events and churches. Marlana sung the National Anthem at a University of Kentucky women's basketball game in 2012. This was placed on YouTube and the video went viral. Since then, CBS evening news has aired her story and she has gone on to sing at three NASCAR Sprint Cup Series Races, NCAA women's basketball tournaments, NBA games, and many other events across the country. She also has sung for the 2015 NBA Playoffs, and Game 6 of the 2015 NBA Finals. ESPN aired "Loud and Proud," a story about Marlana and the University of Kentucky women's basketball team. Marlana has also appeared on shows such as Inside Edition & Entertainment Tonight. Marlana also had the honor of singing at Carnegie Hall in NY City & Madison Square Garden for the NY Rangers. She sings regularly with Best Buddies and United by Music North America organizations. She is a three-time Heritage Award recipient through the Artist Music Guild.
Marlana's soaring and majestic voice continues to give joy and peace to all in her presence.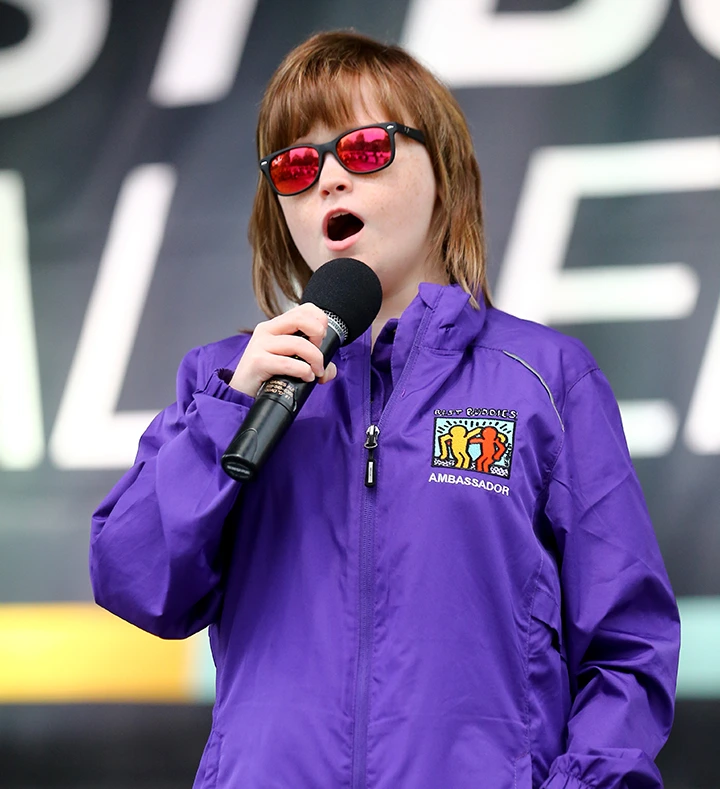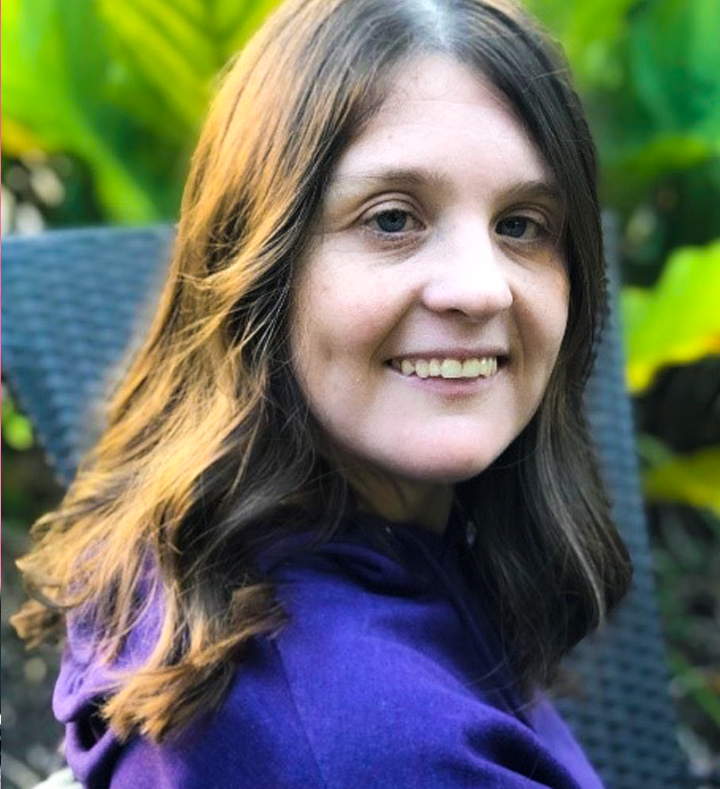 Dana Brown
Florida
Dana Brown has been involved with Best Buddies for 14 years and is a beautiful representation of its life-changing mission. Born a triplet and the only member of her family with an intellectual and developmental disability (IDD), she is a trailblazer in the Tampa Bay community.
With an entrepreneurial spirit and a desire for independence, she started her dog treat company, "Zoey's Pupcakes." Her products are now being successfully sold both online and in stores.
Dana never misses an opportunity to use her extensive knowledge of Best Buddies, and her success to encourage and uplift her peers. She has been invited to share her story at many large-scale events, including Best Buddies in Tampa Bay's Champion of the year Gala in 2022.