The Best Buddies Ambassadors program offers people with IDD the opportunity to gain the public speaking skills, self-esteem and confidence needed to successfully advocate for themselves, their peers and Best Buddies in communities, workplaces and government.
Upon successful completion of the program, Buddy Ambassadors go on to participate in local advocacy initiatives.  A small group who prove themselves to be effective, eloquent speakers for the Best Buddies mission and role models within the disability rights movement are asked to serve as Global Ambassadors for the organization.
Best Buddies proudly highlights some of the participants who have achieved this prestigious level.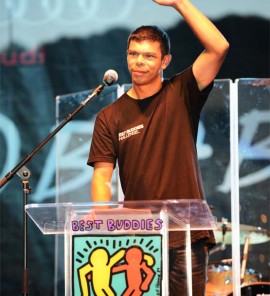 Charles Calhoun
Phoenix, Arizona
"My name is Charles Calhoun III, and I am a Best Buddies Global Ambassador. As a Best Buddies Global Ambassador, I have spoken in front of former Arizona Governor Jan Brewer and traveled around the United States to speak at various national Best Buddies events. I am also employed with Silicon Valley Bank, and in my spare time, I love to play the drums, write songs and hang out with my friends. I am diagnosed with Williams syndrome, autism, and ADHD. Growing up, I remember the hurtful names people would call me, like retarded."
Kathryn Meade
Des Moines, Iowa
As former Best Buddies International Board of Directors member, Katie Meade has served as an Ambassador for the state of Iowa since its inception. She has worked full-time at the Polk Country Treasurers office in Des Moines as a mail clerk since her graduation from high school in 2002. Through her job and participation in Best Buddies, Katie has made many friends from all over the world and serves as an advocate for people with disabilities.
Katie has traveled around the world, speaking at Best Buddies Challenge events, Galas, and at the Best Buddies Leadership Conference; she was even invited to introduce U2 at the Special Olympics World Games! Katie has co-hosted with Ryan Seacrest, partied with Carlos Vives, and even charmed the Bachelor, Andy Baldwin. Over the years, Katie has proven that she is a powerful speaker who can motivate thousands with her energetic spirit and voice.
Abby Meyer
Bethesda, Maryland
Abby Meyer has been involved in Best Buddies for four years, and acted as the Buddy Director at Walt Witman High School. In 2014, Abby attended the Best Buddies Leadership Conference with her high school officer corps as an Ambassador and learned about assisting with leading the chapter. Since graduating high school, she has enrolled in the transition program at Montgomery College and is working part time at a senior living home.
Abby is greatly involved with Best Buddies through the citizens program and, as one of the star Best Buddies Maryland Ambassadors, has been speaking at various special events including the 2014 Best Buddies Washington, D.C. Challenge.
Jorge Morilla
Miami, Florida
Jorge Morilla is a long-time Best Buddies Ambassador, Jobs employee, and Miami Dolphins super fan. Jorge never misses an opportunity to talk about the first time he became involved with Best Buddies on October 30, 1994, when he was matched in the Citizens program. As an accomplished ambassador and Anthony Kennedy Shriver's buddy, Jorge has been involved in over 15 Best Buddies Challenges, Galas, and Walks; he even participated in the 2014 Hearst Castle Challenge as a rider starting at the 100-mile start!
This year, Jorge is celebrating 20 years working at the Hyatt Regency, where he was hired through the Best Buddies Jobs Program. "Best Buddies is my express ticket to social and financial success," is a phrase he proudly adds to every speech!
Daniel Noltemeyer
Louisville, Kentucky
"Best Buddies has helped me build my confidence as a leader and become and advocate for myself and others with disabilities. I have learned public speaking and leadership skills, and now I help teach public speaking and advocacy to people like me. It has been a powerful experience to be a leader for my peers. I have built my self-confidence, independence, and grown as a person. Best Buddies inspires me to be the best I can be and has made me the leader I am today."
Stacy Powell
Tallahassee, Florida
Stacy Powell first joined Best Buddies in 2010 and was matched with his buddy and now best friend, Nicole Miller. In only three years, Stacy grew within his chapter to become the Buddy Director for the Florida State University chapter in 2013. That same year, he was selected by Best Buddies Florida to speak with Governor Rick Scott at the Disability Awareness Day at the Capitol of Florida and be the key note speaker at FSU Best Buddies' Annual Disability Awareness Gala.
Stacy attended his first Best Buddies Leadership Conference in 2014 as a part of the Ambassadors track. He was chosen to be one of five Ambassadors to speak in front of a live audience of 2,000 people and thousands more streaming from around the world. He captivated the crowd and Best Buddies International took note.
Soon after, BBI invited Stacy to be the official Ambassador to kick off their partnership with Pi Kappa Phi in Atlanta, GA. In addition to all Stacy's accomplishments, he has been able to balance school, Best Buddies, and a job at Sonic that he has had for the last six years. There is no doubt that Stacy gives 100 percent in all he does.