The Best Buddies Mission In Action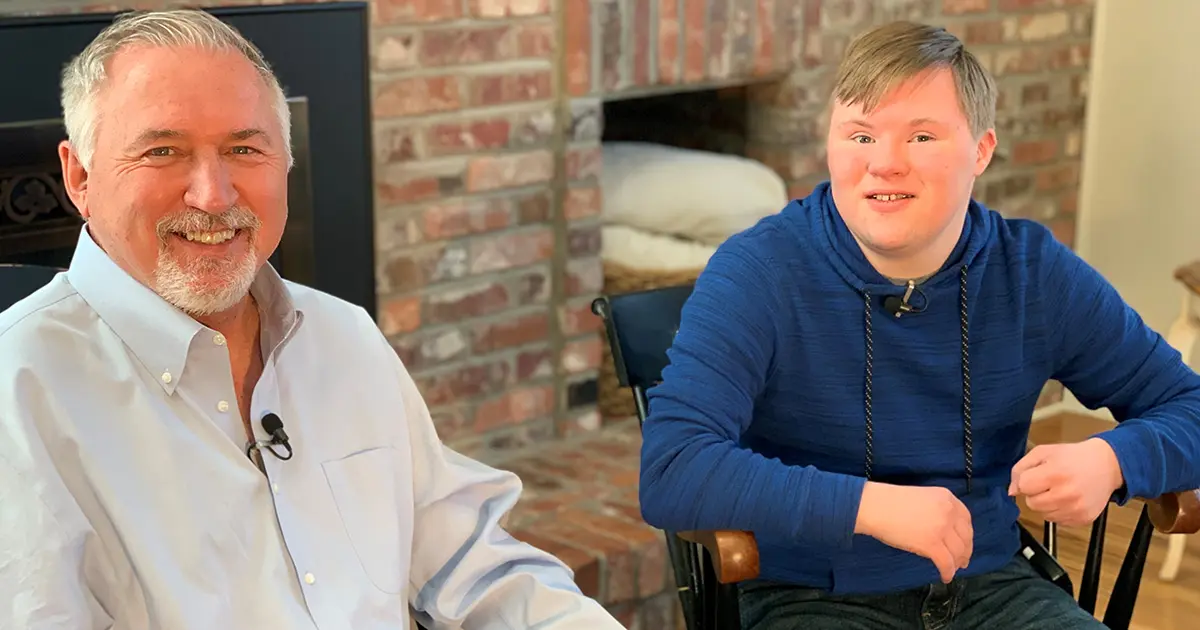 Article written by: Lloyd Lewis, president and CEO of arc Thrift Stores
Early in my life, I set my course for success. I knew what universities I wanted to go to and I knew what I wanted to be.
I was focused and determined, and one by one, I achieved my dreams. I graduated from the University of Chicago with an MBA in finance, and completed executive education at the Harvard Kennedy School and at Cambridge University. I quickly rose in my career to do municipal investment banking at Smith Barney followed by becoming a senior financial analyst at IBM.
Then, as is often the case with well-thought-out plans, things did NOT go as expected and my life was turned upside down. What changed everything was the birth of my son Kennedy, who was born with Down syndrome in 2003. From that moment on, I have devoted my life to radically changing and elevating the conversation around inclusion and to opening as many doors and creating as many opportunities as possible for people with intellectual and developmental disabilities (IDD).
Only a few short years after Kennedy was born, I left my high-profile career and became president and CEO of arc Thrift Stores, one of Colorado's largest nonprofit service organizations. Since 2005, I have built arc into a $125 million organization, with 34 retail stores throughout the state. But, more significantly, arc is now one of Colorado's largest employers of individuals with IDD.
Each of these amazing employees – arc's team of more than 450 Ambassadors, all people with IDD – brings heart, spirit, and joy to the organization and to its thousands of customers. They are loyal and hard-working; they are friends and team members. They are arc's mission in action.
Mission in action is something I strongly believe in. It's no accident that I named my son after President John F. Kennedy; it was my way, even 20 years ago, to pay tribute to a life of service and advocacy.
Every day I see my son, who is funny and smart and a great dancer, living that dream and I am proud beyond words. He has meaning and purpose in his life, in no small part because of his involvement with Best Buddies. I joined the Best Buddies board almost immediately after signing Kennedy up to be in the program. As a board member, I am devoted to helping Best Buddies get their word out in Colorado and across the country about the amazing work the organization does. And as a father, I have seen its mission in action and its profound impact.
The growth I have seen in Kennedy, even from his very first get-together with his Best Buddy, Ace, is remarkable, especially when I look back on his school experience.
Kennedy went to public school from day one. And while that decision was a good one, there were challenges. Because of his cognitive disabilities, Kennedy wasn't often with the mainstream student population, but instead, he was put into special needs classes. This wasn't necessarily all bad, but what it did do was make it harder for my extroverted and social son to have friendships, interactions, and experiences that the other (neurotypical) kids his age had. Even after he graduated from high school, all the transition programs available were segregated and designed only for people with special needs. These, too, were beneficial in many ways, but once again, there was very little exposure or opportunity to interact with typical young people his age.
Just like any parent, I want to see my children thrive, and that includes friendships and productive work. When the time is right, I want to help my children launch into their adult lives equipped with as many skills and as much confidence – and support – as possible. As a parent of a young man with Down syndrome, I am keenly aware of Kennedy's abilities. I know he can contribute and produce and be a valued member of any team. Recently, Kennedy started working in one of our stores. Every two weeks when he brings his paycheck home, he is bursting with pride. He likes nothing better than to spend a bit of his earnings by treating is older sister to a coffee at Starbucks. His teammates and supervisors adore him and the customers do as well. And most importantly, Kennedy feels a part of the team, part of the community.
And of course, I want Kennedy to have friends, just as any typical young person. He and his Best Buddy Ace, are quite the pair! They share a great deal in common: movies and a love of Harry Potter to name just two. Kennedy and Ace talk often, telling each other about their days, what they did at work, and their plans for the week to come. Just like all of us do with our close friends.
I am indebted to Best Buddies for the light I see in my son's eyes when his Best Buddy comes by to pick him up for a dinner of cheeseburgers and fries at Red Robin, or to take him for a special evening out at Disney on Ice, or to a movie topped with Junior
Mints and a Diet Coke. I am indebted to Best Buddies for the love and support I know Kennedy feels from his friendship with Ace.We all need buddies, friends who "get" us and who are there for us no matter what. That is what Best Buddies is all about. It might seem simple at first glance, but in the end, it is the most powerful and important part of being human. Friendships are a fundamental piece of the support system we all need in order to achieve our dreams. I feel a deep kinship with Best Buddies; we are both breaking down barriers – to employment and to access to the same opportunities many of us take for granted – and doing so by focusing on the humanity that connects us all and on the friendships that sustain us.