Chapter Spotlight: University of Colorado Boulder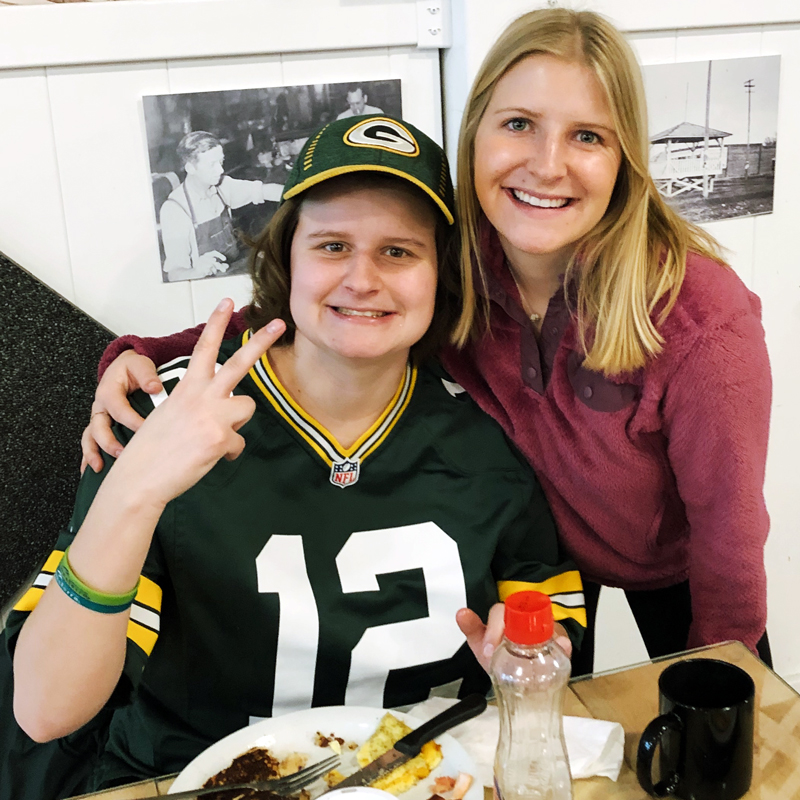 Best Buddies Colorado would like to recognize local Chapters that have continued to elevate our mission of inclusion and friendship, even when the odds feel insurmountable.
University of Colorado Best Buddies
We had the pleasure of interviewing the 2020-2021 University of Colorado Chapter President (CP), Liz Lajoie – a UC Senior now Graduate, about her experience leading her Chapter through unprecedented changes following the recent pandemic.
Liz joined the Best Buddies movement in college, although she wished there had been a club in her formative years. Looking back, she recalls becoming increasingly aware of the complex social nuances of students in her class with IDD to those without IDD and longed for a vehicle to combat barriers preventing friendships from forming. Best Buddies became a vehicle for her to have a voice for inclusion and advocacy. For this reason (among others), she was excited to take on leadership.
Best Buddies encourages incoming leaders to train with outgoing leaders to ensure their success. Before the pandemic, Liz sat with then CP, Sophie Adams, and came up with a transition plan to take over the Chapter while maintaining & growing club activities. Unfortunately, before her tenure even began, she found herself in the unchartered territory following the nationally mandated quarantine.
Growing Pains
For people with IDD, safety during the pandemic became of utmost importance, and it was strongly encouraged to avoid interacting with individuals outside of their personal network. However, virtual models proved challenging. So, the UC Best Buddies leadership team held a series of meetings to debate how they could hold in person gatherings while ensuring members felt safe, included, and less lonely.
They decided their first in-person gathering would be a "socially distanced" picnic. To comply with local mandates, the team formed large bubbles out of tape (6-8 ft apart) and required masks and temperature scans to attend. Every member also had to supply their own food and beverages and were required to stay within the boundaries of their circles. Unfortunately, it was much too challenging to connect. She recalls folks "yelling" across the park and sensed the stress it caused members to meet in this context. This experience led the group to realize that the only option moving forward was to lean into the virtual platform and try to make it as engaging as possible.
In the past, the chapter celebrated fall with a Pumpkin Patch & Hayride activity. To embody the spirit of this annual tradition, Liz went to Trader Joe's and bought 30 mini pumpkins and 30 chocolate bars. She then created handwritten notes to affix to each bar and, together with her team, masked up and delivered the items onto the porches of each Buddy Member with instructions for a Zoom call with their pumpkins and chocolate. The group LOVED it.
For the next meet-up, she bought Jack-o-lantern plastic buckets, filled them with candy and pumpkin masks, and hosted a Halloween-themed zoom call. Then for Thanksgiving, she had custom Best Buddies cookies made and delivered them for a Friendsgiving virtual call.
Time and again, the UC Leadership team would connect, come up with a theme, assemble goodies and drop them off at member homes so the group could feel a sense of togetherness and belonging despite not actually being physically together.
The chapter thrived. Members were less lonely. And most importantly, everyone stayed safe.
Liz and Molly
In looking back at her experience, we asked Liz to share her favorite memory. For Liz, that memory is her blossoming friendship with Best Buddy Molly.
Molly and Liz became paired as friends early in Liz's college experience, and she recently said:
"Molly is literally my twin – we are the most perfect buddy pair\! She is very outgoing, will talk to anyone, and is so goofy and not afraid to be the center of attention. There isn't a shy bone in her body. Whenever my friends meet her, they want to hang out with her even if I'm not around. They aren't even in Best Buddies, they have just become good friends with her. Everyone says how lucky we are to have found each other."
Liz also recounted her special connection to Molly's family and how they embraced her as a surrogate daughter through the years. When Liz couldn't go home for a break, Molly's family would host her. They took her in as one of their own helping Liz to feel less lonely during her time at UC Boulder.
Although Liz graduated this year and will be leaving UC, she said without a doubt that she will always find her way back to Molly – she even envisions living in Denver one day! She told Best Buddies Colorado:
"Molly is a part of my life and my story, and I will always plan to visit and come back and see her just like my other friends."
Best Buddies Colorado is so thankful for leaders like Liz and for Chapters who continue to grow the Best Buddies mission of Friendship & Inclusion, even when challenges arise.
If your school or child's school would like to learn how to establish a Best Buddies Friendship Program, please contact us at Colorado@BestBuddies.org.