Amir is Living the Best Buddies Misson!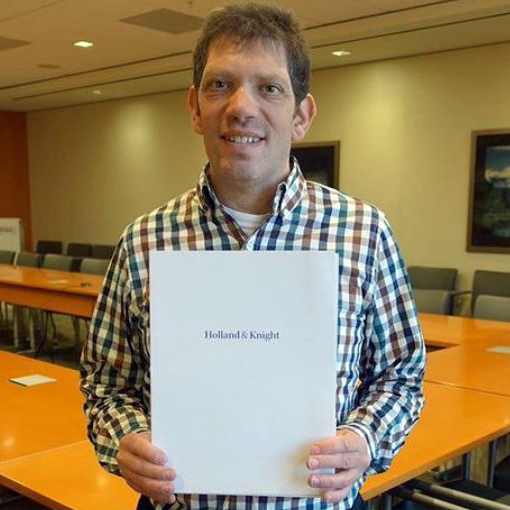 Amir has been in his job as an Office Assistant at Holland & Knight law firm for seven years and has grown exponentially both professionally and personally.
Amir's main duties include tracking inventory of office and kitchen supplies, restocking those supplies as well as sorting, organizing, and delivering mail at the office.
Through role-playing with his job coach, Amir worked up the confidence to ask his supervisor about expanding his duties, specifically so he could partake in printing, scanning, and helping to bind documents.
His supervisor was on board! He is thrilled to have even more responsibility around the office. He also served as the campaign manager for his colleague, Karl, in their campaign for Champion of the Year.
Over the years that Amir has participated in the Ambassador program, he has gained confidence in his public speaking skills. He has spoken at multiple Friendship Walk kickoff events for Holland & Knight and served on our Advisory Board this year. 2021 was a big year for Amir as he not only got engaged but also got married just last month!
Additionally, Amir has been matched in our Citizens program for almost a year. Here's what he's had to say about his experience in our citizen's program:
"I was matched with Andrew over a year ago. Andrew is very nice, patient, and friendly. We talk over zoom every other Tuesday about our week and what each of us is doing over the weekend. We also talk about movies and sometimes play games, such as Pictionary. What I appreciate about Andrew is that he likes movies and likes to travel. I appreciate my friendship with him by talking to him about movies, tv shows, and life in general."
Thank you for making a difference in Amir's life through supporting Best Buddies!