The 20th Best Buddies Challenge: California Presented by Safeway Foundation Raises Nearly $3 Million for Best Buddies International
Event proceeds to support Best Buddies' mission of inclusion for individuals with intellectual and developmental disabilities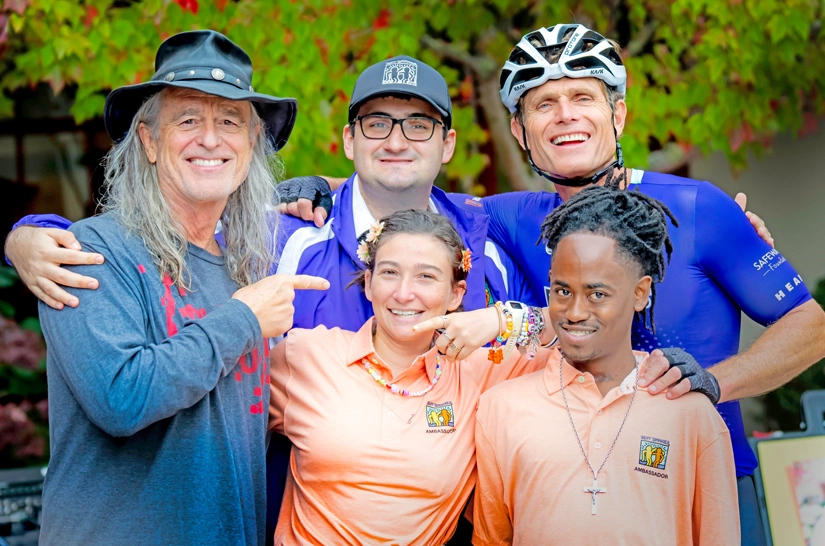 Marin, CA, October 17, 2023 – On Saturday, October 14, Best Buddies International, a nonprofit dedicated to creating opportunities for friendship, employment, leadership development and inclusive living for people with intellectual and developmental disabilities (IDD), hosted its 20th Best Buddies Challenge: California presented by Safeway Foundation. The Challenge, a charity bike ride, commenced and concluded at the renowned Summit Skywalker Ranch in Nicasio, CA. The event raised nearly $3 million for Best Buddies programs.
This year, Carl Guardino, vice president of government affairs at Tarana Wireless, and Karl Schroeder, president of the Safeway Northern California Division, served as the event's honorary co-chairs.
"It was truly an honor to serve as the 2023 honorary co-chair for the Best Buddies Challenge: California," said Carl Guardino. "I am incredibly passionate about Best Buddies' mission of empowering people with IDD, helping them form genuine friendships with their peers, secure successful jobs, live independently and become advocates for themselves and others within the IDD community. I hope that my role continues to bring an even greater awareness to the infinite abilities people with IDD possess, in addition to the resources needed to further expand the organization's presence throughout the state of California and beyond."
"The Safeway Foundation prizes our longstanding commitment to our community partners, and Best Buddies is a great example of that relationship," said Karl Schroeder. "We are honored to provide support to an organization that has been such a vital advocate of people with IDD. The amazing work of Best Buddies is an example of how we all benefit when society provides opportunities to those who are often overlooked or forgotten."
The event kicked off with the welcome reception on Friday, October 13, where guests enjoyed cocktails, dinner and a program hosted by Best Buddies International Founder, Chairman & CEO Anthony K. Shriver that highlighted the achievements of the Best Buddies Global Ambassadors and key supporters. During the welcome reception, singer and longtime Best Buddies celebrity supporter Lisa Loeb entertained the crowd.
On Saturday, October 14, hundreds of cyclists took to the starting line for a 38- or 72-mile ride through the Marin countryside led by professional cyclists Thomas Pidcock and Magnus Sheffield. Other cyclists attending this year's event included Alison Tetrick, Andrew Talansky, Cameron Wurf, Cole Kessler, Emma Langley, Krista Doebel-Hickok, Luke Lamperti, Magnus Sheffield and Mari Holden. Activist, attorney, and producer Bobby Shriver, brother of Anthony K. Shriver, also attended this year's Challenge.
The event was capped off with a gourmet lunch, wine tasting and live entertainment.
Top Individual Fundraisers:
Patrick Heron ($125,600.00)
Carl Guardino ($93,910.00)
Aaron Gershenberg ($56,175.00)
Top Teams:
Team Silicon Valley Bank ($293,920.00)
Team Guardino ($93,910.00)
Team Webcor ($28,400.00)
This year's Challenge sponsors included:
Presenting Sponsor: Safeway Foundation
Golden Gate Sponsors: BODYARMOR, the official water and sports beverage partner of the Best Buddies Challenges, Hearst, Impossible Foods, Silicon Valley Bank, a division of First Citizens Bank, and Sutter Health
Pacific Coast Sponsors: Chevron, E. & J. Gallo Winery and Stanford Health Care
Redwood Sponsors: Dome Construction, Southern Glazer's Wine and Spirits and Webcor
Media Sponsor: The San Francisco Chronicle
Official Bike Sponsor: Pinarello
ABOUT BEST BUDDIES INTERNATIONAL:
Best Buddies® is a nonprofit 501(c)(3) organization dedicated to establishing a global volunteer movement that creates opportunities for one-to-one friendships, integrated employment, leadership development and inclusive living for people with intellectual and developmental disabilities (IDD). Founded in 1989 by Anthony K. Shriver, Best Buddies is a vibrant organization that has grown from one original chapter to nearly 3,000 middle school, high school, and college chapters worldwide. Today, Best Buddies' 11 formal programs — Elementary Schools, Middle Schools, High Schools, Colleges, Citizens, e-Buddies®, Jobs, Ambassadors, Promoters, Transitions and Inclusive Living— engage participants in each of the 50 states and in 49 countries, positively impacting the lives of nearly one million people with and without disabilities around the world. In many cases, as a result of their involvement with Best Buddies, people with intellectual and developmental disabilities secure rewarding jobs, live on their own, become inspirational leaders, and make lifelong friendships. For more information, please visit www.bestbuddies.org or connect with us via Facebook, Instagram or Twitter.
To participate in the Challenge:
Michael Collins
MichaelCollins@bestbuddies.org
For media inquiries (including requests for credentials):
Nicole Maddox
NicoleMaddox@bestbuddies.org