Best Buddies NDEAM Spotlight: Glenn Hiro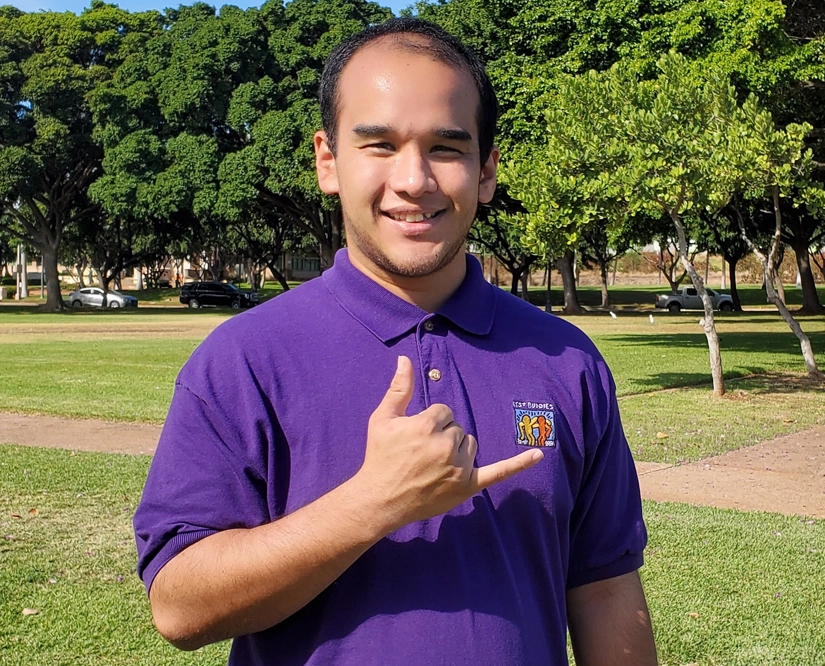 Kapolei, HI, Oct. 17, 2023 — Glenn Hiro knows the drill.
First, remove all the dishes and silverware from the table and bring them to the back for cleaning. Next, clean any crumbs off the tablemat and chairs, replacing the tablemat as necessary. Last, readjust the seats and watch as the next set of happy customers approaches the table.
His job as a busser at Assaggio Kapolei in Kapolei, HI, might be humdrum to some, but to Glenn, he's living the dream. He brings energy and life to the Italian restaurant and enjoys the simple but necessary work that helps it operate smoothly.
"I'm proud of myself that I've held a job for 11 years," Glenn mentions satisfactorily. "Especially when considering the high turnover rates in restaurants."
Yet, Glenn did not always have it this good.
His diagnosis with an intellectual and developmental disability (IDD) seemed, at times, to be an insurmountable hill to climb. But with the help of Best Buddies International, a nonprofit dedicated to creating opportunities for friendship, employment, leadership development and inclusive living for people with IDD, he found the support system he needed to achieve his goals.
Glenn was introduced to Best Buddies back in 2012 at Kapolei High School, and for Glenn, it was love at first sight. He became an active participant in his high school chapter and was later recognized as one of Best Buddies in Hawaii's first State Ambassadors. After graduating high school, a Best Buddies in Hawai'i supporter helped Glenn land his job at Assaggio Kapolei.
"As a person with an IDD, Glenn inspires me because he shows that we can have a job which gives us fulfillment," Brigid Hagan, Glenn's friend and a Best Buddies in Hawai'i Ambassador, said.
Glenn has made significant strides professionally and personally thanks to his job. Not only has he learned critical soft skills, like time management and customer relations, but he has also used his wages to pay his rent and give back to his local community. Glenn is a shining example of how inclusive hiring practices can positively benefit a business.
"People with IDD, like me, are dependable and hard working," Glenn said. "We are human beings, too. We are just like everybody else."
During this National Disability Employment Awareness Month (NDEAM), consider how your business can become an inclusive employer by visiting bestbuddies.org/jobs.
ABOUT BEST BUDDIES INTERNATIONAL:
Best Buddies® is a nonprofit 501(c)(3) organization dedicated to establishing a global volunteer movement that creates opportunities for one-to-one friendships, integrated employment, leadership development and inclusive living for people with intellectual and developmental disabilities (IDD). Founded in 1989 by Anthony K. Shriver, Best Buddies is a vibrant organization that has grown from one original chapter to nearly 3,000 middle school, high school, and college chapters worldwide. Today, Best Buddies' 11 formal programs — Elementary Schools, Middle Schools, High Schools, Colleges, Citizens, e-Buddies®, Jobs, Ambassadors, Promoters, Transitions and Inclusive Living— engage participants in each of the 50 states and in 49 countries, positively impacting the lives of nearly one million people with and without disabilities around the world. In many cases, as a result of their involvement with Best Buddies, people with intellectual and developmental disabilities secure rewarding jobs, live on their own, become inspirational leaders, and make lifelong friendships. For more information, please visit www.bestbuddies.org or connect with us via Facebook, Instagram or Twitter.
For media inquiries:
Moon Yun Pellerin
MoonYunPellerin@bestbuddies.org