PDQ and Best Buddies International Partner to Raise Funds for Individuals with Intellectual and Developmental Disabilities
Guests can donate at all Florida PDQ locations August 3 through August 31
Tampa, FL (August 1, 2021) – Award-winning PDQ restaurants (People Dedicated to Quality) and Best Buddies International are working together to support and raise awareness for individuals with intellectual and developmental disabilities (IDD) this month at all of PDQ's 45 Florida locations. From August 3 through August 31, guests who visit any Florida PDQ location will have the opportunity to support Best Buddies at check-out by rounding up their payment to the nearest dollar amount or making a donation. One hundred percent of all funds raised will be donated directly to Best Buddies in Florida to assist with their programs.
The August campaign highlights the recent launch of a program where PDQ has committed to hire participants from the Best Buddies Jobs program at each of its locations across the state. To date, six individuals have been hired at PDQ restaurants in Florida.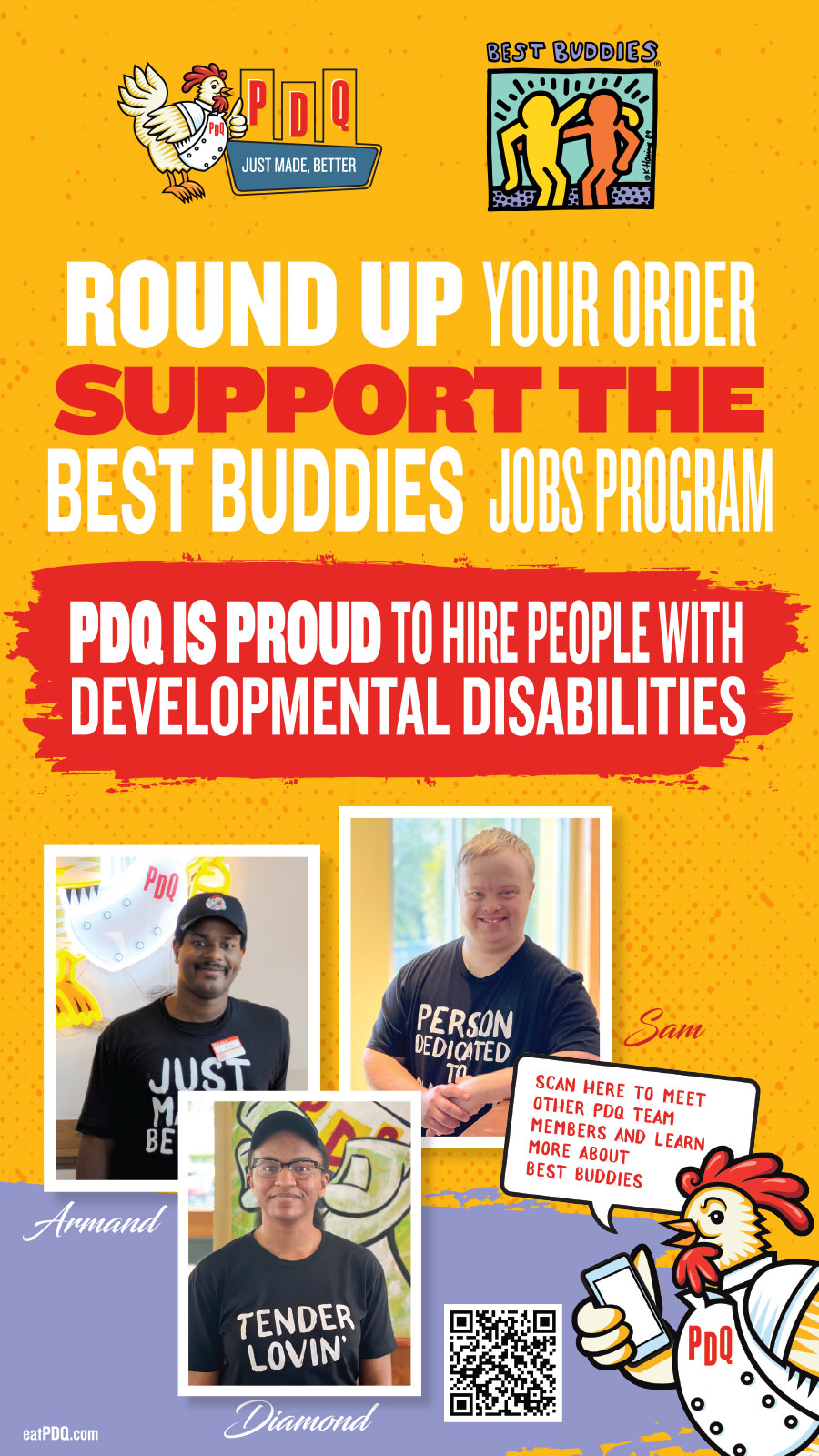 "Best Buddies is thrilled to partner with PDQ in support of individuals with intellectual and developmental disabilities," said Anthony K. Shriver, Founder, Chairman & CEO, Best Buddies International. "PDQ's enthusiasm for hiring candidates with IDD from the Best Buddies Jobs program has changed lives for the better, and their commitment to expand that to every store is truly exemplary. This new round-up fundraising campaign further solidifies their commitment to our cause."
"Inclusion is one of our core values as a brand, and we are excited to expand our partnership with Best Buddies and the incredible work they do with so many individuals and families," said PDQ CEO and Co-Founder Nick Reader. "This relationship began more than eight years ago when Sam Piazza joined our PDQ team, and we look forward to welcoming many more team members that are People Dedicated to Quality through this initiative. This campaign allows us the opportunity to raise much-needed funds for Sam, as well as other current and future PDQ team members through Best Buddies."
The Best Buddies Jobs program secures employment opportunities for individuals with intellectual and developmental disabilities (IDD), allowing them to earn an income, pay taxes, and continuously and independently support themselves. Through the Jobs program, Best Buddies develops partnerships with employers, assists with the hiring process and provides ongoing support to the employee and employer. Many businesses have seen the benefits of hiring individuals with IDD, such as gaining dependable, motivated employees; promoting an inclusive and diverse workforce; and improving customer satisfaction.
PDQ also serves as the official Chicken Tender of the Tampa Bay Buccaneers and has teamed up with Best Buddies to offer a discount on the new Best Buddies Specialty License Plate featuring Buccaneers quarterback and Best Buddies Global Ambassador Tom Brady. Pre-order your plate here and enter code PDQ at checkout to receive $12 off your initial purchase voucher. Pre-sale vouchers are available to Floridians in all counties and can be purchased online at bestbuddies.org/florida/license-plate. Vouchers can also be purchased by visiting any county tax collector office or license plate agency. When customers purchase or renew the specialty license plate, $25 goes directly to Best Buddies to further expand the impact of its four mission pillars – one-to-one friendships, integrated employment, leadership development, and inclusive living – for individuals with IDD.
"PDQ's relationship with the Buccaneers aligns perfectly with our Global Ambassador Tom Brady and his long-standing commitment to our cause," said Anthony K. Shriver, Founder, Chairman & CEO, Best Buddies International. "We are excited to offer PDQ customers and Bucs fans the chance to be one of the first to own the specialty plate featuring Tom Brady in support of Best Buddies."
You can find a full list of PDQ locations at http://www.eatPDQ.com/locations. PDQ is open for lunch and dinner seven days a week, where guests can enjoy favorites for dine-in, take-out, drive-thru, curbside, delivery, and catering. Guests can also order PDQ and earn rewards through the new PDQ App and MyPDQ Points loyalty program. The MyPDQ app is now available for download on the App Store and Google Play under "PDQ Fresh Food," or guests can also register for MyPDQ Points at eatPDQ.com/MyPDQ.
ABOUT BEST BUDDIES INTERNATIONAL:
Best Buddies® is a nonprofit 501(c)(3) organization dedicated to establishing a global volunteer movement that creates opportunities for one-to-one friendships, integrated employment, leadership development and inclusive living for people with intellectual and developmental disabilities. Founded in 1989 by Anthony K. Shriver, Best Buddies is a vibrant organization that has grown from one original chapter to nearly 2,900 middle school, high school, and college chapters worldwide. Today, Best Buddies' nine formal programs — Middle Schools, High Schools, Colleges, Citizens, e-Buddies®, Jobs, Ambassadors, Promoters and Inclusive Living— engage participants in each of the 50 states and in 56 countries, positively impacting the lives of more than 690,000 people with and without disabilities around the world. In many cases, as a result of their involvement with Best Buddies, people with intellectual and developmental disabilities secure rewarding jobs, live on their own, become inspirational leaders, and make lifelong friendships. For more information, please visit www.bestbuddies.org, facebook.com/bestbuddies or instagram.com/bestbuddies.
ABOUT PDQ
Founded in 2011, award-winning PDQ – "People Dedicated to Quality" – offers chef-driven recipes and mindful ingredients typically found in a fine casual restaurant with the value, speed and convenience of the fast food and fast casual segment. Outback Steakhouse co-founder Bob Basham and MVP Holdings CEO Nick Reader are the two principal owners of PDQ. Beloved throughout the Southeast and now beyond for its famous hand-breaded chicken tenders and signature sauces, PDQ also crafts delicious sandwiches and salads fresh in store, every day. PDQ is committed to creating deep roots in its local communities and has given over $6 million in dollars and in-kind donations to local charities, schools, and organizations since its inception. On October 30, 2011, the original PDQ restaurant opened its doors in Tampa (FL) and the concept now has locations throughout Florida, New Jersey, New York, North Carolina and South Carolina. For more information, visit www.eatPDQ.com.
Media Contacts
Jeffrey Kamis, PDQ – jkamis@eatPDQ.com; 813.784.3642
Nicole Maddox, Best Buddies – NicoleMaddox@bestbuddies.org; 305.374.2233 x343
####