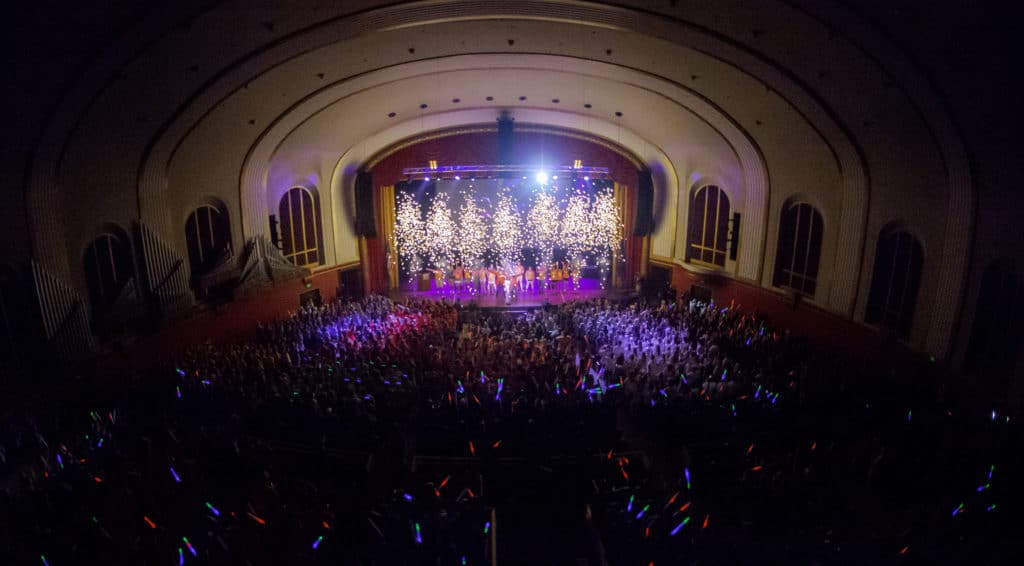 Bloomington, Indiana July 26, 2018 – Over 2,300 student leaders, volunteers, and staff members from Best Buddies International programs around the world participated in the 29th Annual Best Buddies International Leadership Conference: This Is Me on July 20-22 at Indiana University in Bloomington, Indiana. The weekend offered attendees innovative new ideas to share with their local communities, inspiring speeches, networking opportunities and lasting friendships.
Best Buddies International is a groundbreaking nonprofit founded in 1989 by Anthony K. Shriver to establish a global volunteer movement that creates opportunities for one-to-one friendships, integrated employment and leadership development for people with intellectual and developmental disabilities (IDD).
This year's conference was themed This Is Me, which emphasized the importance of being one's unapologetic, true self. The conference celebrated the incredible impact volunteers with and without IDD have made in the world as a result of their leadership. Attendees received lessons from global leaders in the disability rights movement; watched inspiring performances; witnessed moving testimonies; and attended compelling and empowering leadership sessions.
The conference brought together student leaders from Best Buddies middle schools, high schools, colleges and promoter chapters from the United States and around the world. This year, participants from the following countries attended the Best Buddies Leadership Conference: Canada, Costa Rica, Dominican Republic, El Salvador, Germany, Haiti, Hong Kong, China, Macau, China, Mexico, Lebanon, South Korea and Thailand.
The Best Buddies Leadership Conference featured a fantastic conference opening performance from singer Rebecca Black, who performed her hit songs "The Great Divide" and "Friday" to an exciting and energetic crowd.
Best Buddies International Global Ambassador Jack Mayor spoke at the Opening Ceremonies about the impact Best Buddies has had on his life. "What I am about to say needs to be heard by every parent, educator and politician. Best Buddies is changing lives. It is teaching people around the world to see our abilities instead of our labels," said Mayor, who just a year ago was a student attending the Best Buddies Leadership Conference himself.
Kechi Okwuchi, a Nigerian-American singer and a finalist at the twelfth season of America's Got Talent in 2017, also performed The Greatest Showman's "This Is Me" during the Opening Ceremonies, alongside Lisa Smith, who joined her by signing the hit song onstage. Okwuchi shared her experience of being one of the two survivors in the Sosoliso Airlines Flight 1145 crash on December 10, 2005.
Some memorable moments from the conference include an emotional and inspiring tribute to honor the lives of the victims of the Marjory Stoneman Douglas High School tragedy; a moving classical ballet performance by Mikayla Holmgren, who competed for the Miss Minnesota title; a riveting show by the musical group Larger Than Life who performed several classic hits; and a fashion show showcasing the latest Best Buddies merchandise.
 The Best Buddies mission is led in part by student volunteers who serve as dedicated leaders for the organization. During the conference, select schools and promoter chapters were honored for their service and commitment to Best Buddies. The Outstanding Chapter Awards were given to the following chapters for the 2017-2018 school year. For middle schools: Cole Middle School in Rhode Island; for high schools: Seven Lakes High School in Texas; for colleges: the University of North Carolina at Chapel Hill and for promoter: Montgomery Bell Academy in Tennessee. Best Buddies Ambassador Christina Hundley was also recognized as the 2018 recipient of the Spirit of Courage Award; one of the most prestigious awards given to Best Buddies Ambassadors for their impact in the organization.
The 2018 Best Buddies Leadership Conference (BBLC) concluded with heart-warming and moving Closing Ceremonies. Best Buddies in California participant Tsukasa Richard Nakai delivered a powerful speech about self-love and self-acceptance; Best Buddies Macau International Ambassador Sin Kei Cheong spoke about overcoming labels and his many accomplishments; vocal group reVoiced was joined on stage by singer Marlana Vanhoose; and Lisa Smith closed BBLC by signing to The Greatest Showman's "Never Enough." After Closing Ceremonies, students danced and celebrated their accomplishments and the conference at the Festival of Friendship.
The Best Buddies Leadership Conference inspired and energized the students and volunteers as they witnessed the positive changes being made across the globe and the ways their friendships have changed lives. Conference attendees left more motivated to make the world a more inclusive place for people with IDD.
ABOUT BEST BUDDIES  INTERNATIONAL:
Best Buddies® is a nonprofit 501(c)(3) organization dedicated to establishing a global volunteer movement that creates opportunities for one-to-one friendships, integrated employment and leadership development for people with intellectual and developmental disabilities. Founded in 1989 by Anthony K. Shriver, Best Buddies is a vibrant organization that has grown from one original chapter to nearly 2,500 middle school, high school, and college chapters worldwide. Today, Best Buddies' eight formal programs — Middle Schools, High Schools, Colleges, Citizens, e-Buddies® , Jobs, Ambassadors, and Promoters — engage participants in each of the 50 states and in 50 countries, positively impacting the lives of more than 1.2 million people with and without disabilities around the world. In many cases, as a result of their involvement with Best Buddies, people with intellectual and developmental disabilities secure rewarding jobs, live on their own, become inspirational leaders, and make lifelong friendships. For more information, please visit www.bestbuddies.org, facebook.com/bestbuddies or twitter.com/bestbuddies.
For media inquiries
Amaury Sablon
305.374.2233 ext. 362
AmaurySablon@bestbuddies.org
###