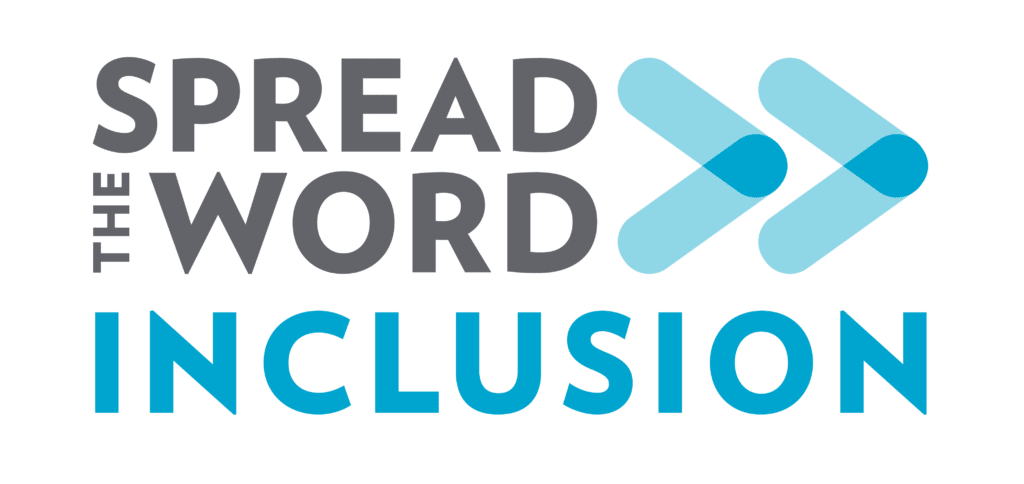 – Over 200 million individuals with intellectual disabilities continue to face exclusion in workplaces, schools, and communities globally.
– More than 60% of people still believe that individuals with intellectual disabilities should be segregated in the school and the workplace.
– Special Olympics and Best Buddies are growing the success of 'Spread the Word to End the Word' into Spread the Word: Inclusion to combat this discrimination.
– Tweet this pledge on March 6th: I #PledgetoInclude thru my words and actions. Will you? Pledge now to change the game for people with ID at http://spreadtheword.global
WASHINGTON, March 6, 2019 /PRNewswire/ — Special Olympics, Best Buddies International and supporters from around the world will unite on Wednesday, March 6th for the annual Spread the Word Day.
The Spread the Word to End the Word campaign has worked to spread respect and inclusion for 10 years by addressing the excluding and demeaning impact of the word "retard(ed)." Founded by Soeren Palumbo and Tim Shriver, Jr. in 2009, Spread the Word has had more than 1 million people pledge to end their use of the R-word. In 2017, 70% of teens reported speaking out against the wrong use of the R-word when heard in conversation, up nearly 50% since 2009. Our campaign's new form – Spread the Word: Inclusion – builds on the success of the past 10 years by challenging everyone to commit to respect.
"From our work bringing together people with and without intellectual disabilities (ID), we believe that inclusion is a skill – one that our world needs now more than ever. With this global campaign, we are challenging all people to practice the skill of inclusion, develop it, model it, and teach it," said Soeren Palumbo, co-founder of Spread the Word and now Senior Director of Global Youth Engagement at Special Olympics.
"In a time when our world is mired in exclusion, we need champions of inclusion. The leaders of Spread the Word to End the Word have been those champions in communities around the world for more than a decade by challenging the pervasive use of the word "retard(ed)," said Tim Shriver, Jr., co-founder of Spread the Word. "In this next decade we are excited for Spread the Word: Inclusion to support leaders to further transform their communities into beacons of inclusion."
Spread the Word: Inclusion invites all people to commit to individual acts of inclusion. It highlights the divisions in schools, workplaces, and communities that lead to social isolation. Over 15% of the global population are estimated to have a disability, with 80% in low-income or developing countries; and many of them continue to be left out educationally, socially, and economically. With concrete acts of inclusion, we take steps towards full inclusion for the world's largest minority.
Special Olympics Youth Ambassador Sydney Meininger says, "I am excited for Spread the Word because it helps students understand that not everyone is the same and celebrates individuals who may be different. My school is creating our own puzzle where we are going to be designing puzzle pieces from end to end making one giant puzzle."
The Spread the Word: Inclusion campaign continues to advocate for and with people with ID to make our society more inclusive. Special Olympics offers inclusive sports, leadership, and education activities in nearly 6,500 schools across the country. Many of these schools host Spread the Word events led by students inviting their peers to commit to social inclusion.
Best Buddies International youth programs promote one-to-one friendship opportunities and leadership development in schools around the world. In many of the nearly 2,900 middle school, high school, and college Best Buddies chapters worldwide, Spread the Word has become an integral part of the Best Buddies' mission.
This year, Spread the Word: Inclusion supporters — including the Golisano Foundation and thousands of schools around the nation — have activated their communities to engage around the day with pledge events.
Get Involved!
Engage with us on Facebook at http://www.facebook.com/PledgetoInclude or Twitter at http://twitter.com/PledgetoInclude!
About Special Olympics
Special Olympics is a global inclusion movement using sport, health, education and leadership programs around the world to end discrimination against and empower people with intellectual disabilities. Click here for a full list of partners. Engage with us on: Twitter, Facebook, YouTube, Instagram and our blog on Medium. Learn more at www.SpecialOlympics.org.
About Best Buddies International
Best Buddies® is a nonprofit 501(c)(3) organization dedicated to establishing a global volunteer movement that creates opportunities for one-to-one friendships, integrated employment, leadership development and inclusive living for people with intellectual and developmental disabilities. For more information, please visit www.bestbuddies.org, facebook.com/bestbuddies or twitter.com/bestbuddies.