By Christina Mayo christinammayo@gmail.com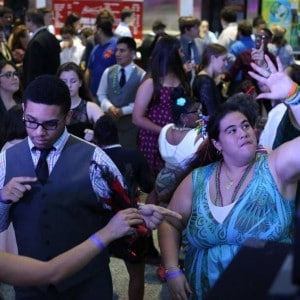 "Many people with intellectual and developmental disabilities do not get to experience a lot of the typical high school traditions, such as prom and homecoming," said Heather Gray, regional director of Best Buddies Florida in email.
"In order to give our participants this experience and foster an inclusive and welcoming environment we held the Best Buddies Ball."
And it was fun. Hundreds of students and their buddies danced the night away at the South Florida Friendship Ball, a prom-like event offered for free to 75 Best Buddies Friendship chapters in South Florida schools.
The celebration of one-to-one friendship matches made during the school year also recognized South Florida students and teachers for giving more than 120,000 hours of service to Best Buddies.
"This year's prom was our largest South Florida Friendship Ball to date, with over 800 students, parents, faculty advisors, advisory board members, and volunteers in attendance," Gray said. "The participants were so appreciative and happy, they had a phenomenal experience. They danced for hours with their buddy pairs and newly made friends, and at the end of the night we crowned a 'Buddy Pair of the Year' similar to a Prom King and Queen."
Best Buddies International, a groundbreaking nonprofit founded in 1989 by Anthony Kennedy Shriver, is "a global volunteer movement that creates opportunities for one-to-one friendships, integrated employment and leadership development for people with intellectual and developmental disabilities (IDD)."
This year, Best Buddies South Florida started something new at the masquerade-themed ball held at Marlins Park. The first Buddy Pair Court was established and the inaugural "Buddy Pair of the Year" was crowned.
DJ Joey Jax returned to provide musical entertainment and the students had fun with an inflatable photo-booth, dancing, dinner and creating their masquerade masks the night of the event.
"Events like this remind us how important it is to make sure people with disabilities are included in their communities, and are able to experience many of the important milestones in life like their peers," Gray said.
Best Buddies International has eight formal programs — Middle Schools, High Schools, Colleges, Citizens, e-Buddies, Jobs, Ambassadors, and Promoters — engaging participants in 50 states and in over 50 countries. The organization makes a positive impact on the lives of more than 1.1 million people with and without disabilities around the world. For more on this good work and to get involved, visit https://www.bestbuddies.org/.
To read the full story click here.