Adam Williams
B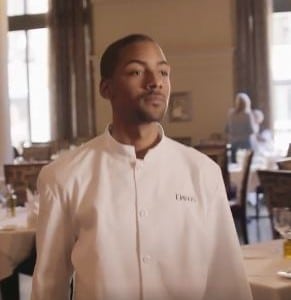 OSTON (WHDH) – Each Monday afternoon, Best Buddy Ryan Chapman gets Davio's ready for guests.
"I love working Monday nights, because the restaurant looks more elegant, and so peaceful, and romantic," Chapman said.
He's been working here for more than a year, and he's done so well, he earned Massachusetts Best Buddies Employee of the Year!
"It's such an honor to have that, such an amazing award to have employee of the year," said Chapman.
All told, Davio's has hired 3 Best Buddies.
"We thought we'd take these people in, and get some self-esteem, and teach em how to fish, right? We thought it was great for them, but you know what?  Honestly what happened was, it's really helped us. We've all changed," said Steve Difillipo, the chef/owner, Davio's.
"I'm just working real hard, you know, always with a smile on my face," said Chapman.
Best Buddies is a non-profit organization that creates friendships, job opportunities, and training for people living with intellectual and developmental disabilities.  And they're looking for more job opportunities for people like Ryan Chapman.
"Our whole goal is to…really make hiring a person with a disability no dissimilar than hiring any typical person," said Craig Welton, state director, Best Buddies Massachusetts.
Another bonus for Chapman- playing football with Tom Brady.  Last year he caught a pass from tb12 at the annual Best Buddies Football Challenge at Harvard Stadium.
"It's such a great honor to catch a football from the baddest football player in the planet.  You know?" said Chapman.
And the annual Best Buddies Challenge, is June 3.  Once again, 7News will sponsor the ride—all to benefit the non-profit organization.
To read their full story click here.