Mike Gleason Daily News Staff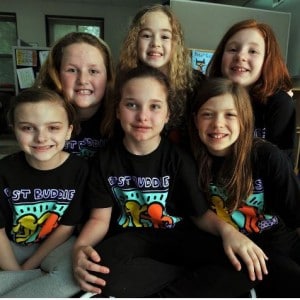 FRAN KLIN – Members of the Helen Keller Elementary School's Best Buddies program gathered on the school's "cafetorium" stage Friday morning as they were honored for their participation in the group.
Those students – dressed in black Best Buddies T-shirts – had been recognized as an "Outstanding Promoter Chapter" by the state branch of the organization, which works to partner students with those with intellectual and developmental disabilities. School officials have said the Keller Best Buddies group, established in 2015, is the only one in the country based in an elementary school.
The recognition was announced during an all-school community meeting that morning. Principal Eric Stark said the recognition came at an appropriate time, as the school was celebrating inclusion; a large number of students at the assembly were wearing brightly colored shirts, meant to evoke the "Autism Awareness" ribbon.
"We have just over 100 kids who participate in Best Buddies," he said. "They're divided into two groups: promoters and families."
Families, said Stark, interact with the disabled children – doing things like taking them out to lunch or ice cream. Promoters, he said, work to raise awareness of the program and assist its efforts.
Sarah Fishman, a third-grade special education teacher, helps coordinate the school's program.
"It's very exciting – the kids worked really hard," she said of the recognition.
Fishman said the group had events three times during the month.
"There are buddy teams who meet with their buddies and do things like have a Valentine's Day party or go out to the movies," she said.
According to Fishman, it was challenging to start the program at first, as there were no fellow elementary school programs on which to base it.
"It took a little while to get settled and figure out how to make it work," she said. "We modeled it a lot off of middle school chapters."
Third-grade student Erin Peterson, part of the family group that works with eight-year-old Emma Walsh, said she enjoyed being a part of the Best Buddies program.
"I wanted to be involved and help people," she said. "We do fun activities with our buddy team."
She said her favorite activity so far had been going to see the movie "Sing."
Walsh herself said she liked the program, calling it fun.
To read the full story click here.