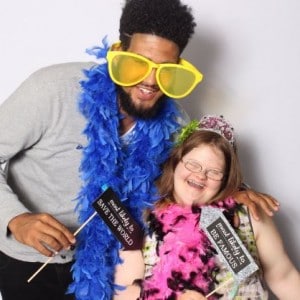 MUNCIE, Ind. — Under the dimmed lights of Worthen Arena, late at night when the whole place feels overwhelmingly empty, Trey Moses would wander. He'd end up in the locker room crying to himself.
Often last season, just hours before, he'd be in the same gym blocking shots in practice or celebrating buckets in front of fans. Those fans included little Luke Vormohr, who loves his buddy, "Sissy Trey." In another seat, Mickey Deputy, one of Trey's best friends. And there's Brian Bahlman, the 40-year-old season ticket holder with Down Syndrome who Trey met through Best Buddies.
The then-18-year-old center was always helping someone, with a soft spot for special needs kids. Pictures of quiet, lovable Trey Moses smiling with friends filled his social media feeds. He even went viral after asking Ellie Meredith to senior prom, helping to break down taboos behind her disease.
It was hard to imagine Trey anything but happy.
But alone in the depths of Worthen Arena was a side of him few knew. And that was the point. In that hugely quiet building, Trey could be alone. He didn't take any of that back to his dorm room, shared with teammate Tahjai Teague, either. Instead, he'd head to an off-campus house shared by veterans Franko House and Bik Gill, where space was a little more private. "I'd wake up and he was on my couch," said House, who didn't yet know what was going on.
Trey was carrying thoughts of suicide and didn't know who to tell or how to tell them. Couldn't even tell his mom, who heard the full extent of his pain more than a year later, from a news story. She called him crying when she found out, but Moses promised it wasn't her fault.
"I was just so hurt and I didn't know what to do," Trey said. "Coming here late at night, there was nobody here. It was just my way of being alone.
"Being by myself."
The Georgetown University Medical Center found in 2013 that 17 percent of student-athletes showed signs of depression. There are also long lists of pro athletes, like star running back Ricky Williams and boxer Mike Tyson who have struggled with mental health issues.
When kids are in class, plus working out 20 hours a week and traveling for games on the weekend, life can be overwhelming. Answers can be hard to find.
The scariest part, though, is even if Trey would've known exactly where to get help, he may not have pursued it for fear of being called soft. The 6-foot-9 center was then and is now working to be more physical in the paint. Can't show weakness down there.
"There's a stigma that you've got to be strong all the time, especially if you're a guy," Trey said. "But that's not realistic. … If you need to cry, you can cry. That's what I tell everybody: It's OK not to be OK."
And when Trey says he's telling everybody, he means it. He's posting about his depression on social media and sharing stories like this one. Even in his darkest hour, the now-19-year-old athlete found another way to help others.
Once he started talking about depression, life got a little easier. He found the help and support needed through teammates, coaches and counselors. Above all, he says relationships made through Best Buddies are what kept him here, kept him going. He doesn't know why, exactly, but has an idea.
"I guess it was just God's way of giving me a purpose," he said, "but they've become my passion in life."
Assistant coach Brian Thornton, the first coach who knew about Trey's depression, hasn't seen anything like this. It's rare for most Division I basketball players to even have a second interest, he said. And Trey isn't just interested in helping others, he's dependent on it.
"As time has gone on, it's made me realize that it is probably part of the reason he does all those things," Thornton said. "Because he has had some struggles, he wants to help others."
To read the full story click here.