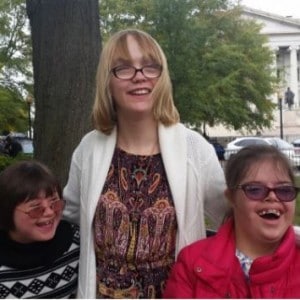 Meghan Leahy
I recently sat down with three moms — Lisa Roti, Dana Forrest and Tricia Nelson — to learn more about the Best Buddies chapter their daughters belong to. And, specifically, to hear about the Best Buddies Prom on Friday at the Ronald Reagan Building and International Trade Center in downtown Washington.
What I learned quickly was that not only have their girls, all 15 years old with intellectual disabilities, been helped by the Best Buddies program, a massive volunteer organization designed to help individuals like them, but it has had far-reaching positive effects for all involved. That includes the students who volunteer, the staff, the siblings of the children with intellectual disabilities and their families.
The words ringing in my ears when the women left my house were "happiness," "hope," "fun," "joy" and "growth."
This interview is a glimpse into the lives of these families. But my hope is that you take away the importance of programs like Best Buddies and the Best Buddies Prom. Of course these programs impact the families of children with intellectual disabilities, but what they truly create is more compassion, inclusion and hope within our culture at large.
This interview has been edited for clarity.
Meghan Leahy: How has having a Best Buddies Prom affected your girls? How is it different than if they just attended the regular Oakton prom?
Lisa Roti (mom of Hannah): Our children go with their buddy, and there is no distraction. The entire purpose is for the peer buddy (the typical teen) to focus all of their attention on having fun with their buddy. And because the group is so bonded and strong, they all hang out together. They have a friendship, these children attend monthly events together, some of them even over the last couple of years.
Tricia Nelson (mom of Katie): Our girls get to have the experience that every other high-schooler gets to have. If you attend this prom rather than the Oakton prom, you will have your buddy's full attention. In the prom for the whole school, your buddy may have a girlfriend or boyfriend and will be pulled away with their friends. With the Best Buddies Prom, all of the attention is on the children [with intellectual disabilities]. They get to really experience feeling special.
Meghan: The Best Buddies Prom sounds balanced between the teens with disabilities and the peer buddies, emphasizing the relationship and how special it is.
Dana Forrest (mom of Savanna): A regular prom can be awkward and have a lot pressure [for our children], but the Best Buddies Prom celebrates only the teens with Down syndrome.
Meghan: There is a true sense of relaxation, of just enjoying the dance and being together.
Lisa: Yes, and the prom last year was such a success with the buddies and peer buddies, the kids got together and decided to all go to homecoming together. The Best Buddies and peer buddies ate dinner, went to the dance and had a ball. And this time, the entire school was there.
Dana: And because everyone knows our children, it was "Hey Savanna, hey Hannah, hey Katie!" All of the children were so welcoming. Sascha Reed [a special-ed teacher and teacher sponsor for the Best Buddies program at Oakton] was there, and she is a very important person to our children. She makes it all happen.
Lisa: Sascha is so forward-thinking, active and promotes the Best Buddies program and Special Olympics.
Dana: She promotes as much inclusion as possible. The entire school benefits from how much she promotes inclusiveness.
Dana: What was great was that because of the BB and the prom, we all went out to dinner for homecoming, but then we dropped our kids at the dance and we all went out (moms and dads). It was wonderful. There is even a Parent Prom during the Best Buddies Prom, which also serves as an important fundraiser for Best Buddies.
Lisa: The prom, or any opportunity for our children to feel independent, is always a good opportunity for our children. They don't want to be hanging out with Mom and Dad.
Meghan: How have you seen this independence from the prom and the program itself manifest in your families and lives?
Dana: Starting high school was scary for me. Savanna is my last child of three, and my son was a senior at the high school. About three months in, my son says that when my daughter walks down the hall, all he hears is " 'Hi Savanna! Hi Savanna's brother!' Mom, she's in a good place." My son said: "Everyone knows her. Everyone looks out for her. You don't have to look out for her, Mom."
To read the full story click here.