Rachael Gustuson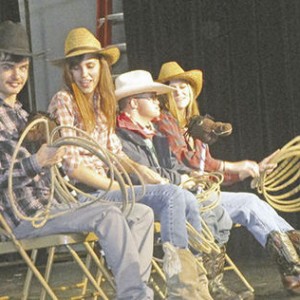 For the 14th consecutive year, Yucaipa High School's Best Buddy Talent Show was held in the Multipurpose Room and it was an overflowing crowd. Outside, JoJo's Grill-A-Dog offered hot dogs and food to more than an estimated 700 attendees.
"Best Buddies International is a club that has been overseen by Hope Gutierrez at Yucaipa High School for over 20 years," explained YHS Special Edu­cation teacher Scott Salinas. "The club is an opportunity for individuals with disabilities and without disabilities to develop friendships."
About 40 special education students paired up with their peer buddy/Best Buddy, (general education students) for an entertaining evening of fun. The performances ranged from a cowboy skit to a stand up comedy duo. The audience gave each performance huge applause and cheers.
"A special thanks to all of the instructional aides who assisted with the preparation and performance for each act. They really get involved and make sure this is a great event and they cannot get enough thanks for all that they do with the students," said Gutierrez.
Best Buddy President Chloe Pearson said, "I have grown up around individuals with disabilities my whole life and knew when I got to YHS, I was going to be a part of the club and was excited to get the opportunity to be president this year, and be a role model for others."
Life Skills teacher Priscilla Mora said, "They created a magical night for everyone to remember!"
The funds raised from the ticket sales will go towards an end-of-the-year field trip to Knott's Berry Farm.
To read the full story click here.