Abbey Zelko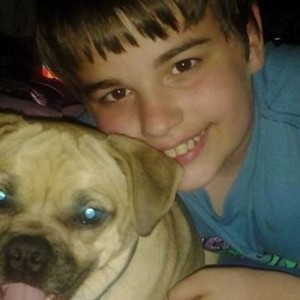 When Robyn Foller posted a request on Facebook for cards for her son's 13th birthday, she didn't expect much.
She thought maybe she'd get a couple of cards that could help cheer him up after years of heartbreaking birthdays.
But she never expected such an overwhelming outpouring of support from the community.
In just two weeks, she's received at least 50 cards and four packages from across the country – most from people she's never met. But what surprised her the most were the people who felt inspired to go one step further after hearing her son's story.
Zach Foller, a sixth grader at Dover Elementary School, is turning 13 on Jan. 28. But this year, he decided he doesn't want to have a birthday party.
"Nobody comes to my party anyway," he told his mom. "Nobody likes me because of my disabilities."
Zach was recently diagnosed with autism, attention deficit hyperactivity disorder and oppositional defiant disorder.
His words struck a chord with many. And now, at least three groups are planning surprise parties for Zach – hoping to make his 13th birthday his best one yet.
The Shiloh American Legion Riders posted plans on Facebook to throw a private party with cake, ice cream and gifts.
Several members of the Eureka Volunteer Fire Company of Stewartstown plan to take Zach for a ride on a firetruck during their party with "Star Wars" characters, pizza and ice cream.
And the York College chapter of Best Buddies – a non-profit organization that works with people with intellectual and mental disabilities – is throwing a party for Zach's family and friends on campus with party games and a DJ.
"When we heard Zach's story, that's everything that Best Buddies stands for," Lydia Moro, Best Buddies treasurer, said.
"If it was one of our buddies that felt this way and didn't have the community to rely on, we wouldn't feel right about that," Best Buddies member Tristan Cara added. "It's something everyone deserves – a community."
All three parties are private and not open to the public.
Dover Mayor Robert Dentler said he's also hoping to work with Dover Elementary School to throw a party with Zach's classmates.
And Zach's bus driver wants to fill the school bus with balloons for his birthday, Robyn said.
"It's getting so emotional because of all the outpouring of support and (people) saying you're not alone," she said. "I want to let him know he isn't alone."
Robyn said the overwhelming response from the community has inspired her to set up a Facebook group called Autism Kids Rock, where parents of autistic kids can talk, lend support, ask questions and set up times for their kids to meet.
"I hope (Zach) knows after all this that people care about him," she said. "They're not just doing this for show. They really know what he's going through."
Birthday cards are still being accepted.
To help make Zach's 13th birthday special, send cards to:
Zachary Thomas Foller, 4550 Bull Road, Lot 21, Dover, PA 17315
To read the full story click here.