Donate
Best Buddies International is a non-profit organization dedicated to enhancing the lives of people with intellectual and developmental disabilities.  Your donation helps us provide them with opportunities for one-to-one friendships, integrated employment and leadership development.
Join Team Rosemary today by donating $1,000 or more.
*Benefit to be discussed with the development director from your area to determine the nature of the event and number of tickets.
Do you have questions about joining Team Rosemary?
Please email: John M. Carlin at johncarlin@bestbuddies.org or call 305.374.2233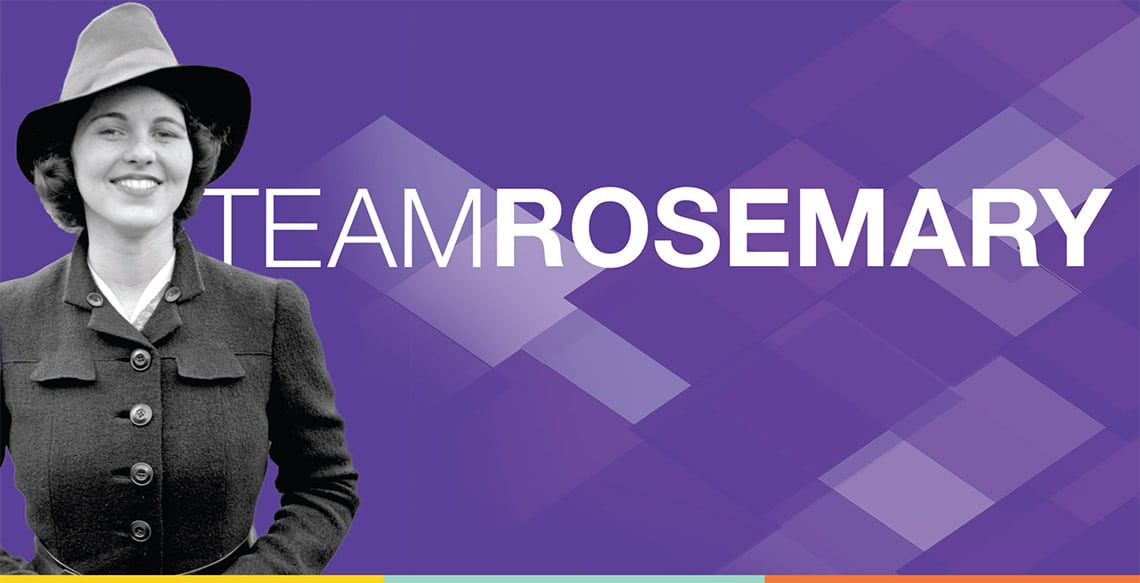 Team Rosemary For Best Buddies
Annual Giving Campaign Honoring Rosemary Kennedy
I started Best Buddies with the simple idea that friendship bridges gaps between people. Having grown up with my aunt Rosemary Kennedy, who had an intellectual disability, I learned at an early age that everyone is capable of something exceptional, especially with the support and encouragement of friends and family. Everyone has a special gift from God, and Rosemary could swim better than anyone in the family. Rosemary proved to be an incredible inspiration by displaying strength and courage in the face of adversity and illustrating to everyone around her that a network of support is the most valuable asset anyone can have, regardless of one's abilities. Team Rosemary, named in honor of my aunt, is dedicated to providing life-changing opportunities for people with intellectual and developmental disabilities (IDD). Best Buddies serves as a lifeline of joy and fulfillment through the promotion of life-long friendships, integrated employment and leadership development. Given these opportunities, people with IDD create a real network of friends, earn income, pay taxes and continuously support themselves. With a friend and a job, you get a kick-start in life! You earn self-esteem, independence, and a place in the community. There is no greater joy than the satisfaction of contributing your time and energy to the enhancement of another person's life. Team Rosemary offers you the opportunity to know that each and every day, you are making a difference in the lives of people in their communities, across the country and around the world.
I invite you to join Team Rosemary and honor Rosemary's legacy and promote inclusion for people with disabilities.
All the best,



Anthony K. Shriver
Founder and Chairman
[fullwidth_row content_width="100%"]
"Those of us who have seen children live in the shadows know that a country as rich as ours cannot possibly justify this neglect."
– President John F. Kennedy (1961)
People with intellectual and developmental disabilities (IDD) are the most maligned and disenfranchised group of people in the world. Their access to healthcare, employment, education, and equality pales in comparison to those living without disability. Your support of Team Rosemary can help this neglected, undeserved community. The statistics on major issues are alarming:



[fullwidth_row content_width="100%"]
Support the Best Buddies Jobs program, producing income-earning, tax-paying citizens, while reducing government costs for Medicaid and Supplemental Security Income (SSI).

Help eliminate bullying of students with disabilities; currently, 60% of students with IDD report incidents of bullying.

Support sensitizing middle school, high school and college student to the challenge facing people with IDD – creating a new generation of advocates.
[fullwidth_row content_width="100%"]
Your Support of Team Rosemary will:
Help Best Buddies impact 900,000 people in U.S.

Create Best Buddies offices in all 50 states and 100 countries.

Support chapter expansion in the U.S. from 1,900 to 2,500 Best Buddies chapters.

Support the placement of 2,500 people with IDD globally in fulfilling, white collar jobs world-wide, reducing the U.S. unemployment rate for people with IDD from 84% to 60%.
MEMBER BENEFITS
BASIC TEAM ROSEMARY MEMBERSHIP BENEFITS
Recognition as a stakeholder through your investment in the world's largest nonprofit organization devoted solely to providing opportunities for friendships, leadership development and jobs for people with intellectual and developmental disabilities by supporting and encouraging the Best Buddies mission and programs

Invitations to Best Buddies activities, programs and events
Recognition on Best Buddies website's Team Rosemary page
Recognition in Best Buddies online magazine, Byline

Name listed in state and national special event program books

Networking with fellow members

Opportunities to identify employment opportunities for partic ipants with IDD

A special Team Rosemary pin