Charles Calhoun
Global Ambassador
My name is Charles Calhoun III, and I am a Best Buddies Global Ambassador. As a Best Buddies Global Ambassador, I have spoken in front of former Arizona Governor Jan Brewer and traveled around the United States to speak at various national Best Buddies events. I am also employed with Silicon Valley Bank, and in my spare time, I love to play the drums, write songs and hang out with my friends.
I am diagnosed with Williams syndrome, autism, and ADHD. Growing up, I remember the hurtful names people would call me, like retarded. They would mock, tease and ridicule me. Kids and even some adults would say things, point at me, and laugh.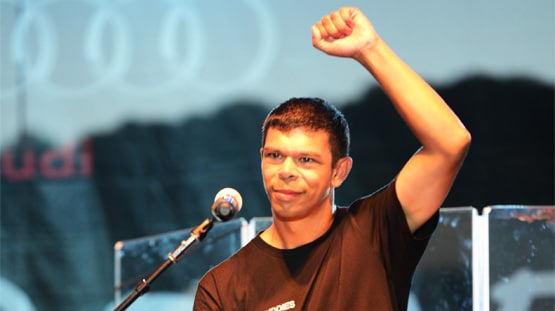 I would come home from school and run into my room and cry.
The R-word hurts because it is exclusive. It's offensive. It's derogatory. It's time for a change! Let's teach our communities that even if you are not using the R-word to purposely hurt someone, you ARE hurting someone. This word hurts, and it goes against everything Best Buddies stands for. Not only does the word affect people with disabilities, it also affects people without disabilities; people just like you!
Please stand with me and pledge to stop using the R-word! Pledge your support to eliminate this offensive word from everyday speech and pledge to promote the acceptance and inclusion of people with intellectual disabilities. People with intellectual disabilities may seem different to you, but here are some things we may have in common: I love rock music, wrestling, basketball and food. I want to do so much with my future. I would like to go to college for graphic design and wood-working.
Thank you to Best Buddies for giving me the opportunity to have real friends and people who genuinely care about me, and I thank you all for stopping the use of this hurtful word, promoting friendships and jobs and supporting this cause!
Copy reproduced from Charles Calhoun's speech at the Best Buddies Challenge: Hearst Castle in 2011.