Message from our State Director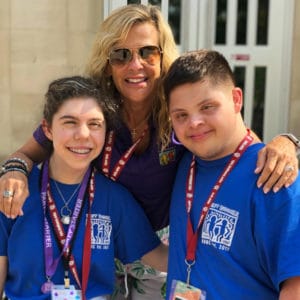 Best Buddies is the world's largest organization dedicated to ending the social, physical and economic isolation of the 200 million people with intellectual and developmental disabilities (IDD). Our programs help people with IDD form meaningful friendships with their peers, improve public speaking, self-advocacy and communication skills allowing them to feel more valued by society.
Best Buddies N.C. currently supports over 40 friendship chapter in schools throughout the state. These clubs allow a student with a disability to be matched with a student without a disability for a mutually beneficial friendship. This creates a more inclusive school community!
Social opportunities can be more challenging for individuals with IDD of all ages. For this reason, BBNC has been busy hosting dances, going to ballgames, eating ice cream and coordinating bowling events to give individuals with and without disabilities opportunities to make new friends!
Partners like Loan Pronto and ECM Solutions got very creative with fundraising by hosting golf tournaments and poker parties to introduce us to new and generous donors. We are so grateful for community partners.
Next big thing for BBNC is the launching of our Corporate Citizens Program using business partners to create one-to-one peer friendships between an employee of a company and a friend with IDD in the community. Microsoft and Kelly Services are ready to get the ball rolling. We are very excited about the possibilities.
Join us in changing the way society views our friends with IDD. This is a community that has so much to offer! We can change the misconceptions and make N.C. a better place to live for EVERYONE.
#INCLUSIONLIVESHERE