November 6, 2019 — Best Buddies International, the world's largest organization dedicated to ending the social, physical and economic isolation of the 200 million people with intellectual and developmental disabilities (IDD), is excited to announce a new partnership with My Friend Clyde, a children's book written by Jason Kendal and beautifully illustrated by Mariam Kendal that aims to teach over 1,300 elementary school students about acceptance and respect.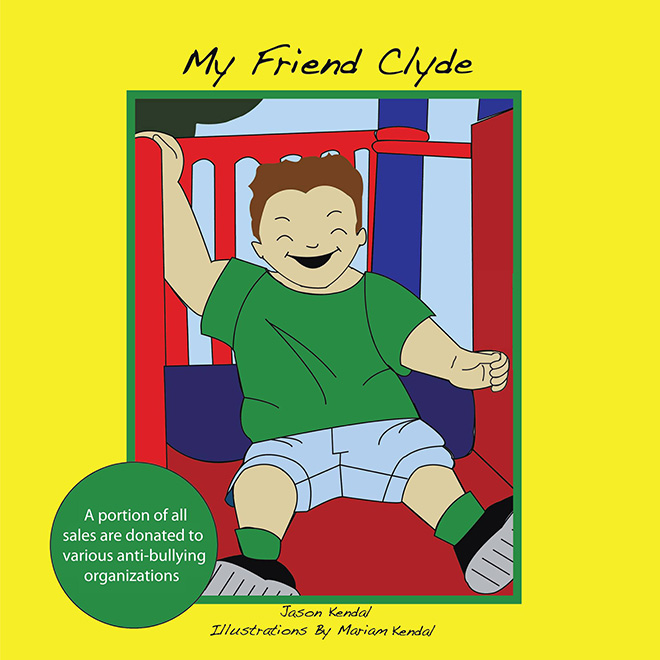 Best Buddies in elementary schools provides the opportunity for students to learn about disability awareness, develop leadership skills and form impactful friendships with their peers with disabilities, through holistic and inclusive group activities. Participation in Best Buddies Elementary Schools can happen in shared classrooms, target specific grade level volunteers,  or engage a specific selection of students. The elementary program is open to students K-6 with and without disabilities.
"Best Buddies is excited to partner with author and advocate Jason Kendal to offer My Friend Clyde to Best Buddies participants at the elementary school level and further our mission of inclusion," said Anthony K. Shriver, Best Buddies International founder, chairman and CEO. "This addition to our programs at the elementary school level is extremely critical in tackling bullying and creating change in our schools and society."
The new partnership will result in the integration of My Friend Clyde into the anti-bullying and bullying awareness segment of the elementary activities offered in 224 Best Buddies Elementary School Chapters. The book, which the author will be donating to all of Best Buddies' elementary school chapters, strives to encourage children to talk with their educators and families about concepts such as acceptance and respect before bullying becomes an accepted norm.
After seeing first-hand the emotional, mental and physical effects of bullying that his sister Jacquelyn experienced, the author made it his mission to help other children in similar situations.  As spokesperson for the book, Jacquelyn has presented workshops introducing My Friend Clyde to thousands of students, families, and educators.
"We are excited to include My Friend Clyde into such an important educational opportunity for elementary students," says Jason. This book introduces the concept of bullying to children at a young age, in an effort to mitigate experiences like Jacquelyn's.
"Being included in the Best Buddies' programs will provide more students with the opportunity to stop the cycle of bullying," Jacquelyn explains.
My Friend Clyde is available for purchase at www.myfriendclyde.com/.
ABOUT BEST BUDDIES INTERNATIONAL:
Best Buddies® is a nonprofit 501(c)(3) organization dedicated to establishing a global volunteer movement that creates opportunities for one-to-one friendships, integrated employment, leadership development and inclusive living for people with intellectual and developmental disabilities. Founded in 1989 by Anthony K. Shriver, Best Buddies is a vibrant organization that has grown from one original chapter to nearly 3,000 elementary school, middle school, high school, and college Friendship and Promoter chapters worldwide. Today, Best Buddies' nine formal programs — Middle Schools, High Schools, Colleges, Citizens, e-Buddies®, Jobs, Ambassadors, Promoters and Inclusive Living— engage participants in each of the 50 states and in 56 countries and territories, positively impacting the lives of over 1.3 million people with and without disabilities around the world. In many cases, as a result of their involvement with Best Buddies, people with intellectual and developmental disabilities secure rewarding jobs, live independently, become inspirational leaders and build lifelong friendships. For more information, please visit www.bestbuddies.org or connect with us via Facebook, Instagram or Twitter.
ABOUT MY FRIEND CLYDE:
My Friend Clyde is an illustrated, rhyming book that introduces young children (age 3-7) about the importance of treating others with kindness – regardless of our differences. The book's author, Jason Kendal, saw the devastating life-long effects of bullying and was determined to stop the cycle.  His sister, Jacquelyn, was bullied and cyberbullied throughout her childhood just because she learns differently. My Friend Clyde is intended to be used as a tool to introduce healthy dialogue regarding bullying in a respectful and age-appropriate manner.
Contact Information:
For information regarding the book and or speaking engagements:
Jacquelyn, My Friend Clyde
For media inquiries:
Kendra Guerrero, Best Buddies International
kendraguerrero@bestbuddies.org